Bowen Yang on Club Quarantine and the Bucatini Shortage
The comedian and writer Bowen Yang is part of an eclectic crew showing empathy, creativity, and realness during this time.
---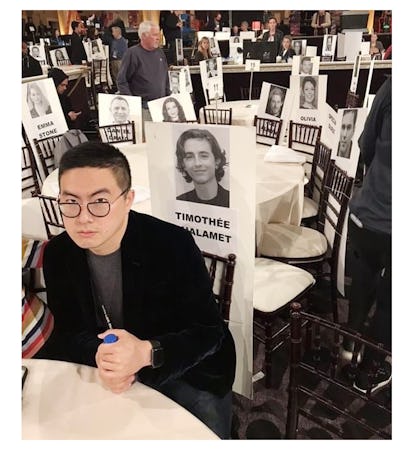 Bowen Yang. Photograph courtesy of Bowen's Instagram @fayedunaway.
To coincide with the launch of W's stay-at-home Instagram challenge, we reached out to the people for whom a shelter-in-place order is an opportunity for creativity, a call to action.
During a moment when so many celebrities and public figures have been getting it wrong, this eclectic crew has managed to hit all the right quadrants of empathy, humor, creativity, and realness. They've been lifting our spirits between all the dark news and the somber moments, reminded us to laugh, provided us with a much-needed distraction from the very real fears and tragedies, and been caring and thoughtful about what they've put out into the world. While we can't compare them to the doctors, nurses and essential workers risking their lives daily, the people who have pivoted to making charitable contributions, stepping up as entertainers, and sharing mental health resources have added something positive.
The comedian and writer Bowen Yang made history as Saturday Night Live's first Asian American cast member. Now, he's propelling that status through sheer visibility. On his podcast Las Culturistas, Yang and cohost Matt Rogers have interviewed comedians that define culture today, including Aidy Bryant and Nicole Byer. Through the coronavirus, Yang has managed to keep Las Culturistas going strong.
[vimeo 408192213 w=400 h=500]
Have you developed a morning ritual in quarantine?
My morning ritual is that I get up and I'm excited to get started on a very manageable project, then I blink and it's 7 p.m., and I'm like, "Wait, it's too late to start the project, better wait until tomorrow!" I'll cook eggs or something. I've been really experimenting with eggs, and that's been a big deal for me. I'm just taking it day by day to make sure it doesn't feel too monotonous and blend together too much.
What types of egg recipes have you tried?
You got your scrambled, classic. You got your omelettes with whatever's left in the fridge. There's a big staple dish that my mom used to make in college where you stir-fry tomatoes and scrambled eggs, and it kind of comes out like an omelet. I'm really running the gamut with all of my egg dishes.
Have you tried any other dishes that aren't egg-based?
I'm coming in hot with the bizarre subject matter. I want to say I've been doing a lot of Alison Roman recipes, but I've only done one, which is the shallot pasta.
What did you think?
I really enjoy it! It's super simple. It feels just labor-intensive enough, where just peeling the shallots and slicing them feels like just the right amount of work. It's not too much, it's not too little. Then you just toss it in a Dutch oven and you're good. The real challenge in making that dish is finding bucatini, because I feel like everyone is on this bucatini kick. There's more of a bucatini scarcity problem than there is a toilet paper issue, I think.
You definitely need the long noodle for that pasta, it doesn't taste the same without it.
Yeah, so you've made it? You need the surface area. The bucatini is essential because there's double the surface area if you count the inside of the bucatini.
How have you been expressing yourself while stuck inside? Besides cooking.
I have been trying to learn Logic Pro, which is a music production software. I have no idea what I'm doing. I tried cracking open some tutorials and didn't really make anything happen. I'm just hitting keys and seeing what happens, but that's not self expression. Actually, the one sort of creative medium that I'm tapping into, and this isn't even a real art form, is playlist making. Truly, that's just part of the Covid-19 monoculture that we're all in, where we're all doing the same things. Making a playlist is the equivalent of baking sourdough. We're all doing it.
What's on your quarantine playlist?
I have the new Strokes album, there's a new Phoebe Bridgers song that I really like. There's a new Yaeji album, she's great. Just a bunch of sundry songs that have come out in the last few months. For now, I'm just sitting around waiting for that new Fiona Apple album to drop. I'm being a very diligent listener and keeping on top of the release schedules for everybody.
Is there any content that's been particularly inspiring to you while you've been in quarantine?
I just finished a book called Minor Feelings by Cathy Park Hong. It's really good. It's an essay collection about what it even means to have a shared language around being an Asian American. I think it came right on time, especially for right now. I'm playing a lot of video games. I've done Animal Crossing, and I'm playing a bunch of video games where you try to fight for justice in the world, which is actually very comforting. I watched Grey Gardens, the original documentary, for the first time last night, and I was like, "Oh, yeah, it's sort of glamorous and chic to stay inside all day and go crazy."
Yeah, that's the blueprint! Has there been a particularly inspiring person you've been thinking about a lot in quarantine, or whose content you've seen and it's made you feel better?
Meg Stalter, for sure. The rate of her output is incredible. And god bless her for just keeping on that schedule. This just applies to everybody, I've been really enjoying every single TikTok dance. I get it now. I think the one sort of piece of cultural vocabulary that I'm fluent in right now is TikTok dances. I'm not dancing myself, but I get the whole appeal around them. I get the value around TikTok dances, and the people who post tutorials on TikTok are doing such important work. It's a huge deal. [Laughs.]
What's the most memorable Zoom call you've been on?
Definitely the SNL one last week. It was really nice to see everybody. There's this Zoom party that happens every night, which is crazy. It's called Club Quarantine. It's fun! It was a weird sell for me at first, like what is this, it's just people on Zoom dancing in their bedroom? But then they cut to amazing performances and the people who host the parties every night, they'll just do a Jumbotron-style thing, where they go on speaker view mode, and then it'll land on a random, other person. When it lands on you, you do a little move or something—you wave, or whatever. It feels nice, it feels communal, and it somehow feels like authentic connection, which I'll take. I just appreciate it for what it is, and it's been really nice to do it every now and then in the last few weeks. It does feel like you're out at the club when you see your friends on the grid. It's the closest thing we have to emulating that social experience.
What's the first thing you'll do when this is all over?
First thing I think I'll do is probably go to Momofuku Milk Bar and get the confetti cake. I'm not a good baker. I want a professionally baked cake, that's what I want. I could get one at the grocery store, but I want to make a task out of it. I want to really find the right cake to celebrate all of that waiting we've all done.
Are there any causes or organizations that you think have been particularly helpful during the pandemic?
There is Gold House, which is a media nonprofit that is doing a lot of work with getting Asian Americans to rally around delivering meals to essential workers, delivering PPE, and bringing anyone what they need. There's also Private Policy, which is this fashion label partnering with the Ali Forney Center, an LGBTQ homeless youth shelter. They've been so noble in all this, and they haven't shut down. They've kept their doors open for people to come through and have that support system. I think because this is affecting the most vulnerable people, the virus itself is laying bare the ways that people are vulnerable. It's amazing that places like Ali Forney are staying open. Those are two organizations who are very inspiring right now.
Okay, Rules of Culture: Quarantine Edition. What's rule number 84 of quarantine culture?
Rule number 84 of quarantine culture is burn all your outside clothes after the fourth use. You can only have one pair of outside shoes. The other day, I tried to mix up my shoes when I was walking outside the house, and I was like, I can't cross-contaminate my shoes. I only have to stick to one dedicated pair of shoes for my outside walks. I have my boring, dumpy shoes and those are the ones that I'm stuck with. I can't put on anything more fun, it's really unfortunate.