Brad Pitt and Leonardo DiCaprio Shut Down Hollywood Boulevard for Once Upon a Time in Hollywood
The stars of Quentin Tarantino's Sharon Tate movie shut down parts of L.A. while filming.
---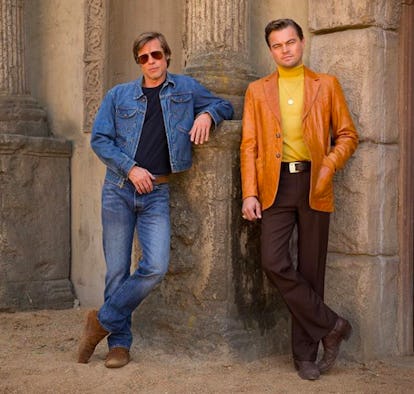 instagram.com/leonardodicaprio
The year is 1969, and Leonardo DiCaprio and Brad Pitt are cruising down Hollywood Boulevard in a yellow Cadillac. This is among the few pieces of information that exist about Quentin Tarantino's next film, Once Upon a Time in Hollywood, which takes place the summer of Sharon Tate's untimely death after she was murdered by Charles Manson's disciples at the home she shared with director Roman Polanski, the father of her soon-to-be-born baby. Tarantino, DiCaprio, and Pitt have been tight-lipped about the film, but one thing is for sure: The set is like stepping into a time machine.
The trio shut down Hollywood Boulevard in Los Angeles yesterday after dressing it with fixtures of the era, from vintage cars and bench ads to telephone booths. Pitt and DiCaprio arrived in character, with Pitt wearing a double-denim look similar to the one he wore in the first promotional photo DiCaprio shared on Instagram. DiCaprio, meanwhile, wore a pair of heeled boots, green pants, and a leather jacket. The two were spotted cruising down the tourist mecca in a yellow Cadillac. One thing they didn't have to change: the iconic celebrity enclave Musso & Frank, which Charlie Chaplin used to frequent and which has remained virtually unchanged ever since. Tarantino is definitely making good on his promise from CinemaCon that "street by street, block by block, we'll transform Los Angeles into the Hollywood of 1969," as Esquire points out.
As for Pitt and DiCaprio's roles, the duo—who, it was recently revealed, turned down the Heath Ledger and Jake Gyllenhaal parts in Brokeback Mountain—will be playing Tate's neighbors. DiCaprio will be suiting up as former Western TV star Rick Dalton, while Pitt is playing his stunt double. "Both are struggling to make it in a Hollywood they don't recognize anymore," as the director told Variety back in February. "But Rick has a very famous next-door neighbor…Sharon Tate," played by Margot Robbie.
"I've been working on this script for five years, as well as living in Los Angeles County most of my life, including in 1969, when I was seven years old," Tarantino said of the film. "I'm very excited to tell this story of an L.A. and a Hollywood that don't exist anymore. And I couldn't be happier about the dynamic teaming of DiCaprio and Pitt as Rick and Cliff."
See for yourself a preview of that dynamic below, as we await the film's July 26, 2019, release date.