Brad Pitt Would Like to Offer You His $390 Rosé Champagne
"Miraval isn't a 'celebrity' wine," the celebrity said of his new rosé champagne.
---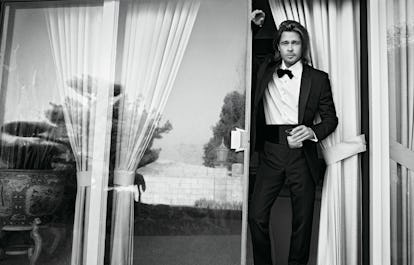 Mario Sorrenti
The past few years have brought quite a few changes for Brad Pitt. He's no longer "boozing too much," for example, nor is he smoking weed. And as you may have heard, he's no longer in a relationship with Angelina Jolie. But to this day, one thing remains constant: Pitt's devotion to Miraval, the French vineyard he and Jolie have kept up and running for eight years. The fact that it's also where they got married apparently hasn't deterred Pitt; this past weekend, he even brought Nicole Poturalski, the reportedly married model whom he's reportedly dating, there with him.
In fact, Pitt has made plenty of visits to the château—which is also home to a moat, a chapel, and a recording studio—over the past five years. The actor has been hard at work filling a hole in the wine market, which is to say creating "the defining brand of rosé champagne." Fleur de Miraval hits U.S. markets on October 15, though it'll cost you to taste the fruits of Pitt's labor. The 20,000 limited edition bottles retail for €330, or approximately $390. (Cheaper Miraval offerings are hard to come by: it only took five hours for another of Pitt and Jolie's rosés to sell out in 2013.)
Because he takes this sommelier thing seriously, Pitt had Miraval use the "saignée" method, which involves "bleeding" off a portion of the grape juice. (According to Wine Folly, saigné rosés are "bigger, darker, and stronger than other wimpy pink wines.") The rosé also spent three years in a Champagne region wine cave. And the result, Pitt is pleased to report, is "spectacular. I'm very proud of it." As for what it actually tastes like, the wine apparently contains "notes of fresh raspberry and currants and a slight associated salinity."
"For me, champagne conjures up feelings of celebration, quality, prestige, and luxury," Pitt told People. His words echo those of fellow rosé entrepreneur Post Malone, who recently launched his own wine—or, as he calls it, "juice"—with the slogan "rosé is for when you want to get a little fancy." Combining the wines only seems natural. And yet, Pitt lamented, "rosé champagne is still relatively unknown."
Pitt was quick to clarify that he's not yet another of the wine world's Post Malones. "Miraval isn't a 'celebrity' wine for me," the celebrity continued. "Above all, it's a wonderful, exceptional estate that I fell in love with, and that I continue to invest in to make it one of the finest estates in Provence." He and the Perrins, who have been winemakers for five generations, are "in it for the long term. It's not just a passing trend." If only the same could be said of his film career.
Related: Post Malone's New Rosé Is Good, According to My Mother