Bradley Cooper Is Already Plotting an A Star Is Born Revival
…maybe it isn't time to let the old ways die?
---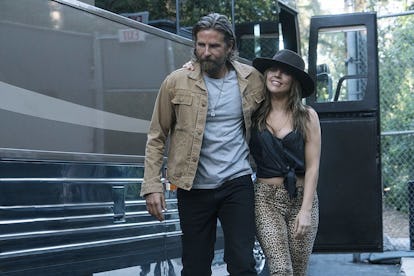 imdb
For the first time in a year, it's actually been possible lately not to think about or be confronted with A Star Is Born—and, by extension, to finally not have "Shallow" stuck in your head. According to Bradley Cooper, however, those days are numbered. On Thursday, Cooper—who produced, directed, and, of course, starred opposite Lady Gaga in the 2018 remake of the film—put in an appearance on the Ellen DeGeneres Show to dispel rumors that he might soon go on tour with Gaga or join her onstage, as he did earlier this year, during her Las Vegas residency.
But by no means is Cooper finished with the film just yet. (After all, he's still discussing it on air with DeGeneres, nearly two years after he first did so, in May of 2017.) With the fervor of Jackson Maine telling Ally, "I just wanted to take another look at you," Cooper told DeGeneres that he has been toying with something even bigger. "What I thought would be a cool thing to do, maybe one night, would be, like, a live reading of the script and sing all the songs as we read the script, like at the Hollywood Bowl or something," he said.
He may have been testing things out—in response to the audience's silence, Cooper added, "That would be cool, right?"—but chances are this isn't just a pipe dream. Cooper had been floating around the idea of performing at the 2019 Academy Awards with Gaga long before they took the stage (and apparently almost made out) this past February.
More importantly, though, Cooper's vision of a one-night revival is pretty much guaranteed to be a moneymaker. Hard as it may be to believe, it would only be the third time that Cooper and Gaga have put on a live performance together, and the demand is definitely there for more. (Yes, even though the film's extended cut was just released last month.) The soundtrack has been a chart topper more than once, and in the days after the Oscars it surged back to number one. Of course, along with it came "Shallow," which became Gaga's fourth number-one single (and Cooper's first) after being awarded best original song.
Cooper, much to his embarrassment, may not have won best director, but he certainly did give birth to a star. And much like its celestial forebears, which take millions of years to die, it doesn't seem like it's going anywhere anytime soon.
Related: Bradley Cooper as Jackson Maine Has Now Won More Musical Awards Than Some Very Real Musicians