Sale of the Century
The Brant Foundation celebrates the artist Rob Pruitt's 50th.
---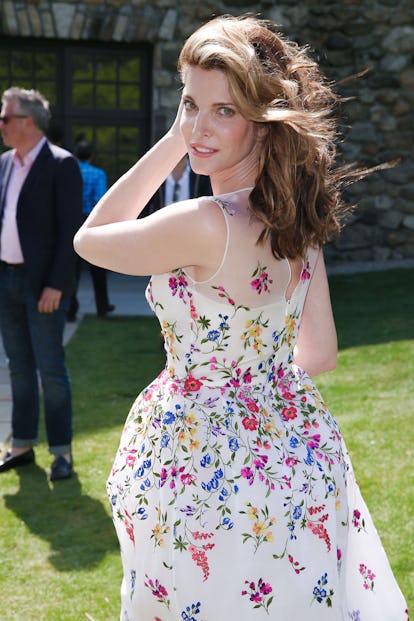 On Mother's Day afternoon, a stylish crowd of artists, collectors, and curators made their seasonal pilgrimage to the Brant Foundation in Greenwich, Connecticut—this time to celebrate the milestone birthday of one their own. "Do I look 50?" asked artist Rob Pruitt on the inaugural tour of his new retrospective. "You couldn't know this, but I have low self-esteem." Gliding past his luminous Emoji series, ready-made Ikea paintings, and signature pandas, Pruitt's colorful retrospective told a different story—as did Pruitt flea market on the first floor of the gallery—where guests were encouraged to shop the castoffs.
At Pruitt's absurdist yard sale, Stephanie Seymour got into character stepping in to help sales of her wardrobe archives, while guests like Dustin Yellin and Hope Atherton perused the family's everyday artifacts—from Vespas to Tide Pens. Yellin seemed to score—spotted later carrying a Louis Vuitton valise. Outside on the rolling green, a feast set up under a massive tent satiated the afternoon's revelers—who took advantage of sunny weather by stretching out on the lawn, which was spotted with the artist touches—like inflatable eyes poking out of the property's pines and potted trees decorated with pineapples, grapes and bananas. Sunburns and lighter pockets aside—the leisurely lunch and impromptu-sale was the perfect way for everyone to ease into the art fair mindset.
Photos: Sale of the Century
Peter Brant and Rob Pruitt. Photo by BFAnyc.com.
Zoe Larson and Dan Colen. Photo by BFAnyc.com.
Sephanie Seymour. Photo by BFAnyc.com.
Peter Brant Jr. and Kyra Kennedy. Photo by BFAnyc.com.
Bill Powers. Photo by BFAnyc.com.
Cecilia Dean. Photo by BFAnyc.com.
Michela de Pury and Simon de Pury. Photo by BFAnyc.com.