Bravo, Gustavo
The One finally arrived in Los Angeles. After a months-long build-up, 28-year-old Venezuelan conducting sensation Gustavo Dudamel gave his first performance as the new musical director of the Los Angeles Philharmonic on Saturday night. I...
---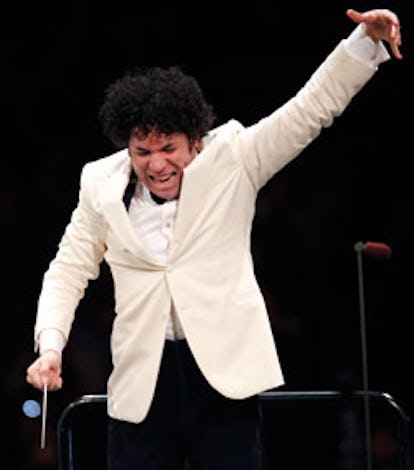 Since Dudamel exploded on the classical scene a few years back, he has been hailed in the music press as the next Leonard Bernstein. When I attended a press conference at Disney Hall earlier this year to officially introduce Gustavo — everyone calls him by his first name — I thought of another comparison. With his youth, unexpected heritage, commitment to community-based music education and irresistible public charisma, Dudamel is something like the Barack Obama of the performing arts world. And just as Obama had his rallying cries of Hope and Change, Gustavo swept into town amidst a well-calibrated marketing campaign with tag-line like Pasión Gustavo! and Eléctrico Gustavo! On Saturday, 18,000 rapturous fans attended the L.A. Phil's free performance of Beethoven's 9th Symphony at the Hollywood Bowl. Seemingly every color, class and culture from across the city was there.
For example, during the booming cataclysms of Beethoven's first movement, Gustavo's used his expressive left hand to define the orchestra's volume and scale as precisely as a mime might delineate the shape of a teacup — or an elephant. In the third movement, the beautiful adagio, Gustavo's face was that an old roué reliving the memory of a long-ago seduction, and the music accordingly evoked the wistful lyricism of private happiness.
Gustavo is surely the only arts celebrity in Los Angeles with the star power and passion to bring together the entire city in such a public celebration. He more than lived up to the hype. On the way out, I could help but indulge a whimsical thought — Presidente Gustavo!