Bria Vinaite Is Still Living Her Best Life on Instagram
After starring in Sean Baker's The Florida Project and Drake's "Nice for What" music video, the 24-year-old actress is maintaining her authenticity on the app that helped make her a star.
---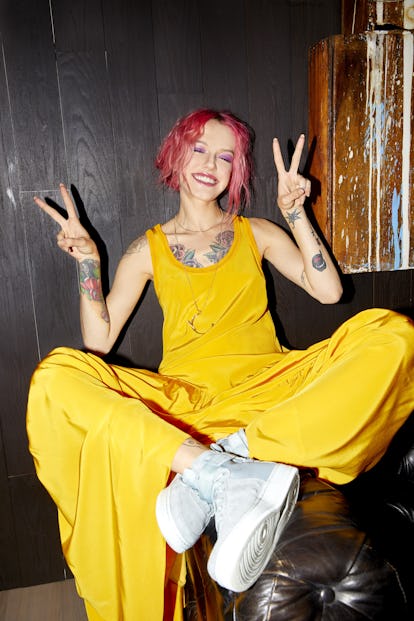 Spring/Bria Vinaite
Bria Vinaite, who won over audiences as Halley, the single-mother protagonist in the gritty, underrated 2017 film, The Florida Project, was discovered by the film's director, Sean Baker, on Instagram. What started as a simple social tool for Vinaite became the self-expression platform that launched her acting career and catapulted her into a sphere of stardom far outside the world of social media. Following the success of The Florida Project, the 24-year-old actress is filming scenes for Harmony Korine's upcoming stoner comedy, The Beach Bum, making cameos in star-studded music videos, photographing her close friend and fellow actress Sasha Lane before the Met Gala, and traveling the world.
Yet she maintains her authenticity on social media with her jovial Instagram account @chronicflowers. In addition to posting memes, videos of herself dancing around her bedroom in a bright green alien suit, and adorable snaps with her Florida Project costar Brooklynn Prince, Vinaite has also met some of her idols—and she remains unequivocally unbothered by any negativity that creeps up on her feed. Vinaite is an icon in the making, and she's still living her best life on the app that helped make her a star.
Calling from her home in New York, Bria Vinaite spoke to W about being one of Drake's muses, juggling all of her countless activities, the secret to looking "iconic" in a selfie, and the unwritten rules for sliding into someone's DMs.
Your schedule must be so packed these days—you just appeared in Drake's "Nice for What" video, are filming a number of projects in Los Angeles, and recently curated your own sneaker collection with Spring. How do you manage to keep up with so many projects while also looking so carefree and happy on social media? [Laughs.] Well, you know, it's not that hard! I really, genuinely have been enjoying everything I'm doing. I think that's the main reason that my body and my mind have been able to have peace with such craziness all the time. Because I'm just genuinely so excited and happy to be doing what I'm doing! I'm also really, really into Nike, and I have recently started working out a lot more, and have changed my lifestyle in general. So when I was approached by Spring I was really excited because they have a lot of Nike stuff. All the stuff I curated was just outfits that I love to wear when I'm running errands, or running around and trying to get things done when I still have to look cute, and I also want to be comfortable. I've been really blessed in the sense that my schedule has been working out and on my days off there's always something fun to do. In the winter every time I came home it would be so cold that I wouldn't want to do anything, you know? It's warm again so I'm trying to get out of the house and socialize for the first time, and it feels like it's been forever!
How did you get involved in the "Nice for What" video? I was in L.A. for work, and I had gotten an email from [Sean's] team telling me about the video and the female empowerment part of it, and I was just so ecstatic and everybody involved was iconic. The director, Karena Evans, is one of the most magical women I've ever met. I got to go to London and film at this indoor go-kart racing field thing, and it's so funny because I don't know how to drive. [Laughs.] At all. For me, the first few rounds were a little like, deer in the headlights! I was so scared! Then I got really comfortable, and I was just having the best time, driving with no hands on the wheel, fully living my best life! I'm really thankful to have been part of something that not only is one of the most amazing summer songs, like the beat is so good and everything about it is iconic, but also to be able to work with such amazing women that I look up to so much was the best part.
That's a real New Yorker, though, if you can't drive! [Laughs.] For real, though! What do I need to drive for! But I want to move to L.A. and now I'm like, wait, do I have to learn how to drive? Because there it's just inevitable, you have to drive! I'm shook. I'm fully shook, I'm not even gonna lie. [Laughs.]
I saw on your Instagram that you were also in Paris recently, and it looked so fun! Was that for vacation? No, I was actually there for work. I was filming a movie called Violent Delights. First we filmed in L.A., then in Paris. It's a really great story, I was excited to work on it. It was my first time in Paris ever! To have a whole week was just amazing. On our day off, Sergio—who is Sasha Lane's brother—is also in the film, and me and him would just walk through all of Paris. We walked 14 miles in one day! [Laughs.] I was so happy to be wearing sneakers because I've never walked that much in one day.
It looks like you had a lot of fun on Instagram, which brings me to discuss how you were discovered on there by Sean Baker. Yes! Instagram has been such a big help for my whole entire life. I mean, I started Instagram just as a social tool to connect with my friends. Because at the time when I started using it a lot, I had just moved to Miami. It was the easiest social media to use to just communicate, and when I was working in Miami on my clothing line, I was just being silly, you know? I used it for fun! I would post videos of me saying silly things and dancing around and just living my best life! Sean ended up somehow stumbling upon my page, and when he initially reached out I was definitely very hesitant because I didn't know if it was true or not. Because an opportunity like that just doesn't, you know, I didn't believe that something of that caliber would happen on social media. When I realized it was real, I definitely was very scared and intimidated because acting has never been something that I thought was a feasible career choice for my future. And Sean just believed in me so much and we had the most amazing time on set. Because of The Florida Project and because of Instagram, I've been able to continue working in a field that I never would have imagined being part of, and I just appreciate Sean so much and Instagram for giving me a platform to just express myself and be able to have these opportunities happen.
What inspired you to choose the name @chronicflowers as your handle? [Laughs.] Honestly, I couldn't think of anything. Everything I wanted was taken. I've wanted to change it so many times, but people associate it with me so much that I sometimes have a hard time even thinking of anything to change it to, you know? I'm just stuck with @chronicflowers forever! [Laughs.]
Do you remember your first Instagram post? Honestly, I don't. I'm one of those people that always deletes stuff or archives. Now that archiving stuff is a thing, I do like to have a coherent theme, and a lot of people I know don't even have their first post up. [Laughs.]
How often do you recommend posting? It really depends, you know? Because sometimes I'm in the mood to just post all day if I have a day off and I'm just laying in bed, finding funny memes. I don't really limit myself. But I also think maybe once every other day—if you want to have an algorithm that you follow, then every other day would be ideal. You're not annoying people, but you're also there a lot.
What's the secret to taking the perfect selfie? I would love to know! But I would always say good lighting and a good angle. It's all you really need to look iconic, honestly.
What about filters—filter or #nofilter? I used to use a lot more filters, and lately I've been feeling better without filters. It really depends on the picture! If it's dark or something, obviously you're going to need to lighten it, but if it's just a great picture, you don't have to filter your life away all the time.
Describe yourself using 3 emojis. I would pick the alien face, the little pixie fairy with the wings, and the little red pepper. That one is so me. I'm so spicy, I love it. I use it so much! [Laughs.]
Is there anything that pisses you off on social media? For sure. I feel like a lot of people sit at home and comment on people's lives like they have their lives figured out. To anyone that does that, I would just like to know who promoted them to be able to talk about other people like that. It's one thing I never understand because I would never sit there and exert negative energy onto others. It's really bizarre and I will never understand it, but I feel like a lot of the negative stuff is really only just people's crazy comments.
How do you block out the haters? Honestly, it used to bother me a lot more than it does now. Once I realized they don't live in my real life, they live in my phone, I just stopped looking. I don't read my comments most of the time. I don't know, if someone says something crazy I just block them. I have no issue pressing the block button! It doesn't take away any time out of my day, you know.
What's the best way to slide into someone's DMs, especially if you're into the person? I would love to know that too! Because I haven't slid into anyone's DMs in God knows how long! But I would just always say, send an emoji. Just because it's like, you're not really saying anything, but you did, but you didn't. What are they gonna say? "She sent me an emoji!" It could mean a lot of things, but it could also mean nothing. You could use that to your advantage if the sliding doesn't work as well as you anticipated!
Do you follow exes or block them? I don't follow them but I also don't block them. I don't feel the need to block them. It's just me living my best life.
How would you tell a friend if they were doing way too much on social media? I've told my friends before when they're looking a little crazy, but I mean, I would want them to tell me if I was looking a little crazy! You know? It's really interesting because I feel like there are some times where I'll say to a friend, "Oh, don't you think that's a little risky?" And I'll be like, maybe I should just expand my thinking a little bit, because I don't know everything. Or sometimes they'll be like, "You know what, that is a little crazy. Let me take that off." I think we all try to be really honest with each other, which is really helpful. And it's not in a mean way! I know if someone tells me something, or I tell them something, it's just out of their best interest instead of looking to hurt me.
You post a lot of hilarious memes and videos of yourself smoking, but is there anything you would never post? Never say never! I wouldn't say never, but I have calmed down a little bit. There's a lot of funny memes that are dark, you know what I mean? I've toned down the darkness. I would never post something making fun of depression or mental health, or picking at people. I do realize that a lot of it is targeted at people versus actually being funny. So to me, I try to be mindful of the things that are making fun of real life situations versus an actual joke.
How do you unplug? Oh my God, I love to read. I put my phone on "do not disturb" a lot. I've been trying to be more in the moment, in the sense of like, when I realize I'm having a really good time, I'll make sure not to have my phone in my hands. And it's great to remind yourself all the time that even if you are recording everything one night, that doesn't mean that the next night you have to do it. It's really nice to have hobbies that don't involve any sort of technology. For me, if I didn't have reading I'd go absolutely crazy. It really helps me to unplug from the whole world, and keep my sanity, and be able to fill my time with something other than technology.
Related: An Outrageously Cute Interview with Brooklynn Prince, 7-Year-Old Star of Sean Baker's The Florida Project