Allow Sasha Lane to Demonstrate How to Have a Perfectly Chill Met Gala
The actress recommends "fully chilling" before heading out to events—preferably with champagne, pals like Bria Vinaite, and diamonds in your dreadlocks.
---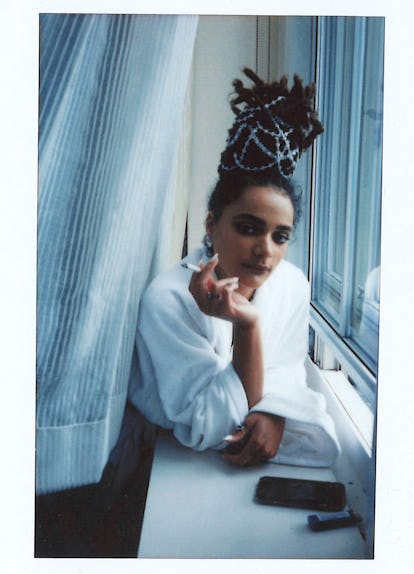 Bria Vinaite, courtesy of Sasha Lane
Sasha Lane isn't exactly sure when she got to New York City last week. It was either Thursday or Friday—she couldn't quite recall which, but she'd been staying downtown. This week, though, she made the move uptown thanks to the designer Tory Burch, who was dressing her for the 2018 Met Gala, and by Monday, was already making the most of it, sharing her suite at the Pierre hotel with her brother Sergio and her friend and fellow actress Bria Vinaite, of The Florida Project, who'd slept over the night before.
Indeed, ever since arriving in New York, Lane has been so committed to "fully chilling" that she didn't even have time to get the DIY tattoo she'd put out an open call for on Instagram, in search of a stick-and-poke number eight. "So many people are telling me that's my path number, and I'm really starting to accept it. I just want to f— with that, you know?" she said, referencing her classification in numerology, which has her down as someone full of influence, strength, and positivity—and forever on the quest to accept the fact that success is set to be a part of her "life path."
Even if Catholicism—this year's Met Gala theme—is more your thing, there's no denying that the description above accurately sums up Lane, who became an actress only when the director Andrea Arnold discovered her one spring break, at which point she took the leap and ended up starring in 2016's American Honey. Lane would be the first to admit that her adjustment to her newfound stardom is still a work in progress, though now that she's 22 and landing roles in films like Hellboy, she's also getting much more comfortable with simply doing things her way. Case in point: Her approach to her second-ever Met Gala.
"Last year, since it was my first one, I was like 'Whoa, okay, I'm freaking out.' And now I'm just like, 'F— it, let's have fun, let's enjoy this,'" she said. "I'm still anxious and nervous, but that's kind of inevitable—I just have a thing with groups and pictures and all of that stuff." At the same time, though, she's also discovered coping mechanisms, like finding refuge in the storied women's bathroom—"I'm sorry, but I need a cigarette break; it happens, you know?"—and making a habit of creating a "whole situation, mood, vibe, whatever" before events, because, as she put it, "I need to pump myself up."
This time around, she enlisted Vinaite and Sergio to be, as he proudly put it, "her hype crew." They also served as her photo assistants, since Lane was determined to pursue her newfound interest in photography and shoot herself for this story. Her friends were happy to help: Vinaite, who'd sunk into an armchair and the depths of her phone, for example, immediately perked up and emerged from the brim of her giant New York Giants cap to show off the Fujifilm Instax Polaroid she took of Lane and fawn over how cute she looked, perched on the windowsill and smoking a cigarette in her bathroom. (Never mind that smoking indoors is, of course, against the rules at the Pierre.)
In between photos, Lane reflected on this year's gala theme—"Heavenly Bodies: Fashion and the Catholic Imagination"—which she'd decided she was quite on board with, having realized that she herself uses fashion to express her own faith. "You know, I have my own connections with God and the universe. I don't need to go to a specific place for that or be told certain things," she said, pausing to laugh before adding, "I don't want restrictions. Like, I know he loves me. I'm good."
The restrictions that can come with religion have been particularly on Lane's mind as of late, as she recently filmed The Miseducation of Cameron Post, in which she and Chloë Grace Moretz star as teens whose religious guardians have forced them into a center for gay conversion therapy. In real life, Lane and her brother, who are both gay, luckily grew up with a more accepting family; in fact, Lane even forgot that she briefly attended Catholic school, responding "hell naw" before realizing her mistake. "Actually, you know, I think my preschool was Catholic. I got in trouble for throwing M&Ms during prayer, so that's how that went," she said with a laugh.
Lane didn't get "that deep" with Burch about how she identifies as a "floater," but Burch's encouragement to "full-on own it, girl" with her design ideas made it so that Lane communicated her spirituality through her dress nonetheless. "It's me, it's free, it's how I live my life. You express yourself through fashion, and that's my religion," she said, running her hands through the gauzy white gown's many layers and lacy trails. It's a bit of a departure for Lane, who typically dresses a bit "edgier and more boyish," but that's part of the point: "You know, I like to be delicate and s—, too. So it's a moment for me."
The moment continued when Lane got quite a few inches closer to heaven than usual, thanks to the hairstylist Nai'vasha Johnson piling her hair atop her head—and accenting it with ethereal strands of crystal diamonds. "For her to make me feel that beautiful with my hair is really nice," Lane said. "People have always doubted me for it, thinking that because I have locks, I must be dirty or messy or a bum. Now I'm like, Honey, look at this and just try and come for me—there's diamonds in it, and it smells like flowers."
With her jewels safely in place, it was time to switch out of her bathrobe—not to mention her Beetlejuice-style tights and tie-dye bra emblazoned with the phrase "i have no tits"—and spend her last moments with her hype crew before heading further uptown, a journey which she had much less to fret about this time. After all, she'd already met the night's resident pope and co-chair, Rihanna. ("She told me I was cute at a party! And I was just like… Same? Like, what can you even say?")
Otherwise, her plans regarding seating and afterparties were simply to go "wherever the wind" took her—which she confessed she was hoping would be in the direction of her friends like Wiz Khalifa and Kiersey Clemons. (And, if lucky, Cardi B). "If not, though, it's cool," Lane said, laughing. "I can just sit at the table by myself."
Related: Evan Rachel Wood Can Confirm That The Girls' Bathroom Is the Best Place to Be at the Met Gala
Met Gala 2018: See What Celebrities Wore on the Red Carpet
Rihanna at the 2018 Met Gala. Photograph by Benedict Evans for W Magazine.

Benedict Evans
Cardi B at the 2018 Met Gala. Photograph by Benedict Evans for W Magazine.

Benedict Evans
Lily Collins at the 2018 Met Gala. Photograph by Benedict Evans for W Magazine.

Benedict Evans
Donald Glover at the 2018 Met Gala. Photograph by Benedict Evans for W Magazine.

Benedict Evans
Selena Gomez at the 2018 Met Gala. Photograph by Benedict Evans for W Magazine.

Benedict Evans
Katherine Langford at the 2018 Met Gala. Photograph by Benedict Evans for W Magazine.

Benedict Evans
Jasmine Sanders at the 2018 Met Gala. Photograph by Benedict Evans for W Magazine.

Benedict Evans
Rosie Huntington Whiteley at the 2018 Met Gala. Photograph by Benedict Evans for W Magazine.

Benedict Evans
Kate Upton at the 2018 Met Gala. Photograph by Benedict Evans for W Magazine.

Benedict Evans
Winnie Harlow at the 2018 Met Gala. Photograph by Benedict Evans for W Magazine.

Benedict Evans
Alek Wek at the 2018 Met Gala. Photograph by Benedict Evans for W Magazine.

Benedict Evans
Zendaya at the 2018 Met Gala. Photograph by Benedict Evans for W Magazine.

Benedict Evans
Priyanka Chopra at the 2018 Met Gala. Photograph by Benedict Evans for W Magazine.

Benedict Evans
Migos at the 2018 Met Gala. Photograph by Benedict Evans for W Magazine.

Benedict Evans
George and Amal Clooney at the 2018 Met Gala. Photograph by Benedict Evans for W Magazine.

Benedict Evans
Lena Waithe at the 2018 Met Gala. Photograph by Benedict Evans for W Magazine.

Benedict Evans
Ariana Grande at the 2018 Met Gala. Photograph by Benedict Evans for W Magazine.

Benedict Evans
Kim Kardashian at the 2018 Met Gala. Photograph by Benedict Evans for W Magazine.

Benedict Evans
Travis Scott and Kylie Jenner at the 2018 Met Gala. Photograph by Benedict Evans for W Magazine.

Benedict Evans
Blake Lively at the 2018 Met Gala. Photograph by Benedict Evans for W Magazine.

Benedict Evans
Bella Hadid at the 2018 Met Gala. Photograph by Benedict Evans for W Magazine.

Benedict Evans
SZA at the 2018 Met Gala. Photograph by Benedict Evans for W Magazine.

Benedict Evans
Kendall Jenner at the 2018 Met Gala. Photograph by Benedict Evans for W Magazine.

Benedict Evans
Janelle Monae at the 2018 Met Gala. Photograph by Benedict Evans for W Magazine.

Benedict Evans
Emily Ratajkowski at the 2018 Met Gala. Photograph by Benedict Evans for W Magazine.

Benedict Evans
Daniel Kaluuya at the 2018 Met Gala. Photograph by Benedict Evans for W Magazine.

Benedict Evans
Gigi Hadid at the 2018 Met Gala. Photograph by Benedict Evans for W Magazine.

Benedict Evans
Katy Perry at the 2018 Met Gala. Photograph by Benedict Evans for W Magazine.

Benedict Evans
Paris Jackson at the 2018 Met Gala. Photograph by Benedict Evans for W Magazine.

Benedict Evans
Madonne and Nicki Minaj at the 2018 Met Gala. Photograph by Benedict Evans for W Magazine.

Benedict Evans