How to Get in Head-to-Toe Wedding Shape in Just 10 Days. Seriously.
A curated bridal bootcamp not for the faint of heart, stomach, or will.
---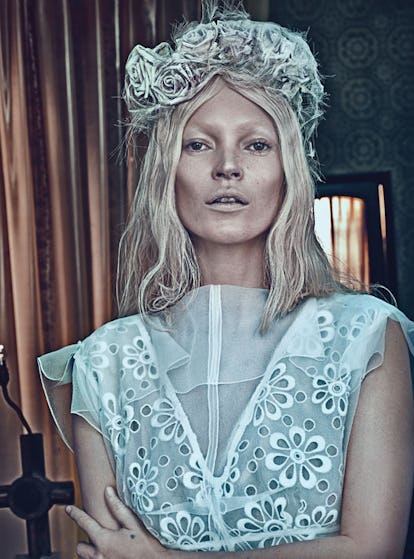 The big day was just a couple of weeks away. It seemed not very long ago that I had finalized all of the travel and settled on a hotel, when in fact, I had spent months daydreaming about this moment, visions of flowers and blue skies and smiling guests flooding my mind. But as this celebratory occasion drew closer, I grew anxious, realizing I had neglected one important detail: my physical appearance. Not to sound shallow, but it is a wedding, after all, and every woman wants to look her best.
Except this wasn't my wedding. No, the nuptials occupying my brain space belonged to a very chic friend with a terribly fashionable coterie of friends who would be in attendance. And so I found myself in an unusual predicament: I was potentially as wracked with nerves about how I would look as the bride. And so I decided to embark on a bootcamp of sorts, as though I were the one walking down the aisle.
First up was my physique. I should preface this by saying that I am a fitness regular, so I wasn't looking for a drastic change or a quick fix. I simply wanted some fine-tuning, more definition and muscle tone so I could stand tall at the ceremony. As such, I turned to Stephen Cheuk, the founder of and head trainer at New York's S10, a sleekly industrial boutique gym on the cusp of Tribeca and Chinatown.
Despite its cool, creativity-oriented clientele—among them, actor Waris Ahluwalia, model RJ King, power DJ couple Hannah Bronfman and Brendan Fallis, and out-of-town drop-ins from the likes of Esteban Cortazar and Diplo—S10 is not a place for high-wattage egos. Nor is it a destination for those seeking a merely waifish frame. It's where you head to get #FitAF (that would be "fit as f—k"). In fact, "S10" stands for "sub 10," a reference to an ideal body fat percentage for men (for women, it would be sub 18); the path towards that is paved with good nutrition, conditioning, mobility training, and an emphasis on weight lifting.
"Since I always trained with body composition as a goal, it became natural for me to implement that with people I work with. Everyone who begins working out often does so because they want to look and feel better—body fat is what we use to track improvement and progress," explained Cheuk, a soft-spoken, affable Australian native with a an encouraging but no-nonsense manner, and a background in both fitness and wellness (and the chiseled physique to prove it). "Ultimately, every body is different so there's no single formula or theory that will work on everyone."
This particular individual gave Cheuk an ambitious goal: to sculpt me in just ten sessions. So on a bright Saturday morning, after fasting for twelve-plus hours (a requirement for the proper measuring of body fat), I found myself standing on an InBody machine, which employs a dexa scan methodology for 98% accuracy. I consider myself relatively secure in and realistic about my body type, but watching the numbers creep up as the InBody scanned my arms, legs and trunk was like watching a crime unfold, and there was nothing I could do to stop it.
Once computed, Cheuk determined that though I was well within the "healthy" range for women (18 to 28%), I didn't have as much muscle mass as he would like. After a battery of assessment tests (holding a plank for 75 seconds, push-ups, reverse lunges, etc.) to make sure I could handle an unforgiving routine, Cheuk instructed me to keep a food journal before our first session and to pick up a BCAA and glutamine powder to take before and after workouts (it helps with recovery and prevents the breakdown of muscle; it also tastes like rotting wet cardboard).
Our first meeting was all about legs. After glancing at my journal, Cheuk instructed me to cut out alcohol, carbs, dairy, and sugar, focusing on lean protein, loads of vegetables, and reasonable amounts of healthy fat. Basically, how you would eat if you were a perfect human being. (I was assured that eventually some cheat days were allowed: "We only do this for the first three weeks. The lower your body fat and healthier you are, the better you're able to process a less clean diet."). Then it was down to business.
"You won't be able to walk tomorrow," promised Cheuk, as he led me through three rounds of 55 lb. back squats, 75 lb .deadlifts with a hexagonal bar, and 25 sets of step-ups on a bench. That was just part one. We ended with a set of suicides (high school reared its ugly head) in which I pushed a 90 lb. sled called a prowler back and forth instead of just running. In this one day, I felt like I had lifted, pressed. and pushed more weight than I had collectively in all my years of working out.
"Your movements were perfect [in the assessment], and because you didn't have much of a history with strength training, I knew your body would react well," Cheuk said of his emphasis on the high poundage, something to which most women are probably unaccustomed. "Strength training is incredibly important to all women, especially as they get older and are more prone to osteoporosis [strength training helps increase bone density]."
It also increases soreness, and so when I hobbled in the next day and Cheuk asked, "How do you feel?" I could barely grunt a reply.
"It's only going to get worse," he said. "That's why I did that initial assessment. I needed to make sure you would come back after the first session!"
I did, and I kept coming back, even after an arms day full of assisted pull-ups, skull crushers, cable rows, and intervals on the battle ropes that made taking my shirt off an exercise in torture; and even and a core day during which hanging knee-ups and v-ups made it hurt to breathe.
"I've had people throw up before," said Cheuk of his conditioning day.
I managed to keep my lunch down. And after just five sessions (and zero cheating on my diet), I had gained a pound of muscle and gone down 2% in body fat.
While Cheuk was taking care of me from the neck down, I headed to Kariné Kazarian's sun-filled, Greenwich Village space for a facial spruce-up. A sharp-eyed Armenian woman from Latvia, Kazarian has been using exclusively Biologique Recherche products for the past twelve years (her own complexion is the best advertisement for the line). After examining my face under a brightly lit magnifying glass, she pronounced my skin in good shape for my age, save for a tendency towards hyperpigmentation. With the aim of brightening and lifting my complexion, she started with a massage using an oxygenating cleansing milk as she chided, "People here only get a facial once a year when someone gives them a gift certificate. But they should be having them once a month!" Then came an application of the cult-favorite P50 lotion to balance my pH and MC 110 No. 2, an exfoliating booster, both of which she administered to my décolletage first, working her way up my neck and face.
"Everyone forgets their décolletage!" she tutted. "And then when you see the Oscars now in HD, oof!"
Kazarian was taught to use her hands only (with one exception to follow) and it showed when she mixed a lotion of silk protein and hyaluronic acid with an algae-based powder and began a light pinching technique, created by the French doctor Jacques Leroy and purported to tone and lift. ("It's like manual microdermabrasion.") Next came a combination of an exfoliating and an oxygenating mask; a cocktail of customized serums applied with the galvanic Remodeling Face Machine, which uses electric currents to stimulate epidermal cells and sculpt the face, and finally, liquid nitrogen, dispensed via a wand that made me feel like I was in a Harry Potter film. The results were appropriately magic-infused: my skin had an even gleam, as though I had recently emerged from the womb.
It proved the perfect canvas for my makeup test—hey, the bride surely had one—with freelance artist Stephania Parent. A calm woman with a background in editorial work, Parent immediately debunked the notion, much to my relief, that wedding looks require thick layers of maquillage.
"Typically, people get attached to a heavy type of makeup, which is not what I do," said Parent, who was also sensitive to my more minimal approach in my everyday life. "You want to look like yourself, not someone else."
Given it was an outdoor summer ceremony, she prescribed a "luminous, pretty glow" with a "bit of an eye play" rather than a focus on the lips.
"I feel like that's more practical for most weddings," she explained, citing the kissing (both at the alter and while greeting guests), and the eating and drinking that would take their toll.
First came a light application of NARS sheer glow with a brush to even out my skin, and then a mix of luminizers from St. Tropez and Smashbox to highlight my cheeks, brow bone and cupid's bow. Parent used a shade from an Urban Decay Naked eye shadow palette to fill in my brows ("it looks more natural than pencil"), and then blended the "Smog" and "Gunmetal" hues to first line my upper and lower lash lines and then brush across my lids. My cheeks and eyes got a dusting of Smashbox's "Paradise" blush; the inner corner of my eyes got a dotting of the golden Naked "Half Baked"; and my lips got a coating of NARS "Dolce Vita" pencil and a dab of gloss from Smashbox. Even in my office's unforgiving fluorescent lighting I glowed (and Parent's light touch meant my freckles came through). The look was subtle enough that I wore it for the rest of the day at work. I felt pretty, not overdone.
My body, however, was definitely done and ready for a slight reprieve from my grueling ten days of training. The final assessment didn't bring the fireworks numbers of my halfway point check-in (Cheuk said it's normal for the body to plateau after the initial shock of new exercises), but more important than the digits on the InBody was how I looked and felt: my back, arms, waist and abs were more defined; I was undoubtedly stronger, pushing a 210 lb. prowler with more ease; and I had more energy, thanks to my (at least temporarily) ultra-clean diet. Beyond that, I had gained a newfound respect for heavy lifting. For the first time in my life, I cared more about the pounds of muscle on my body than my overall weight.
I knew my hard-earned strength would probably dissipate with each glass of champagne consumed at the wedding. But hey, that's what second marriages are for, right? And next time, Stephen, I promise I'll give you more than 10 days.
Watch W's most popular videos here:
Photos: How to Get in Head-to-Toe Wedding Shape in Just 10 Days. Seriously.
Kate Moss. Photographed by Steven Klein.
The writer in training. Photo by Paulsta Wong.
Training with Stephen Cheuk at S10: $150-$200, by referral only. info@s10training.com Kariné Kazarian. Facial treatments from $175-$500. kk@karinekazarian.com Stephania Parent Price upon request. info@stylebookings.com. Photo by Paulsta Wong.