Brie Larson Has a Designated 'Wind Down' Time While Working From Home
The "Captain Marvel" actor details how to take care of yourself, inside and out, during a stressful time.
---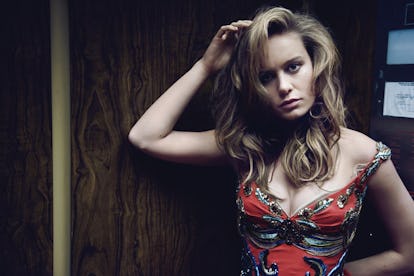 Peter Lindbergh
"In the beginning of the pandemic, it was very easy for me to just work and work through the weekends," the Oscar-winning actor Brie Larson says, speaking over Zoom. "Now, I've started winding down once the sun starts to set. The sunset has become a cue to myself to say, 'Hey it's time to wrap things up. I'm not going to keep looking at the news, or keep responding to e-mails—I am going to use this time to wind down."
The 31-year-old Sacramento, California native is discussing something many are struggling with: the fine balance between work, health, and contentment amid troublesome circumstances. And time has been anything but idle for Larson over the past few years—in addition to starring last year in Marvel's first female-led movie Captain Marvel in 2019, she's produced an Emmy-winning VR series The Messy Truth and created a personal YouTube series, which enables her to connect directly with fans. She's also recently signed on as the new global muse for Decorté, one of Japan's leading beauty brands.
Below, Larson details her beauty routine first thing in the morning and at night—in addition to giving tips for self care, inside and out.
What do you love most about Decorté that made you agree to be their global muse? Is there a certain philosophy behind it that you felt resonated with you?
I started using Decorté about a year ago. I just have been really impressed with the products themselves, hydration being a key factor. Hydration plays a huge part of my skincare routine, period. Also, I'm not a super multistep, complicated skincare routine person. I like products where you only need a few that are super targeted and effective. The brand fits in well with my lifestyle.
Which products are your favorites?
I use all of them; I don't want to leave anything out of my routine, but the thing that I've been using the most is the AQ Botanical Pure Oil, especially at night. I use that and the lip oils constantly. I love that there are clear and tinted ones. Even with my YouTube channel, I have a simple makeup routine and those lip oils have been a game-changer for me. I'm finding a way to do a little something for myself. I naturally have dry skin, so I need hydration and the products are all rooted in the concept of hydration, which is key to Japanese beauty.
What is the first thing you do in the morning, skincare-wise?
I wash my face and then I'll put on the AQ Oil Infusion and moisturizer and sunscreen. That is just the skincare element. For my YouTube videos, I'll do a little foundation, I'll play with blush, maybe mascara, fill in my brow and then use the lip oil. That's kind of the basics—if I go crazy, I'll use an eye shadow. But usually, that is the basis of it. At night, it's kind of similar: I wash my face with the AQ Meliority face wash. It's really moisturizing, silky, and foams well.
Then I'll apply the AQ Botanical Oil and some eye cream, probably more lip oil, too. I put it on before I go to sleep because I feel it really locks in hydration. I mix it up by sometimes adding serum—but that's it, pretty simple. It's my tried-and-true routine.
Do you have a facialist that you visited regularly pre-pandemic?
When I could get facials, I'd get the Beauty Sandwich from Ivan Pol.
How do you wind down at the end of the day, following your nighttime skin routine? Especially in light of the pandemic, the times are so nerve wracking.
It is nerve-wracking. I've had to learn how to place more boundaries with work and my self-care.
It just feels like everything can be so out of whack. As I mentioned, I have started winding down once the sun starts to set. It's also my cue to start cooking dinner, go into the garden—that's how it starts. I've been burning frankincense in the house too, because it not only smells great, but it's great for cleansing the air in the house; it's anti-microbial. I've also been trying to watch a movie every night.
Sometimes I'll do some breathing exercises, or I'll meditate if I've had a particularly stressful day. For me, it's about what can I do that is transitional out of work into decompressing time, because when you're at home all day I feel it's very easy to let everything stick and hang on to you. It's about knowing what's the routine and what's the ritual to get out of that.
I find that taking a few hours off of something, taking a break and returning to it will make you better at whatever you are doing.
Or even a couple of minutes can help! The thing that I'm learning is that even just washing my face, putting on moisturizer, and doing five minutes of breathing exercises can help. I mean, we're talking about 10 minutes. Before I used to be like, "I don't have time for self-care." It's doesn't take as long as we think it does. You can do longer forms—of course, I am a big fan of that—but even for people who feel they are too busy, you can take 10 minutes to do great things for the mind and body.
I love how, on your YouTube channel, you are open and honest about the state of the world and the impact people can make. What do you say to the young women who are having a hard time trying to keep up with standards of beauty? The ones who don't look like everyone else, the ones who are not represented by beauty brands and magazines—what would you say to them?
I don't believe that there is a beauty standard. I struggled with feeling ugly and like an outcast for so much of my life. And so I really, really feel for that. It took me a long time to be able to be totally comfortable with myself. The thing that has brought me solace is knowing that I can be whoever I want to be with myself. What breaks my heart is to think of people in the world who don't feel that they have safety within their own bodies. That, to me, is my ultimate goal in life: to do whatever it is that I can so people have the freedom to express themselves and be exactly who it is that they want to be—whatever that is—knowing that that can also change.
Related: Naomi Watts on Self Care: "It's Not Always Sunshine and Roses"