Brie Larson: Scene Stealer
The young actress breaks through—literally—as a leading lady.
---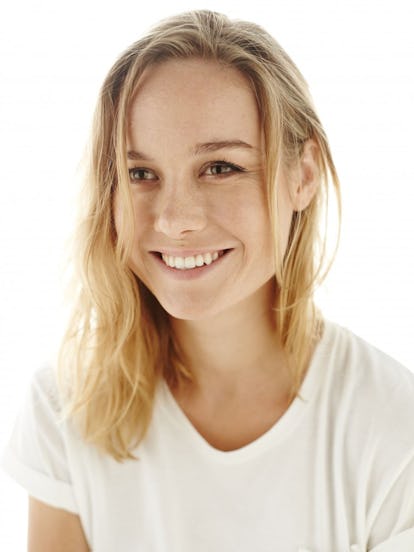 Photography by Roy Beeson
"If I had my way, I would never do a leading role," says Brie Larson. The 23-year-old actress and star of Short Term 12, a stirring indie drama (opening August 23) that won the Grand Jury Prize at South by Southwest, is only sort of joking. "To me, there's something much more interesting about stealing scenes," she explains. In that, Larson is quite accomplished, whether it's as Woody Harrelson's angry teen daughter in Rampart, Michael Cera's kittenish ex-girlfriend in Scott Pilgrim vs. the World, or Joseph Gordon-Levitt's comically weary sister in the upcoming Don Jon.
In Short Term 12, on the other hand, Larson plays Grace, a supervisor at a temporary home for at-risk youths, in a performance that combines the most compelling aspects of her attention-grabbing cameos—sex appeal, inner torment, and a quick, playful wit—in nearly every frame. "I didn't necessarily feel like I was ready for this before we started shooting," she admits now. "It was never so much actually playing the lead that felt scary to me as the other things that come with it—the press days, the public interrogations. But I realized I had to set my bullshit aside. I'm glad that I waited for a film that I can honestly feel good about promoting."
Although the film has a warm, funny, and generous heart, its storylines are dark. The runaway teens taken in by Grace and her staff arrive with secret histories of violence and sexual abuse. And then there is Grace herself, who has her own demons that she keeps bottled inside—right up until the moment she explodes. "When you're in that character's headspace for 12 hours a day, you need release," says Larson. "Very smartly, the production schedule made it so that at the end of almost every week there was something for me to smash, whether it was a lamp or a car." The scene in which Grace takes a baseball bat to a parked sedan was pivotal—not just for her character, but also for the micro-budget production's bottom line. "I had one shot at it," Larson says. "We only had that one car, there was no plan B. I was only supposed to take three swings, but something happened as I started hitting the car. I just got mad. I wasn't going to stop until there was a hole in that window!" She laughs. "Now I watch that scene, and the symbolism is so obvious—'Breakthrough!'"