The New Guard: Brit Marling
Brit Marling, Eddie Redmayne, and Emayatzy Corinealdi have all arrived—but via very different routes.
---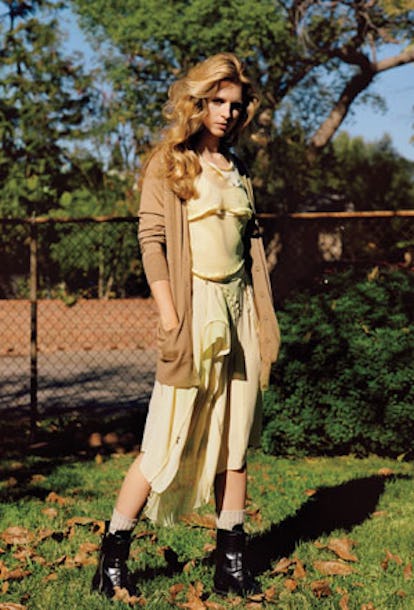 Brit Marling declared, "I am a skeptic," as we drove up Sunset Boulevard en route to her appointment with a psychic. An actress who often co­writes and produces the films she stars in, Marling, who has long blonde hair, porcelain skin, and an air of indifference about her beauty, is attracted to questions about the universe. Still, she had never before been inspired to have her fortune told. In West Hollywood, we pulled over in front of a narrow glass storefront across from the Comedy Store and next to the House of Blues, which seemed like an apt location for a fortune-teller. A large yellow sign in the window read, today's special: hand writing analysis. There was a line to see Ashley, the psychic, who was a round Romanian woman accompanied by Crystal, a Yorkshire terrier with purple bows in its hair.
Marling's latest movie, The East, like Another Earth and Sound of My Voice (the two other films she has cowritten), explores the attraction and complications of life on the fringe. In The East she is a spy who infiltrates a group of eco-terrorists, led by a bohemian Charles Manson–esque character played by Alexander Skarsgård. "If I wasn't an actor," Marling said as she parked the car, "maybe I'd be an eco-terrorist." She smiled. "We'll see if the psychic knows that."
Dressed in a New York–ish ensemble of opaque stockings, velvet slip-on shoes, and a loose black T-shirt dress topped by a simple white cotton coat, the 29-year-old actress looked distinctly out of place in Hollywood. She grew up all over America—her parents are real estate developers, and the family moved constantly. "As a child, I couldn't invest all that much in people because I knew I'd be leaving," Marling told me. "I would give myself different nicknames for each city: I was Zooey, Frannie, Lux, and so on." She was always attracted to acting, but her parents encouraged a focus on academics, and Marling majored in economics and studio art at Georgetown. When she was a freshman, she met Mike Cahill and Zal Batmanglij, two seniors who were directing their own short films. After college, she and Cahill went to Havana for a year and made a documentary called Boxers and Ballerinas; she also spent a summer interning at Goldman Sachs in Manhattan, which came in handy years later when she played Richard Gere's investment-banker daughter in Arbitrage. She started writing so that she could act: "I knew it was going to be very hard to become an actress. I wasn't prepared to be Bikini Girl Number 3 or star in Return of the Chainsaw IV. Most of the storytelling in movies is by men, so I wanted to write complex narratives about women. Nothing terrified me more than acting—but fear can be very motivating."
In 2011, Another Earth and Sound of My Voice debuted at Sundance, and Marling, who not only cowrote but also produced and starred in both projects, was an instant sensation. On top of being great-­looking, she was smart, engaging, and passionate. "I wonder if the psychic will intuit my history," Marling said, sounding surprisingly hopeful for a nonbeliever. That week she was heading to Sundance with The East, which is directed by ­Batmanglij. "But perhaps the psychic will already know that."
Well, not exactly. Although Ashley did say that Marling was a writer and that her work—probably a novel—would enter the world soon. "You feel alien," the psychic told Marling. "You keep looking for people who are like you." That was unimpressive, as it seemed to Marling like a vague, all-­purpose assumption that could apply to just about anyone. "Ashley said I had a bright aura," Marling continued when she returned to the car after the 15-minute, $200 reading. "She said I carry too much worry with me and that could cloud my aura." Again, nothing terribly specific there, but Marling brightened: "Ashley did say I would only get married once and that it would not be to the person I get involved with next but the person after that. I would have thought I'd have many love affairs and maybe no marriages." Unlike the other platitudes, the romantic prediction struck Marling as a startling and definitive statement. "I guess I now know my matrimonial future," she said, sounding amused. "Ashley also said everyone wants to know if they'll meet their true love. True love sounds dangerous to me. It would be hard to put all feeling into one relationship. But perhaps the man after the next will change my mind!"
We drove to Real Food Daily for lunch. Marling is vegan and, judging by her canvas handbag and non-leather shoes, is not casual about her choices. At Goldman Sachs she worked as an ­analyst, and that zeal for research has been only enhanced by moviemaking. "People think Hollywood is anti-­academic," Marling said, before ordering miso soup, brown rice, and a medley of exotic steamed vegetables. "But it doesn't have to be. For The East, Zal and I spent a lot of time on the road, meeting anarchist groups and different kinds of self-organized communities. When I write or act, I always try to make sure that I'm not using fantasy to avoid doing homework. To come up with a genuine insight based on something real is not easy."
Marling paused as her food arrived. "Which is why psychics are brilliant!" she continued. "They research what people want to hear, and then they tell you something surprising and unexpected that actually sticks with you. That's also what I like about movies: Even if you're doubtful, they can show you something new that wakes you up."
The New Guard: Hollywood's Freshest Faces
Brit Marling wears Rag & Bone jacket; Lanvin top and dress. Eddie Redmayne wears Belstaff jacket; T by Alexander Wang shirt. Emayatzy Corinealdi wears Chloé dress.

Photographer: Alasdair McLellan Stylist: Edward Enninful
J. Crew cardigan; Nina Ricci dress; Falke socks; Louis Vuitton boots.

Beauty note: Keep blonde locks vibrant with Matrix Total Results Blonde Care Weightless Conditioner.

Photographer: Alasdair McLellan Stylist: Edward Enninful
From left: Dries Van Noten shirt; Miu Miu top. T by Alexander Wang shirt.

Photographer: Alasdair McLellan Stylist: Edward Enninful
From left: Boss trenchcoat; Donna Karan New York gown; Jimmy Choo boots. Nili Lotan jacket; Carolina Herrera gown; Falke socks; Louis Vuitton boots.

Photographer: Alasdair McLellan Stylist: Edward Enninful
Belstaff jacket; T by Alexander Wang shirt.

Beauty note: Baby-soft skin won't get razor burn with Aveeno Active Naturals Men's After Shave Lotion.

Photographer: Alasdair McLellan Stylist: Edward Enninful
Acne Studios jacket; Calvin Klein Collection dress.

Photographer: Alasdair McLellan Stylist: Edward Enninful
Chloé dress; Jimmy Choo boots.

Beauty note: Keep skin glowing with Iman BB Creme.

Hair by Jimmy Paul for Bumble and bumble; makeup by Aaron De Mey at Art Partner; grooming by Amy Komorows for Axe at Celestine agency; manicures by Emi Kudo. Production by Jill Roy at 3 Star Productions. Photography assistants: Gareth Powell, Lex Kimberly, Seth Gudmunson. Fashion assistants: Felicia Garcia-Rivera, Lacey Lennon, Mecca Cox.

Photographer: Alasdair McLellan Stylist: Edward Enninful
Brit Marling and Eddie Redmayne on the cover of W's April 2013 issue.
Hair by Jimmy Paul for Bumble and bumble; makeup by Aaron De Mey at Art Partner. Grooming by Amy Komorowski for Axe at Celestine Agency. Fashion: Brit Marling wears Dries Van Noten shirt; Miu Miu top. Eddie Redmayne wears T by Alexander Wang shirt. Beauty: Covergirl Outlast Stay Fabulous 3-in-1 Foundation in Creamy Natural; Eye Enhancer 1 Kit in Champagne; LineBlast 24HR in Enduring Black; Clump Crusher by LashBlast Mascara in Black; Covergirl + Olay Simply Ageless Sculpting Blush in Rich Cinnamon; LipPerfection Lipcolor in Sultry.