Britney Spears Accidentally Set Her Gym on Fire 6 Months Ago
Let her latest Instagram video serve as a cautionary tale of why you should never leave flames unattended in your home.
---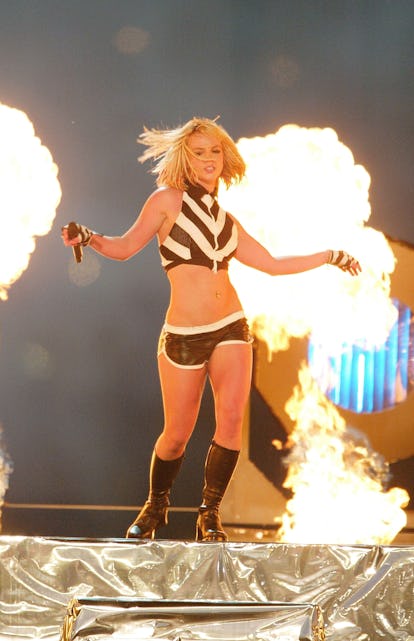 Photo courtesy of Getty Images.
Using Britney Spears's Instagram account as a source of workout inspiration is generally expected these days, considering the amount of home workout videos she posts, showing off her skills with free weights and yoga poses.
But who would have thought that the singer's Instagram would serve as a cautionary tale that we should all heed while we're stuck at home during the coronavirus pandemic?
Spears posted what eventually turned into one of her quick workout routine videos on her Instagram, but when she introduced her exercise routine, she began with a startling claim: she accidentally burned her gym down.
"I haven't been in here for like six months because I burned my gym down, unfortunately," Spears explained. "I had two candles, and, yeah, one thing led to another and I burned it down. So, I'm in here and only have two pieces of equipment left, and I'm going to show you guys what I do during this time," she continued. Oops. An on she went to demonstrate her quarantine workout.
"It was an accident," the singer wrote in an Instagram caption explaining exactly what happened with her gym. "But yes," she went on, "I burnt it down 🙈. I walked past the door to the gym and flames 🔥🔥🔥🔥 BOOM !!!!!! By the Grace of God the alarm 🚨 went off after that and yippy hoorah nobody got hurt 🙏🏼. Unfortunately now I have only two pieces of equipment left lol and a one-sided mirror gym 🙄🙄🙄 !!!!! But it could be much worse so I'm grateful. Pssss I like working out better outside anyways 🌸🌸🌸🌸🌸 !!!"
Still, the question remains: who is filming these workout videos and taking her Instagram pictures for her?
Certainly it's not her boyfriend, Sam Asghari, whom Spears claims she has not seen in weeks. "I have been quarantining since I got back from Louisiana weeks ago …. so basically I haven't seen my boyfriend @samasghari in what feels like a lifetime :sob: !!!! I have actually lost weight from missing him," she said in a recent Instagram post.
https://www.instagram.com/p/B_k9Z9QAVCB/
Anyway, let's just say these aren't the "little fires everywhere" we thought people would still be talking about at this point in quarantine.
Related: Britney Spears and Billie Eilish Are Healing the Gen Z–Millennial Divide