Britney Spears' Las Vegas Residency Will Be Urban, Hip-Hop Inspired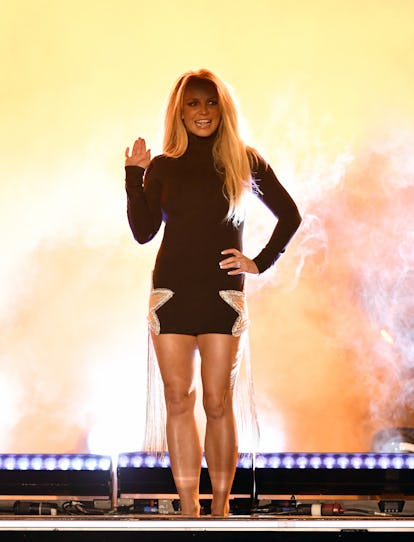 Ethan Miller
After revealing she would return to Las Vegas for another residency on Thursday, Britney Spears has now disclosed new details about the set of shows.
The new MGM Park residency, "Domination," will reportedly have "an urban, street, hip-hop vibe," says TMZ. The new show will have a different look and feel from her "Piece of Me" shows at Planet Hollywood, according to reports. This will apparently be reflected in the music, choreography, wardrobe, set design, and backup dancers. "Domination" is reportedly set to have "bleeding-edge technology," with two creative directors from Jennifer Lopez's team hired to help curate. Spears is set to perform her hits, but the show will feature hip-hop mixes between sets.
Watch: Actresses Priyanka Chopra and Jodie Foster Reinterpret "Toxic" by Britney Spears
Spears appeared on The Ellen DeGeneres Show earlier in the week to announce that she'd be making an announcement on DeGeneres's YouTube channel on Thursday night. Fans weren't exactly sure what to expect, but many were hoping that Spears was plotting to release new music. Spears's reveal, which took place outside of the MGM Grand in Las Vegas, featured a large-screen display recalling some of her hits with elaborate graphics. At the end of the announcement, a poster featuring Spears and promoting "Domination" was featured on the Strip. Spears' "Piece of Me" residency ran for four years, from 2013 to 2017.
While another residency is great, we're hoping that Spears will give the fans what they really want, which is a 10th studio album. Maybe that's the purpose of the new residency, though, to debut new songs. But we're just happy Britney is back in Vegas (bitch).
Related: The 6 Pop Divas Who, Like Gwen Stefani, May Be Primed For a Las Vegas Residency