Britney Spears Has Reportedly Signed a New Deal With Las Vegas's Park Theater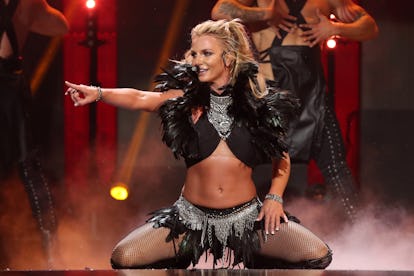 Christopher Polk/Getty Images
Oops!…She did it again. Just a few weeks after ending her show-stopping run at Las Vegas's Planet Hollywood resort, Britney Spears is reportedly already in talks to return to Vegas in 2019.
According to Us Weekly, "multiple sources" have confirmed that Spears will start performing at the new MGM Park Theater at the Monte Carlo Resort in 2019. "They made the offer and she just couldn't refuse. She loves Vegas!" one source said, adding that the pop star especially appreciated how much time she was able to spend with sons Preston, 12, and Jayden, 11, during her Piece of Me residency. "The schedule was perfect for her and her kids, so why not continue?" the source said.
Spears kicked off her Piece of Me tour at Planet Hollywood's AXIS Theater in late December 2013, and she performed her final show at the famed venue on New Year's Eve. The residency won multiple "Best of Las Vegas" awards and grossed upwards of $130 million throughout its four-year, 249-show run, according to Billboard, and, per the Las Vegas Review-Journal, set a Las Vegas record when she took in $1,172,000, the highest box-office take ever for a single show of a theater residency in the city.
The Piece of Me residency was the site of such iconic moments as her impromptu August 2017 cover of Bonnie Raitt's "Something to Talk About," which not only proved cathartic for the much-gossiped-about Spears but also expertly shut down the haters who accuse her of lip-syncing. Offstage, the princess of pop (and of Instagram) was equally impactful in the greater Las Vegas area, spearheading a $100 million campaign to build the Britney Spears Campus at the Nevada Childhood Cancer Foundation in late 2017 and auctioning off one of her own paintings to donate $10,000 to victims of the Las Vegas shooting.
The Park Theater, Spears's alleged new digs, is currently the site of recurring performances from Bruno Mars, Ricky Martin, and Cher. Next up, in December, Lady Gaga will begin a 74-date residency at the theater, which opened in December 2016 and seats around 5,200 people.
Related: Lady Gaga Is The Latest Pop Icon To Score a Las Vegas Residency