A Britney Spears's Floral Painting is Sold for $10,000 to Benefit Las Vegas Shooting Victims
And the buyer is Robin Leach of Lifestyles of the Rich and Famous
---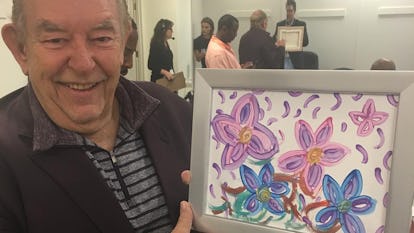 Britney Spears is the gift that keeps on giving. The singer's Instagram is a work of art in and of itself, rife with inspirational workout videos, impromptu photo shoots, and general joy. But in case you hadn't heard, Spears is also an amateur painter who just sold her first work at auction—and the buyer was none other than Robin Leach.
In true Britney fashion, back in October, the Piece of Me singer posted a video of herself perched on a stool in what seems to be her backyard, serenely painting flowers on a small canvas while sporting athleisure and listening to Mozart's "Piano Sonata 11" (because what else would she be doing?). The post quickly went viral, though the inspiration behind the masterpiece remained a mystery.
Unbeknown to her followers, Spears donated the flower painting to Vegas Cares, an auction to benefit the victims of the October Las Vegas shooting, which left 58 dead and at least 546 injured. Enter the inimitable Leach, best known for hosting the show Lifestyles of the Rich and Famous. Reportedly he paid $10,000 to own the Spears original.
"I'm so proud to call Vegas my second home and I'm pleased to participate in this Vegas Cares show," Spears reportedly said in a video message during the benefit. "The flowers in my painting represent a new beginning, and it's in that spirit that we move forward." This isn't the first time Spears has stepped up for the city, where she's performed in residency since 2014. On Monday, the pop singer attended the grand opening of the Nevada Childhood Cancer Foundation's Britney Spears Campus, a center Spears donated $1 million to help build.
Leach himself has also significantly contributed to Las Vegas, where he has lived since 1999 and currently works as an entertainment columnist for the Las Vegas Review-Journal. Though he named Celine Dion as his favorite Las Vegas performer in residence, Leach has much love for Spears, of whom he said, "If you'd asked me 40 years ago, when I wasn't so old and crotchety, I would've said Britney. She has an in-depth musical catalog and she dances her tail off like nobody else does and the whole thing is a party."
Lifestyles of the Rich and Famous, indeed.