Step Aside, Bob Ross, Because Britney Spears Paints Now
"Sometimes you just gotta play!!!!!! ??????‍?????????????"
---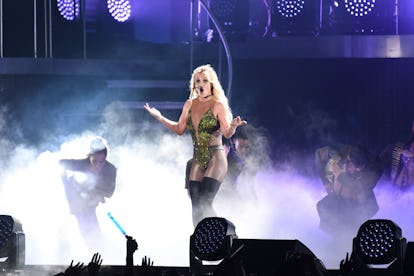 Photo by TPG/Getty Images
Here with your daily dose of whimsy and delight is Britney Spears, who on the afternoon of Friday, October 13 posted a video of herself painting. So fun! Dressed in a sports bra, shorts and a paint-splattered button-down that she trades for an airy sweater halfway through the video, Spears can be seen perched on a stool in what one assumes is her expansive backyard, painting swirls and flowers. She captioned the video, which is set to Mozart's "Piano Sonata 11" (thanks, Siri!), "Sometimes you just gotta play!!!!!!" And indeed, sometimes you just gotta!
If you don't follow Ms. Spears on Twitter, you should consider remedying that immediately, because she's truly mastered the art form. Her feed is a mix of charitable efforts, inspirational memes, promotions for her latest projects, and random-ass videos like you might have made in tenth grade at a sleepover after trying Peach schnapps for the first time. For instance, a one-woman fashion show!
Or this clip, in which the super-fit Brit demonstrates her ability to do a handstand in her home gym – which has pink Christmas lights – while a small dog plays in the background. She captioned it "Life is actually better upside down ??????????," and you know what? It probably is.
The same content is available on her Instagram, if that's your preferred platform.
At the end of a toxically bad week in what seems like and endless, and endlessly terrible, year, Britney's painting gives us hope. Hope that there is still fun in this world, hope that she's doing well, and hope that she will be allowed to do the album artwork for her next record, because we need to see where this flower motif is going.
Related: Move Over, Models: Britney Spears Might Have the Best Runway Walk In the Game
MTV VMAs: See What Britney Spears, Taylor Swift, and More Wore to Their First Video Music Awards
Arguably the queen of the VMAs, Britney Spears made her first appearance in 1999 in sheer black; 17 years later, she wore a similarly-colored ensemble.

Photos by Getty Images.
Taylor Swift kicked off her storied VMA history in a blush pink dress in 2008; in 2015, she took home Video of the Year in sequined sweats.

Photos by Getty Images.
Alicia Keys attended her first VMA's in 2004 wearing a grecian-inspired gown; last year, she appeared bare-faced.

Photos by Getty Images.
In 2000, Beyoncé attended the ceremony with her Destiny's Child band members wearing matching leather looks; last year, she took home "Video of the Year" in a feathered couture gown.

Photos by Getty Images.
Ariana Grande opted for a sweet floral look for her first VMA red carpet; in 2016, she opted for something a bit more mature, by Alexander Wang.

Photos by Getty Images.
The picture of pop princess-dom, Christina Aguilera went leopard and sheer for the 1999 ceremony; by 2008, she was fully embracing the glam side of things.

Photos by Getty Images.
Justin Bieber piled on the accessories for his first ceremony in 2010; in 2015, he opted for a more streamlined look in ripped jeans and a leather jacket.

Photos by Getty Images.
Ciara attended her first show in 2008 wearing a silver minidress; in 2015, she took a much more fashion-forward approach in a fringed number.

Photos by Getty Images.
Jared Leto presented at the 2006 awards wearing some serious guyliner and a white skinny scarf; nine years later, despite a new Academy Award, the actor proved he still was into his goth ways.

Photos by Getty Images.
J.Lo showed up to the 1998 awards in a oversized cream suit and matching hat; the singer's look for the 2015 awards was far more on par to the Jennifer Lopez we know now.

Photos by Getty Images.
Kanye West arrived at the 2004 awards in an all-white ensemble; twelve years later, he wore a similar ensemble and arrived with now-wife Kim Kardashian.

Photos by Getty Images.
Justin Timberlake showed up with the rest of the 'Nsync gang in a leather jacket; by 2013, he had shifted to his signature fedora.

Photos by Getty Images.
Katy Perry, who will host this year's ceremony, crafted her own ensemble for the 2008 awards; at the 2014 awards, she riffed on Britney Spears's iconic denim gown.

Photos by Getty Images.
Lady Gaga kicked off her tradition of kooky ensembles in 2009 wearing a feathered look; in 2013, she saved her theatrics for the stage.

Photos by Getty Images.
In a leather mini and trailing braid, Kesha made her VMA debut in 2010; in 2014, she toned down the look with a pastel gown and matching hair.

Photos by Getty Images.
Madonna kicked off the inaugural ceremony in 1984; in 2009, she returned in a subdued black suit.
A year before her iconic lavendar catsuit, L'il Kim matched Lisa "Left Eye" Lopez at the 1997 awards; the rapper let her boots do the talking in 2013.

Photos by Getty Images.
Gwen Stefani attended the 1997 awards with her No Doubt bandmates; in 2014, she was solo and donning shocking pink.

Photos by Getty Images.
Miley Cyrus arrived at the 2008 awards in a modest metallic dress; in 2015, her look was still metallic but definitely not modest.

Photos by Getty Images.
Pink, who will receive this year's Video Vanguard Award, took home her first moon-man in 2001; the singer arrived at the 2012 awards in a metallic gown.

Photos by Getty Images.
Rihanna was a fresh-faced and little-known singer when she attended the show in 2005; last year, she recieved the Video Vanguard award.

Photos by Getty Images.
Demi Lovato attended the 2011 awards in a sequined minidress; four years later, she returned wearing a similar ensemble.

Photos by Getty Images.
Selena Gomez made her VMA debut in 2011 in a high-low black dress; in 2015, she was super sophisticated in navy Calvin Klein.

Photos by Getty Images.
Solange arrived at the 2001 awards in an ensemble she'd likely not be caught in today; the singer was much more in tune with her current sartorial standard by 2014.

Photos by Getty Images.