The 6 Pop Divas Who, Like Gwen Stefani, May Be Primed For a Las Vegas Residency
Vegas is in danger of reaching peak diva, but here are the select few candidates left who could headline the Strip.
---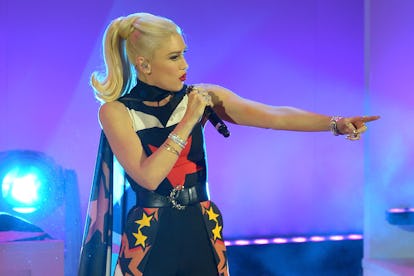 Jim Dyson
Gwen Stefani may be the latest artist about to hammer the point home that a Las Vegas residency isn't quite what it used to be. According to reports, the singer is in negotiations to headline her own show on the Sunset Strip (and may or may not be joined by her No Doubt bandmates as well). The rumored plan would have her taking over the Zappos Theater at the Planet Hollywood resort that is currently home to Jennifer Lopez, and which played host to Britney Spears before her. She'd join a list of recent performers who have embraced the city including Celine Dion, Shania Twain, Bruno Mars, Ricky Martin, and Toni Braxton. Lady Gaga, too, will start a two year residency later this year.
Once the provence of over-the-hill ex-hitmakers meant to entertain older tourists in between gambling binges, the city is increasingly attracting blue-chip artists who either are still in the business of topping charts or aren't that far removed from it. With promises of big pay days and geographically stability, who can blame them?
The only issue may be that Vegas could be burning through pop divas too fast. It was only about five years ago when Spears planted her flag, and already the resorts and casinos are running through the list of former TRL mainstays at breakneck speed. Who else is left? Well, we have a few ideas. Taking note of the stars who actually are in the middle of worldwide tours right now (Pink, Katy Perry, Shakira, etc.) and hence may not be looking for the opportunity, and considering the fact you'd have to be on another level to expect Beyoncé, Rihanna, or Taylor Swift to actually do it (right now, anyway), here's the best left in the field of potential Vegas headliners.
Christina Aguilera
Back in 2015, Christina Aguilera's manager caused a bit of controversy when he appeared to shade Britney Spears by pushing aside the possibility of a Las Vegas residency. "Christina's not peaked yet," manager Irving Azoff said while guesting on Pauly Shore's podcast. "She's in the prime of her career, will tour the world. We're not ready to sit down in Vegas." Of course, since that time, Aguilera hasn't released any new material. Nor has she toured the world or much else. In fact, her last time on the road was three dates back in 2008. She has a few turns as an actress in the works, but it's not clear what else Aguilera has coming up.
She's got a bevy of hits in her back catalog (maybe more than you remember at first), and that notorious vocal prowess to wow vacationing audiences who are just looking for the best show possible. It certainly would make sense, but there's been no rumors since her manager made those reports.
Janet Jackson
As the social media response to the recent Super Bowl halftime show reminded us, there's still a lot of love out there for Janet Jackson. Of course, the fact she just wrapped a sucessful North American tour in December, also proved as much. So she's probably not looking to jump back into regular performing right now. She has new one year-old son at home as well. Then again, next time she decides to perform she may prefer the stability of a residency.
Adele
Have you heard? Adele openly hates touring. She talks about it all the time, and has even publicly questioned wether she'd actually ever tour again. Perhaps not coincidentally, the notoriously loosely sourced British tabloids have ran multiple reports over the past year that she was being offered major money to do a longterm stint in Sin City. Many of those reports have been denied, but we'd be surprised if someone in Vegas hadn't reached out to her about it.
Kylie Minogue
Unlike many of the artists on the list, Minogue has publicly entertained a Vegas residency for years. As recently as 2016, she tweeted, "That. Would. Be. Fun!" when a fan brought up the idea. The obvious issue is the fact Minogue's fanbase is more international, while Vegas attracts a mostly domestic vacationing crowd. Still, she has a devoted fanbase in America who would travel just for the chance to see her. She's only toured America once before, and she seems to be open to the idea.
Miley Cyrus
Not to be shady, but while Cyrus is only 25 but she does already fit the pattern of other Vegas headliners: She's done a stint judging a singing reality show, and her recent album didn't produce a notable radio hit. We could see it happening.
Madonna
Madonna signed a major deal with Live Nation back in 2007, and many reports indicated that it ran for 10 years. We should emphasize those were unconfirmed, but it's possible Madonna may be free to make whatever kind of career move she wants right now.
The thing is Madge is still very capable of selling out arenas worldwide, and she seems like the kind of person where if she were ever to do a residency she'd purposefully do it in some other city besides Vegas just to prove that she could.
Related: Gwen Stefani Says Life with Blake Shelton Is Exactly Like That SNL Sketch