How Last Night's Broad City Episode Ended Up Going on a Fully Animated Mushroom Trip
Mike Perry, the artist behind the show's illustrated intros, has spent the majority of 2017 making Abbi and Ilana's hallucinations a reality.
---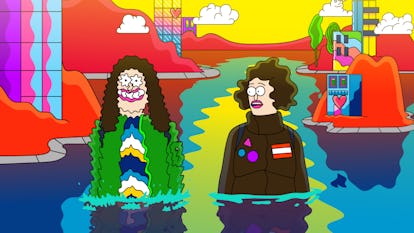 Comedy Central
"Twenty-four frames times 60… times eight… so it's like 11,500, just on a guess," Mike Perry said casually while working the calculator app on his iPhone. He was estimating the number of drawings he's spent the year working on for Abbi Jacobson and Ilana Glazer for their Comedy Central show Broad City. In total, they come together to make up the eight minutes of last night's episode of Broad City, "Mushrooms," that are fully animated—and that finally take the silly what-ifs on the show, like Abbi wondering aloud if Ilana ever thinks about getting a bra for her butt, to their illogical, ridiculous endpoint. (In this case, that means that her butt turns into two very bouncy basketball-like spheres.)
Before all that, though, the episode begins as usual—with Abbi and Ilana about to get high. But instead of sticking to weed, they mix up a hallucinogenic concoction of fennel seeds, yogurt, and, of course, mushrooms, which soon have them literally googly-eyed on the streets of New York City, which becomes a rainbow, animated land of canyons and skyscrapers.
Soon after Hannibal Buress yells "Hey Ilana!" from up above, though, things take a darker turn: Abbi giggles and says, "I think I brought my vibrator," then realizes the buzz is her phone; she gets a text from her boss that turns their adventure into a panicked hunt for macarons, which Abbi and Ilana urgently need to find and deliver within the next hour.
Whether or not you, like Perry, have done "a little research" with shrooms, you'll recognize the trippy universe he created: It's essentially an extension of the illustrated introductions the artist has done for every single Broad City episode since the series premiered in 2014, all of which share a style with a "sexy, wiggly appeal," as he described it. That wiggliness is what led Jacobson, who's also an artist and illustrator, to reach out to Perry a few years after they met at Art Basel Miami Beach to do the show's animations, even though he'd never actually really done animation before.
From the start, Jacobson and Glazer have given Perry complete freedom when it comes to working with them; he doesn't even preview the episodes his introductions are eventually paired with.
"I'm always like, 'Do you guys have any inspirations? Do you want me to know anything?'" Perry said of starting anew each season. "The only time was last season when they said, 'We want to have a patriotic one.' That was it, and all that meant was red, white, and blue."
As it turned out, Jacobson and Glazer got to experience a bit of the freedom they've given Perry themselves when it came time for the show's fourth season, too. "It was just presented as an opportunity for them to just go for it—like, 'F— it, we made it to season four, we're gonna get weird,'" Perry said of how they ended up going from finally carrying out his idea of giving them animated googly eyes a few years ago to turning them into cartoons for a coloring book to going on a full-on eight-minute animated trip.
"Research" aside, the segment was admittedly quite a bit of work; even with the help of four animators, drawing up all those macarons, butts, googly eyes, and canyons took about seven months in total—not that Perry's complaining. Though his expansive, paper chain-covered studio in Crown Heights, Brooklyn is just as much of a "really amazing safe space" as working on Broad City, Perry jumped at the opportunity to get to know much more of the crew while doing the animation, which required its fair share of IRL meetings and set visits.
"The amount of humans involved in pulling something off like this was so much more complex, which was great, because it gave me the opportunity to bond with some people," Perry said. "Season one, I went to go to the premiere party, and I was like, This is so cool. And then I was like, You know what? I don't know a single person here, because all I do is hang out by myself over here," he said, gesturing to one of his many desks, one of which has room for a bed for his dog, Bass, underneath.
Of course, Perry doesn't just work on Broad City. Nearby his computer is an easel that's decorated with more paper chains and surrounded by some of the paintings that also make up Perry's practice, as showcased in his exhibition "Intoxicating Pollen Wiggling in a Moist Journey of Constantly Blooming Tide," which is on display at Garis & Hahn in Los Angeles through the 21st.
In his personal artwork, Perry does not shy from focusing on nudes, but other than that, his paintings are just as "wiggly" as his work with Broad City—and just as amenable to being printed onto the cases of rolling papers, which Perry did with both the coloring-book pages and his own paintings.
Related: Abbi Jacobson Gets Her Matisse Fix with Ilana Glazer
Andrew Garfield's Idea of Heaven Is Disneyland and Brownies: