Broadway Star Denée Benton Is Obsessed with Drinking Water, Wearing Lip Balm and Reading "War and Peace"
The actress opens up about her on-the-go beauty routine.
---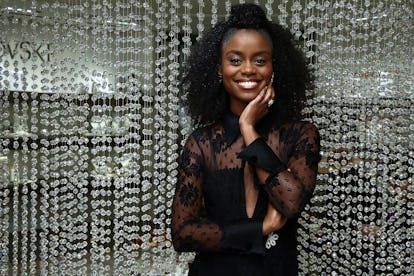 Getty Images for Swarovski
Broadway actress Denée Benton is now starring in Natasha, Pierre & the Great Comet of 1812 an off-Broadway musical based on Leo Tolstoy's sweeping novel War and Peace. So, of course, she can't put the book down. "I'll be reading [it] for the rest of my life!" she laughs. But the book isn't the only thing in her travel kit–she also always carries lip balm, chapstick, and more products recommended by her go-to makeup artist.
Your look in three words: Comfy, colorful, feminine.
Travel kit snapshot: Always Eos Chapstick, a GIGANTIC water bottle, and a good book. Those three things would probably get me through anything. Right now, because of the show I'm in, I read a tattered copy of "War and Peace" that I'll be reading for the rest of my life.
A good hair day starts with: Curls Brand Edge Control Paste can turn any 5th day frizzy twist out into a good hair day. I can make it a classy up-do or a youthful Afro puff and delay a wash day when I'm in a time crunch.
Makeup miracles: Eos lip balm is really the only thing I won't leave my house without, but sometimes, if I want to feel like Beyoncé, I get a fresh eye brow wax and wear a bold mat lip color. I love Bite lipstick in Black Truffle and All Fired Up by MAC.
Nails must be: When they're done, I actually love doing a really pale pink or neutral. It makes me feel really put together and like I'm a woman who remembers to wear perfume everyday.
Favorite mask: I love the Lush Cup O' Coffee mask. My skin always feels so soft and looks "glow-y" after. I feel like it wakes my skin up on those drab winter days when I haven't seen the sun. Bronze or blush: I didn't really get into blush until I started working professionally and getting my makeup done by the pros. I have to admit that I'm still learning, but I really like the Tarte, a brand that Sephora carries. Donna Stocker was my makeup artist on my first TV show "UnReal" and she really took time to teach me wonderful things. She taught me how to maximize products that work with my skin tone. She introduced me to Tarte and this great concealer by MAC called Caramel. Key to beauty from the inside out: HYDRATION!!!! I probably drink at least three liters of water a day. Whether I'm at rehearsal, running an errand or seeing a movie, I've always got my 32oz Nalgene with me. I also love coconut water. I feel immediately hydrated after and it's also great for my singing voice.
Exercise obsession: I'm in a show right now where the set is basically made of stairs (the set is incredible, our set designer is a genius). One of my cast mates wore a FitBit during a day of rehearsals and saw that we averaged 60 flights of stairs… so right now, this show is my exercise obsession, haha.
Nighttime drink of choice: Chamomile tea with hone.
Product that you borrow from the boys: Sometimes I'll throw on my boyfriend's deodorant when I'm in a rush.
Product that you picked up from the pros: I discovered Devachan salon a few months ago and fell in love with their "DevaCurl No-poo" Shampoo and Conditioner. It's a salon that's tailored to curly and kinky hair and it was the first time I discovered what my natural curl pattern looks like without a bunch of manipulation which made me very happy. Fragrance you would like to go to bed with: I looooove the smell of jasmine. Your most searing beauty q: How do I achieve the "natural beauty no makeup look" with makeup on? Definite doppelgänger: When I was a little girl I looked EXACTLY like Rudy Huxtable (a young Keisha Knight Pulliam). Now I get First Lady Michelle Obama, which I take as a HUGE complement to say the least. You're staying in for the night, you are: I love having the night in to myself. I put on my Moo Moo that my grandma gave me, make some chamomile tea, put on a face mask, and watch a Rom Com. Nighttime beauty ritual: I wash my face and put coconut oil on it then read a Psalm from my Bible. In tub must have: Lavender Epsom salts (because I'm 87 on the inside) and some music by one of my favorite ladies- India Arie, Corinne Bailey Rae, Laura Mvula or Lianne La Havas. What makes you feel sexiest? I know it feeds the patriarchy, but I would have to say that freshly shaven legs make me feel very sexy. When I'm busy it's something I usually forget, so when I do it I always feel very silky and sultry.