Broods, the Brother-Sister Duo with Lorde's Approval, Break Out
Catching up with musician siblings Caleb and Georgia Nott, the next great pop act out of New Zealand, ahead of the release of their sophomore album Conscious.
---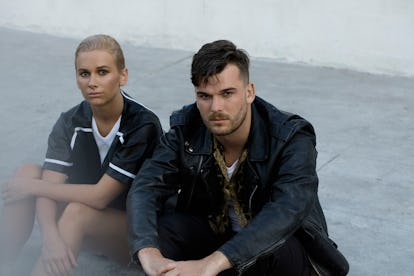 Conscious, the new album from the band Broods, opens with a statement of intent in the form of an arpeggiated, a cappella howl: "I'd lose everything so I can sing/Hallelujah, I'm free," sings Georgia Nott, one half of the brother-sister duo. Out June 24, Conscious is the New Zealand-based band's follow-up to 2013's Evergreen, and it finds them on firmer footing in the years since their debut. Their sound has expanded, the instruments layered, the studio opened up to new collaborators. In addition to the hand of long-time producer Joel Little, Conscious also bears the marks of fellow Kiwi Lorde — she co-wrote the band's new single "Heartlines" — and Swedish musician Tove Lo, who lends her vocals to "Freak of Nature."
Like their collaborators, Broods make eminently danceable synth-pop. Their lyrics lack the wry humor of Lorde's "Tennis Court," but they compensate with earnest, hook-driven anthems. Broods's new material thrives on the contrast between Georgia's intimate lyrics and Caleb's heavy, quasi-industrial production.
The Lorde collaboration — Georgia and her brother refer to her by her birth name, Ella, and for a moment I think they're calling her "L" — came about because they share Little as a producer, they were in Auckland at the same time, and because "in the New Zealand music industry, everybody knows everyone," Georgia said. (The song premiered today on Zane Lowe's Beats 1 and goes into wide release Friday.)
New Zealand is having a bit of a breakout moment: In addition to Lorde and Broods, there's Parris Goebel, the choreographer whose dance crew The Royal Family appears in Justin Bieber's "Sorry" video, and producer James Wong (a.k.a. Gladius, also an Auckland native) and musician Leroy Clampitt are credited on "Company," off Bieber's Purpose.
The country has numerous state-sponsored grants for musicians and a thriving cottage industry of Battle of the Bands competitions, which is how Broods's producer and manager both discovered the Nott siblings. And while it wasn't until both Caleb and Georgia had dropped out of college that they formalized Broods, music infused their lives from an early age.
"It was pretty much the focal point of our lives," Georgia said. She started writing songs on her own "because I needed a way to get my own shit out," she said, "and then I realized it was my only way of really communicating in a sufficient way." ("We're horrible at talking," Caleb added with a twisted smile.) Their mother, a primary school teacher, runs a children's music program and choir with their uncle. Their cousins played in one of the early iterations of their band. Their dad owns about eight guitars, and their parents play old folk songs with their aunt and uncle, a children's songwriter.
"Our music is naturally very harmony-heavy because we used to listen to the f—ing Eagles and ABBA and Manhattan Transfer and those kind of people that were just like — America," Georgia said. "I don't think America ever stops singing in harmony."
The siblings' childhood soundtrack seems to also have instilled them with a reticence towards trends. They struggled to write a follow-up to Evergreen that would mark a sonic development without either estranging their established fans or sounding like a string of singles rather than a cohesive album. They want you to listen to the record the whole way through.
"We actually had some good songs, but they sounded more like the last record," Caleb said.
Compounding the challenge was the weight of a few singles that had, by their definition, "trended." One of the lead singles off Evergreen, "Bridges," has passed 30 million listens on Spotify, while the record's opening track "Mother & Father" has reached nearly 20 million. It might be peanuts compared to collaborator Lorde's nearly 350 million listens for the ubiquitous "Royals," but it's commensurate with many of the tracks off collaborator Tove Lo's debut Queen of the Clouds.
"When you watch it live and you kind of see how many people you're reaching … it's bizarre," Georgia said. "In a way, you feel like you're just kind of a bystander watching, but you're actually a part of it."
There was a danger of the proverbial sophomore slump, but also the weight of fan expectations and the pressure they placed on themselves to write a song that might unseat "Bridges," so that wouldn't be the only thing they were known for. They're aware it's not entirely up to them — "You make all these songs and then you give them to the world and you have no control over what happens after that," Georgia said — but, in the studio, they sometimes get the sense that they're on to something. That's how "Free" ended up the first single: "That was the first song that we wrote where we were like, 'Oh, man, finally, we wrote something we think is that,'" Caleb explained — that being the next phase in Broods's maturing sound.
The next phase of the sound might not really be Broods at all: If their contracts allow, they're hoping for some solo work. Given their complementary approaches to writing, they're not quite sure how that would work, but they are open to exploring.
"I don't think you can cement yourself as a certain type of musician," Caleb said. "If you're a musician and a songwriter and you're writing the same stuff all the time —"
"You'd probably go mad," Georgia said, interrupting.
Her brother finished: "That's so boring."
Photos: Broods, the Brother-Sister Duo with Lorde's Approval, Break Out
Georgia and Caleb Nott of Broods. Photo courtesy Capitol Music.
Georgia Nott of Broods. Photo courtesy Capitol Music.
Georgia and Caleb Nott of Broods. Photo courtesy Capitol Music.
Georgia Nott of Broods at the Vodafone New Zealand Music Awards in Auckland, New Zealand, November 2015. Photo by Getty Images.
Caleb Nott of Broods performs in Manchester, England, March 2014. Photo by Gary Wolstenholme/Redferns via Getty Images.
Caleb Nott of Broods. Photo by Renata Raksha.
Georgia Nott of Broods performs in Los Angeles, California, March 2015. Photo by Getty Images.
Georgia Nott of Broods performs during the Capitol Hill Block Party in Seattle, Washington, July 2015. Photo by Mat Hayward/Getty Images.
Georgia and Caleb Nott of Broods during the Firefly Music Festival in Dover, Delaware, June 2015. Photo by Getty Images.