Heart of Gold
Brooke Garber Neidich is turning her father's jewelry company into a gold mine—and giving away the profits.
---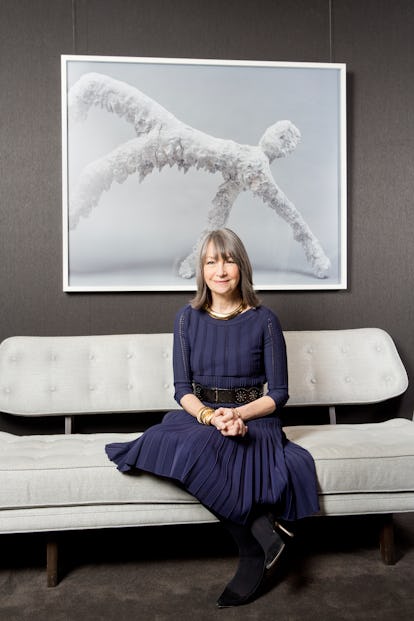 Photographer: Gus Powell
Last November, at a gala dinnerat Cipriani 42nd Street in New York, the woman seated to my left and the one seated to my right were both wearing feathery drop earrings from the Chicago jeweler Sidney Garber. Coincidence? Hardly. And no doubt there were several more pairs just like them glittering among the other 800 guests who had gathered to celebrate the fifth anniversary of the Child Mind Institute, an organization committed to treating childhood psychiatric and learning disorders. "Brooke gave me some pieces to wear during Fashion Week," Alina Cho, a former CNN correspondent, told me. Cho couldn't bear to give the earrings back—so she bought them.
"Brooke" is Brooke Garber Neidich, who cofounded the Child Mind Institute with the psychiatrist Harold S. Koplewicz and who that night was presenting an award to her close friend Hillary Rodham Clinton. Though unassuming in every way, save the amount of jewelry she tends to have on her person at any given moment, Neidich is a powerhouse in New York cultural, political, and philanthropic circles (she is also the co-chair of the Whitney Museum board). She grew up working in her father's Michigan Avenue jewelry store, where her responsibilities included Windexing the display cases. When Garber died in 2008, Neidich had the choice to close the business or make a go of it. Not having the heart to lay off the staff, she chose the latter. "I also thought, If I close this business, where am I going to get jewelry?" she says, only half-joking.
These days, Neidich doesn't even have to fly to Chicago to get her fix: Last fall, she redoubled her commitment to the company her father founded in 1946 when she opened a Sidney Garber store on New York's Madison Avenue. She is the first to admit she had no idea what she was getting herself into. "I knew what I didn't know, and what I didn't know was how to run a business," she says. As a teenager, she often traveled with her father to Europe on buying trips and, when he was older, staged a few successful trunk shows, but her apprenticeship pretty much stopped there. Neidich's husband, Daniel, a real estate investor, refrained from getting involved. "When I tried to talk to him about it, he'd say, 'Oh, please, Brooke.'" And when Neidich called her friend Mickey Drexler, the CEO of J. Crew, for advice on how to wholesale, he told her, "Do it; you'll figure it out."
Lack of working knowledge had never stopped Neidich before. "My father loved to ask questions," she says. "I think really smart people ask questions." Neidich, who helped raise more than $6 million for the Child Mind Institute the night of the gala (and raised her hand to start the $100,000-level bidding during the auction), got her first taste of philanthropy in the early '80s, when she organized an auction at the Brick Church School, on the Upper East Side, where her three children attended preschool. ("The only way you could contribute to the school was by going to the church dinner dance, which we did once," Neidich says."Daniel said to me, 'We're not going to this again—go figure it out.'") She and Dr. Koplewiczfounded the Child Mind Institute after he diagnosed a learning issue in one of her sons. And, as for the Whitney, soon after the Neidichs started working with the interior designer Jed Johnson on their first serious apartment, Brooke got a call from the trustee Beth Rudin DeWoody. ("She said, 'I hear you're buying art; you need to be involved with the Whitney.' So I said, 'Oh, okay, how do I do that?'") After Neidich raised more than 10 times Brick's goal of $5,000 that first year, a woman from the school asked her skeptically, "I don't get it—you just did this on charm and charisma?" Actually, yes. Or, as Clinton puts it, "If Brooke asks you to do something, quickly say yes, because you will get there eventually."
When it came to keeping Sidney Garber going, however, no amount of charm could hide that she was struggling. And then at a dinner party, she met Mario Grauso, the former president of Vera Wang. "He said, 'If you don't open a store in New York, you're cheating any philanthropy you're involved with,'" recalls Neidich, who since 2010 has been giving all of her profits to the Whitney, Child Mind, and the Lincoln Center Theater. "He got me."
Designed by A+I architects (whom Neidich also enlisted to give the Chicago store a facelift), the Madison Avenue boutique is tastefully decorated, with just a few elegant display cases (which, yes, she has been known to Windex on occasion) and art from the Neidichs'personal collection, much of which is currently in storage as the couple renovate their West Village apartment. In an intimate back-room salon hang a massive photograph by David Benjamin Sherry and a diminutive portrait of Brooke by the artist collective Bruce High Quality Foundation. ("They donated it to an auction Peter Brant organized for the Child Mind Institute—it wasn't going anywhere, so I bid on it.") But it is a set of eye-catching Donald Judd prints up front that seems to drive street traffic. "People come in for the art and don't notice that there is jewelry," Neidich says, laughing. "A man came in to look at the Judds—I sold him two bracelets."
When Ophelia Rudin, the wife of the real estate magnate William Rudin, walks into the store with a friend, Neidich slips comfortably behind the counter. "These are our Ophelia pearls," she says, holding an opera-length strand interspersed with diamonds. Signature Sidney Garber designs, like a dainty buckle bracelet from the '50s and the glitzier rolling bracelets from the '80s, are still in production and very popular—especially with Neidich, who tends to really stack them on. But over the years she has added some new pieces that would have given her father pause. She shows me a bracelet made with 21 rows of gray pavé diamonds. Even though the design is relatively classic, the piece feels cool and contemporary, less flashy—not to mention less expensive—than its white diamond counterpart. Garber was particularly exacting about stones and thought gray diamonds were crap. He would tell his daughter, "If you dropped one on the floor, I wouldn't bend to pick it up."
A few days after the Art Basel Miami Beach fair in December, we meet for coffee in SoHo, not far from the apartment where the Neidichs are temporarily camped. "Miami was great. It's an upbeat time for the Whitney because everything is happening," she exclaims, referring to the fact that the museum has just announced the opening date of its new building downtown. Before I arrived, Neidich was chatting with the street artist JR (she asked him for Instagram advice), and as I sit down, another young artist known as Prune comes over to talk about a project she is working on in China. "I just met someone from a museum in Beijing," Neidich tells her as she scrolls through her iPhone for the contact.
I take stock of Neidich's jewelry: On her right arm there are four bracelets ("Usually, I wear an uneven number, but we've made this new one, and I really love it"); on her left are a rose gold watch and a gold-and-diamond buckle bracelet. And around her neck are three Sidney Garber charm necklaces (in rose, yellow, and white gold) and a chain dangling a large ivory saber tooth. "In the '70s, all the cool girls had them," she says of the latter.
While Neidich's personal style is well informed, fashion trends seem to baffle her. She wears little makeup and has never dyed her hair, which is steely gray and cut in a modified shag. Her favorite label is The Row, and the admiration is mutual: Mary-Kate and Ashley Olsen wear her jewelry and have used it in their runway presentations. "I told them I want a couture program," Neidich says, launching into a story about a camisole that was discontinued. After begging them to bring it back, she took matters into her own hands. "I said to them, 'I'm knocking off your camisole, and if you're nice to me, I'll send you some!' I can't go work in Europe for a week with three little camisoles. I need five camisoles—at least!"
When Neidich would travel with her father on buying trips, they never made decisions based on the fashions of the time. "It was just our taste," she says. Recently, Neidich was handed a trend report. "I thought, Oh, my God, we are so totally on trend! Now what? Iwas horrified. For me it's never a trend; it's a feeling." And as we part company, what Neidich seems to be feeling is that she is underaccessorized. "I was in such a hurry to get out the door this morning," she says—and then dashes home to put on a pair of earrings.
Brooke Neidich in her store on Madison Avenue, with a work by David Benjamin Sherry.

Photographer: Gus Powell
Sidney Garber working at his store in Chicago, 1963. Courtesy of Brooke Neidich.
A Sidney Garber gold and diamond Harlequin bracelet. Photograph by Tim Hout.
Sidney and Brooke Garber at a father-daughter dinner dance, 1968. Courtesy of Brooke Neidich.
Hillary Rodham Clinton and Neidich at the Child Mind Institute anniversary dinner in November. Photograph by Ann Billingsley.
Sidney Garber gold and diamond Feathers That Move earrings. Courtesy of designer.
Neidich at her store in front of works by Donald Judd.

Photographer: Gus Powell
Sidney Garber Shield of Sapphires brooches. Courtesy of designer.
The artist Glenn Ligon, Studio Museum director Thelma Golden, Neidich, and Whitney curator Scott Rothkopf at the Whitney Gala in November. Photograph by Andrew H. Walker/Getty Images.