Brooklyn Beckham Took Chloë Grace Moretz to a Spice Girls Drag Show For Her 21st Birthday
They're spicing up their lives, even if Brooklyn's mom shut down rumors of a reunion tour.
---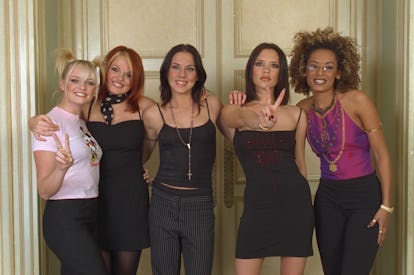 Photo by Eric Robert/Sygma/Sygma via Getty Images
Chlo¨e Grace Moretz's 21st birthday week continued with… a Spice Girls drag show with her boyfriend, Brooklyn Beckham, daughter of Posh Spice herself. The Neighbors 2 star officially celebrated her birthday with friends, cake, and multiple outfits last week, but she was also spotted Saturday morning at iconic brunch and drag spot Hamburger Mary's Drag Show in West Hollywood, watching a Ginger Spice impersonator lead the crowd in a singalong of the smash hit "Wannabe." (Check out pictures of the pair brunching and screengrabs from their Snapchat and Instagram Stories here.) Moretz even tagged Victoria Beckham, just to make sure.
Unfortunately, this is about as close as anyone is going to get to seeing the Spice Girls live anytime soon. Not that we don't love a drag performance (we do!), but our hopes for a reunion tour were definitely high after a picture of all five Spices meeting together surfaced last week. But Brooklyn's mom told Vogue UK that it's definitely not happening. "I'm not going on tour. The girls aren't going on tour," she said, explaining that the fivesome was meeting with their former manager Simon Fuller to discuss the future of the brand. "There's something so strong in the message of what the Spice Girls stood for. What is that in the future? What does that look like? We were just bouncing ideas around. Brainstorming."
And while she did rule out a tour, she spoke positively about the group, saying, "You know, there's so much bad stuff going on, and the Spice Girls were about fun and celebrating individuality. I think there's so much that the brand can do, and it's such a positive message for young kids." Yeah, that's why people do Spice Girls drag shows. Spice up your life!
Related: Brooklyn Beckham's Mom Thinks His Hair Looks Like Dennis the Menace's 'Do
What Beyonce, Nicki Minaj, and Karl Lagerfeld Do on Private Planes