Brooklyn Decker and Andy Roddick Welcome Second Child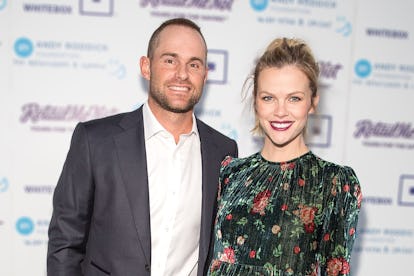 Rick Kern/Getty Images
Brooklyn Decker wants you to know that everything is totally "fine" in her chaotic household — despite its being filled with two small children, two sick dogs, and, presumably, two worn-out parents. On Wednesday, the model, actress, and tech-startup co-founder posted a photo on Instagram in which she not only revealed that she and husband Andy Roddick recently welcomed their second child into the world, but also listed the many other things that are undoubtedly keeping her up at night.
"A newborn, a toddler, a dog in a cone, a dog with a tumor but I'm having a good hair day so it's fine we're fine I'm fine," Decker, 30, captioned the photo, in which she shares a stoic look with the camera while her newborn daughter naps on her chest and the aforementioned "dog in a cone" sits in the background. Although a source told People that Decker and Roddick's daughter is named Stevie, the proud parents have yet to confirm their newborn's name. Nor have they shared her birth date; besides a shot she posted last week of a magazine cover that was most likely captured a few months ago, the last photo Decker posted of her baby bump was in mid-November. Since then, she's posted only a handful of photos and videos, including a few of 2-year-old son Hank and one, on December 20, in which her breastmilk leaks through her shirt and her baby bump is no longer prominent, fueling speculation that her daughter is already a few weeks old.
Former tennis pro Roddick, who married Decker in Austin in April 2009, spilled the beans on his wife's pregnancy during his acceptance speech at the International Tennis Hall of Fame Class of 2017 ceremony in Newport, Rhode Island, in July. "[Brooklyn,] you're the reason why my personal transition into a quasi-normal, everyday life has been gratifying and full. Hank will someday realize how lucky he is. Our daughter that's coming will also realize she has the best mother on earth," Roddick, 35, said, according to People. "Simply, thank you for being you."
The following day, the Instagram account for Decker's fashion-tech startup Finery shared a photo of the Grace & Frankie star cradling her barely there bump. "From @brooklyndecker to our team here this morn: "HEY GUYS….OUR FINERY TEAM JUST GOT A NEW USER!" ???????? We ❤️ u B & Andy!!" they captioned the pic.
Related: Enrique Iglesias and Anna Kournikova Reportedly Welcome Twins