Enrique Iglesias and Anna Kournikova Reportedly Welcome Twins
Nobody knew they were even expecting.
---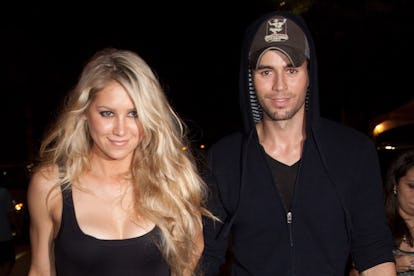 John Parra/Getty Images
Congratulations are in order for Enrique Iglesias and Anna Kournikova, who reportedly welcomed twins—their first children—over the weekend. According to TMZ, the Spanish pop star and the Russian tennis star had a boy and a girl, Nicholas and Lucy, on Saturday in Miami. The most remarkable part of the news, however, is not that the somewhat unlikely couple is still going strong after more than 16 years together, or that they welcomed two babies at once, but that they accomplished something Kylie Jenner and Khloé Kardashian could only dream about: They apparently kept the entire pregnancy—all nine-plus months of it—completely secret.
As TMZ reports, the last time Kournikova was photographed in public was in November 2016, when she and Iglesias took a boat ride together in Miami. On Friday, the day before she reportedly gave birth, Kournikova shared to Instagram a series of close-up photos in which she smiles at the camera while wearing an Enrique Iglesias–branded windbreaker on a boat. She captioned the photos "#Miamiwinter," and they are cropped so as not to show what would presumably have been a rather large baby bump. Iglesias also shared a photo from Friday's boat ride, a forced-perspective shot of himself in which he appears to be holding his dog on his finger.
The last full-body shot Kournikova posted was in early August, when she uploaded a short video of part of her exercise routine. In the clip, however, she's bent at the waist and wearing a flowy tank top, thus keeping any semblance of a baby bump completely camouflaged.
Iglesias, 42, and Kournikova, 36, have been together since 2001. The supremely private couple, who met on the set of Iglesias's "Escape" music video, almost never post photos of each other. Though they've sparked engagement rumors in the past, when Kournikova was spotted wearing a massive sparkly ring on her left hand, as far as the rest of the world knows, they have yet to tie the knot. That said, seeing how successfully the new parents hid an entire pregnancy, it's certainly possible that they could have tied the knot years ago and have lived in wedded bliss ever since.
Related: Why Britney Spears's Pepsi Commercials Were Perfection, and How Kendall Jenner's Went So Wrong