Bruce & Emma
For years Bruce Willis vowed he'd never marry again. Then the movie star met sizzling Emma Heming, and she changed his mind—and his life.
---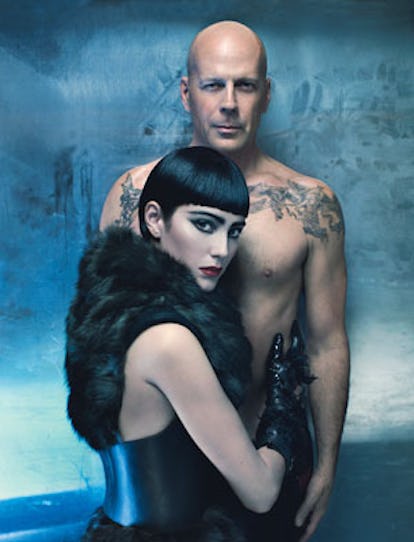 A word to the wise: If you've recently suffered a tough breakup, or are generally sullen or cynical regarding matters of the heart, avoid spending time in the company of newlyweds Bruce and Emma Willis. "We're sickening," Bruce says, shaking his head in mock disgust. "We make out in public. I know there's some rule that you're not supposed to be doing—what is it? Public displays of affection?"
"PDA," says 32-year-old Emma, née Heming, helpfully supplying her 54-year-old husband with the slang term he's searching for.
"Right, PDAs," Bruce says, oblivious to the fact that by making the acronym plural he sounds more like he's talking about Palm Pilots.
In truth, the Willises, who wed at Bruce's home in Turks and Caicos in March and made it legal with a follow-up civil ceremony in Los Angeles, are hardly exhibitionists. They share a quiet, restrained disposition, though they do indulge in discreet smooches in the company of others. And their declarations of adoration are made with such offhand sincerity that, save for the most bitter among us, it's impossible not to feel joyful in their presence.
Or perplexed. Is this not the same Bruce Willis who spent the years since his 2000 divorce from Demi Moore dating a string of models and decrying the institution of monogamy? "He once told me, 'If I ever tell you I'm gonna get married again, punch me in the face,'" recalls Louise Weber, an executive at Willis's production company who started working as his assistant 15 years ago.
"I went from 'F— love' to 'Love is truly the answer,'" Willis says, acknowledging his transformation. "I spent the last 10 years single and, for the most part, unhappy. In a dark place. I never thought that being with someone else was the answer. I would say, 'I'm alone, but I'm not lonely.' But I was just kidding myself. Then I started hanging around Emma, and on a day-to-day basis my life became much happier."
CLICK HERE to read what happened behind the scenes at Bruce & Emma's W shoot.
The couple met at the Los Angeles gym of their trainer, Gunnar Peterson, in 2005. Her lithe frame and understated beauty caught Bruce's eye, but at the time, she was engaged to L.A. nightlife entrepreneur Brent Bolthouse, so the two became merely friendly acquaintances. Two years later, Emma's relationship had ended, and in fall 2007 she was preparing to leave L.A. "We went on one date, on the Friday before Emma was getting ready to move back to New York, and then we fell mad crazy in love," says Bruce. "When you think about where are you going to find that big love of your life, you seldom think it's someone you already know. You think it's someone you're yet to meet." Adds Emma, "I had never really dated. I've always been a relationship kind of person. But in that phase of my life I was like, You know what, maybe I'll just date, see what it's like. And I lasted one date." Ever since, the two have been practically inseparable, often traveling together to her modeling shoots and his film sets, bouncing back and forth between L.A., where Bruce's three daughters live, and New York, which they both prefer.
The couple scoffs at the allegations made by the New York Post that Bruce had handpicked Emma during casting for his 2007 film Perfect Stranger because he was single and looking around. While Emma did indeed score a small role in the movie, she and Bruce say they were hardly, well, strangers by that point, having known each other prior to the film's production. Emma has since concluded that acting is not her thing—something that her husband finds "refreshing."
Instead, she plans to stick to modeling, a profession in which she's enjoyed success through campaigns for Gap and Victoria's Secret, among other brands. "She's made her own money," says her agent of 10 years, Faith Kates, the head of Next Management. "Clients adore her and are unbelievably loyal because she's really a lady—she says 'please' and 'thank you.' They'll work with her for five and six years running, which is unheard of in our business."
A hyper-responsible early riser who grew up mainly in California before moving to Paris at age 18, Emma was not pleased to see herself described in the press as a serial celebrity dater (she was once linked to Formula One owner and millionaire Flavio Briatore) after marrying Bruce, but true to her reticent nature, she refuses to talk about past relationships. That doesn't stop Kates from addressing the issue. "Let me tell you something: Every guy in New York calls for these girls," she says, referring to the rich and famous men who ask modeling agencies to set them up on dates—a practice, she intimates, that many of the girls are amenable to. "But she's not that girl." Indeed, in person, Emma comes off more like a consummate professional than a partying social climber. "The road I went down in modeling was a very commercial one because I wanted to make money, pay my mortgages and take care of myself and my mother," she says. "And then, every now and again, I'll get into something a bit more artsy, creative—like this shoot for W—and it kind of restores my love for my job."
Her husband's approach to his work is quite similar. Though his bread and butter is explosion-laden action flicks, he repeatedly emphasizes that he gets more pleasure from doing edgier fare like Pulp Fiction, 12 Monkeys and The Sixth Sense. "We have so many things in common," Emma says. "We're self-made, we came from the same background, and we went to work and became self-sufficient." Bruce got a taste of his wife's line of work on the W shoot, which ended up with him in some, uh, compromising positions. "Oh, it was awkward," he says with a bashful laugh. "We did stuff that I know a lot of other actors would not have done. Had I done it with another model, I don't know that I would have been as into it."
But perhaps what most drew Bruce to his wife—whose dark coloring and piercing eyes occasionally call his ex-wife to mind—is her quiet elegance. In May Emma appeared with her husband at the Metropolitan Museum of Art's Costume Institute gala. The night's theme was "The Model as Muse," and many of her fellow models, most with names far more recognizable than hers, showed up in eye-popping minidresses and femme-fatale eyeliner. Clad in a long, flowing Donna Karan dress and wearing minimal makeup, with her hair in a simple bun, Emma almost seemed to be attending a different event. And yet, those not wholly distracted by Gisele's glittery, barely there Versace could plainly see that Emma was one of the most stunning women in attendance. "She's never loud, never showy," says Kates. "She doesn't need to do that."
"Emma is unbelievably calm and nondemanding," says Robert Kraft, the president of Fox Music and Bruce's decades-long best friend. "She has made Bruce incredibly centered."
Bruce is quite obviously a man who places the utmost value on self-possession, and his wife—virtually oozing levelheadedness—seems the earthly embodiment of it. "She's reserved; she's not all, 'Hey, oh my God!'" Bruce says, waving his hands frantically in the air and turning into some kind of crazed Valley-girl fan before adding, "Okay, that was a bad impression." But it's the first of several times he adopts a voice ringing with frenetic energy to denote the kind of person who turns him off. Bruce himself speaks in a markedly modulated voice, one so low in both volume and pitch that at times it's hard to hear him. It's almost as if he's controlling his tendency to speak his mind—something that, in the past, has led him to misrepresent his own views. Take, for example, the fact that much of America believes Bruce Willis to be one of the most conservative actors in Hollywood, second perhaps only to Mel Gibson. Though he did support George W. Bush in 2000 and attended the Republican National Convention in 1992, Bruce has spent multiple interviews trying to explain away or modify previous political declarations—like the time he told reporters at a press conference that the U.S. should invade Colombia to end drug trafficking.
For the record, he says, he voted enthusiastically for Barack Obama in the last election, and his musings on politics the day we meet sound like those of a bona fide bleeding heart. "There are 500,000 kids in the foster-care program at any given time, and it could all be helped by money," says Bruce, who became the national spokesman for children in foster care during George W. Bush's presidency and will continue in that role during the current administration. "Just give us half a billion, and the foster system could be enormously helped. Just like education could be helped by money. When you're talking about $800 billion to bail out people who made automobiles, when you could be helping kids, things need to be reprioritized."
But these days, such passionate tirades come less frequently. "I'm really self-conscious," he admits. "I know what I want to talk about now and what I don't. I've learned less is more."
When Bruce is being goofy, though, which he concedes is often, his voice slips into a more audible register. This is okay with him; this is another version of himself that he is proud of—the lighthearted comedian, the guy who can laugh at himself. He may be the only celebrity on earth who regularly goes on David Letterman without a project to promote, just so he can clown around and do silly stunts. "It's about making fun of myself and making fun of fame," he says of his Late Show appearances. "Taking that shot at myself really puts a pin in the entertainers who take themselves too seriously." Emma cites Bruce's sense of humor as perhaps her favorite quality of his. "I'm laughing from morning till night with him," she says.
She gets along easily with Bruce's children as well as with Moore, 46, and her 31-year-old husband, Ashton Kutcher. "I met them very early on, and I was definitely nervous," she recalls, "because I'd never dated a man who had children and I wanted to be really sensitive to that. But I've been really blessed because from day one it's been comfortable and fun." The entire clan vacations together in Turks and Caicos, where their beach volleyball competitions can become quite fierce. "I still have a scar on my knee from two Christmases ago," says Emma. Moore, Kutcher and the Willis girls were also all present for the wedding on the island (and Bruce was a guest at Moore and Kutcher's 2005 wedding). "We've become like a tribe," says Bruce, who has publicly admitted to working through anger and jealousy when Moore began dating Kutcher in 2003. "It's generated a lot of interest because everyone can understand resentment and envy in the breakup of a marriage, but they don't understand how I can get along with my ex like that. Demi and I made a choice to put the kids first, and we're really lucky that it turns out we all have fun together. I still love her, and I have a lot of respect for how she lives her life."
For her part, Emma—an only child raised by her mother after her parents divorced when she was seven—delights in her new role as "a stepmommy" and in her "individual relationships with each of the girls," she says of Rumer, 20, an actress; Scout, 17, a soon-to-be freshman at Brown University (Emma and Bruce recently toured the school with her); and Tallulah, 15. And it's a good thing, since Bruce talks about them with as much reverence as he does his wife. "People don't realize his incredible ability as a father, how devoted he is to his daughters and they to him," says Kraft. "My wife and I were at the wedding, and the speeches those girls gave about their dad were brilliantly emotional."
"They're such smart kids," Bruce says. "Way smarter than I was. They campaigned for Obama. They're involved in the world, in politics. They know exactly what Hollywood is, and they know what it's not, and they don't take any of that very seriously."
Given his own fraught relationship with fame, it's something he's particularly proud of. "When I was a kid, I had a horrible stutter. Really, I was that guy that you'd just go"—he draws in breath in audible pity and makes a cringing face. Onstage, the South Jersey native found that his stuttering subsided. After dropping out of the theater program at Montclair State University, he spent several years bartending and taking on low-paying acting gigs before landing the part of private eye David Addison opposite Cybill Shepherd on the hit TV comedy Moonlighting. "The worst thing you could do to a person is say, 'Here's a lot of fame that's never going to go away,' and not explain it," says Bruce, who spent decades resenting his celebrity even as he propelled it to new heights with the Die Hard movies.
His loneliness after the end of his 13-year, high-profile marriage to Moore only intensified this angst. "I had a very dismal view of my chances at romance," he says, "because when I actually sat down and did the math, made my chart of what I wanted in a woman—honesty, integrity, class, beauty, a sense of humor—and combined that with me being famous, it seemed the possibility of finding someone I could trust and who would want to be with me because they loved me and not just because they had an agenda was really minimal." But then Emma came along: "She was a real person, and she didn't want anything from me."
But coming to grips with his celebrity has taken more than the love of a good woman—it has apparently involved research. "Did you know fame is a 20th-century invention?" Bruce asks suddenly. "Charles Lindbergh was the first international superstar. Prior to that, it was just rich people who were famous. They would write about what Diamond Jim Brady would eat. He would go to a restaurant, and people would watch him eat—he'd eat, like, six ducks!"
Still, perhaps the only thing worse than having fame is losing it, and Bruce is still in the game. "Look at his longevity," says director Kevin Smith, who will be working with Willis and Tracy Morgan on A Couple of Dicks, a comedy shooting in New York this summer. "Stallone, Steven Seagal, Arnold Schwarzenegger—none of these action stars have kept it vital and viable for more than 20 years like Bruce has. In this cynical age where people root for failure, people want to see him succeed, because he's always been a heart player." Willis, who stars in Surrogates, a science-fiction thriller coming out in September, is nevertheless prone to unprompted criticism of his own career. "A character from New Jersey or Chicago who's in law enforcement—I've been playing some version of that guy forever," he says. "There are a handful—no, a couple of handfuls—of films I'd just like to take off my list."
Perhaps he'll be choosier now that he and his wife have both decided to cut back on work. "The thought of him going away for three months to shoot a film—I've had relationships like that in the past, and it's not stable," says Emma, who won't confirm that babies are in their plans, though she offers that it's possible. "Where my first priority used to be work, it's now my personal life." Bruce has adopted the same policy. "I hear so many people in relationships say, 'I just need a couple of days away, or even an hour away,'" he says. "But I don't want to be away from Emma at all. It's the most singular relationship I've ever had in my life."
There he goes again with the "sickening" stuff. Bruce is hardly oblivious to the fact that it's a bit much, but he's unapologetic. Joy is one emotion he's not going to try to temper. "It wasn't always like this for me," he says. "What you're seeing now—I'm just very happy. I'm at peace."