Prince Charles Reportedly Wants to Turn Buckingham Palace Into a Museum
He doesn't want any future royals to live in it.
---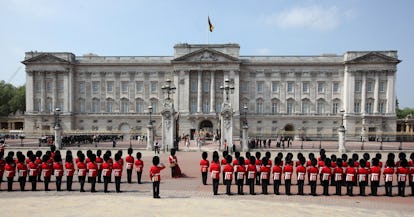 Dan Kitwood/Getty Images
Prince Charles is reportedly looking to create a new tradition, while following in the footsteps of Queen Elizabeth II. The next heir to the throne apparently has plans to take residence at Clarence House after he becomes king, as a source told The Sunday Times. Fans of The Throne will recall that his mother tried to make the same move, but was ultimately swayed to live in Buckingham Palace. Prince Charles, however, doesn't have Winston Churchill to answer to.
If he reportedly has his way, Charles won't only move into Clarence House, he'll also make Buckingham Palace a home for the public. He allegedly plans on turning the iconic building, 775 rooms-deep, into a museum and "monarchy HQ." "I know he is no fan of 'the big house', as he calls the palace," a royal source told The Sunday Times. "He doesn't see it as a ­viable future home or a house that's fit for purpose in the modern world. He feels its upkeep, both from a cost and environmental perspective, is not sustainable."
The cost to operate Buckingham Palace is a hefty one. Currently, it's in the throes of receiving a £369 million makeover over the next decade. That includes fire proofing, replacing pipes and electric cables and swapping out the light fixtures, wall outlets, and 2,500 radiators with modern equivalents, as Today reported. The royals also plan on making the Palace more energy efficient. The whole effort will be public-funded, which angered many when it was first announced. "The works program will increase public access and improve visitor facilities, as well as create a more energy-efficient working environment for the more than 300 people who work at the Palace, including members of The Royal Family," read a statement on the renovation.
It's true that public will be able to enjoy Buckingham Palace though under Prince Charles' reported future plan. He is allegedly hoping to turn the monument into a museum with an exhibit on Queen Elizabeth II. "It makes perfect sense commercially to offset the costs of running such a big place by extending availability to the ticket-buying public," a source told The Sunday Times.
Prince Charles and his wife Camilla, however, have denied this plan, stating, "Buckingham Palace will remain the official London residence of the monarch," as Vogue notes. Nothing is ever official, however, until it actually happens.
Related: Kate Middleton Is Pregnant With Baby Number 3
Kate Middleton's Hairstyles Through The Years: