Precious and Few
To create a skincare collection, Bulgari brought its prized gems to the laboratory.
---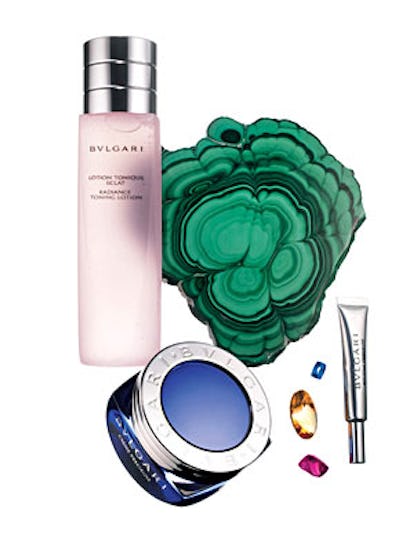 Bulgari, the storied Italian jewelry firm known for its bold and bright gem-bedecked pieces, is used to making what women want. It has perfected colorful baubles and geometric watches, and now the company is offering its tony clientele a way to wear its gems without even opening the vault.
Bulgari Skincare, a 14-piece collection of moisturizers, cleansers and other complexion enhancers, takes ample advantage of the company's precious raw materials: mineral-packed gemstones. The luxurious line, which debuted in Italy in 2007, finally lands on our shores this spring, at Neiman Marcus and Bergdorf Goodman.
The Rome-based brand is not a complete beauty novice; it's been a formidable fragrance contender since its first, Eau Parfumée au Thé Vert, launched in 1993 (27 others have followed). But while creating scents is an art akin to designing jewelry, skincare is serious stuff. To achieve the science behind its line, Bulgari hired Jean-Paul Marty, a well-known French scientist, to lead a research team studying the use of gems in beauty treatments. "We took every gemstone you could imagine and examined each one's chemical structure," explains Laurence Laubreaux, head of Bulgari's skincare department. "We examined their crystallographic structure, which shows how the atoms in them are arranged. We looked at their trace elements, which are the levels of minerals they contain. Copper and magnesium are two examples—they're powerful antioxidants and help revitalize skin."
Of course, many gemstones didn't make the cut, pardon the pun. Emeralds contain chrome, which can cause allergic reactions, and diamonds, though used in professional treatments as exfoliators, don't contain any penetrating minerals. Those that did pass the test—citrine, malachite, blue sapphire and red tourmaline—were combined to create Bulgari Gem Essence, a formula that blends micronized powders and, thanks to a complicated process, liquid extracts from the stones.
As tempting as it is to scratch your head at the notion of sapphires and citrines doing anything more beneficial than hiding a turkey neck, dipping into the jewelry box for an improved complexion is not a new concept. Gold is the active ingredient in La Prairie and Chantecaille antiaging creams, and La Mer's The SPF 30 UV Protecting Fluid, which launches in March, taps both tourmaline and Brazilian malachite. But Bulgari believes its wet and dry quartet surpasses the competition. "We've done two things that have never been done in skincare," says Laubreaux. "Not only the association between the four gemstones, but between the powders and liquids. It's all about the synergy they have with each other."
Bulgari's products target the glaring signs of aging: dullness, loss of elasticity and wrinkles. While the minerals in Gem Essence nourish and protect skin (due to their antioxidant powers), additional active ingredients address other issues. Hyaluronic acid fills fine lines and wrinkles; plant extracts soothe skin and help lighten dark spots; and a complex of peptides, called Polypeptides III, is aimed at improving the production of skin's own elastin, collagen and naturally occurring hyaluronic acid.
The well-rounded collection, which incorporates the silver-rimmed circle of the brand's Tondo pendant on the packaging, is priced from $50 to $320 and is divided into three groups: Lumière, a complexion-brightening line; Précieuse, for antiaging; and Cleansing, a range of five different face washes. While the Sérum de Lumière contains the highest levels of Gem Essence, the most thoughtful item may well be the Touche Précieuse Wrinkle Filler. The hyaluronic acid–enriched spackle for lip lines and crow's-feet comes in two identical chic and slim silver tubes—one for the medicine cabinet and one for the purse. Now, that's what you call a gem.
Gemstones: courtesy of Jewelry Information Center