Busy Philipps Just Dyed Her Hair Millennial Pink (Again), Proving the Trend Is Still Going Strong
She went rosé once again.
---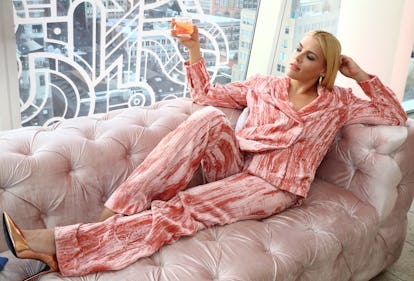 Astrid Stawiarz
Just when you thought millennial pink was as 2017 as avocado toast, Busy Philipps is here to change your mind. The actress, poetry aficionado, and Instagram star just showed off a new hairstyle in that shade, naturally, on the social media app. "Rosé all day," she wrote in the caption of her selfie, revealing her long, pink-dyed hair.
Philipps has a long-running history with pink hair. Last year, she dyed her hair in the same color, before going back to blonde. Her new take on Pantone's color of 2015 — also known as "rose quartz" — appears to have more of a tinge of orange to it, though.
The Dawson's Creek and Freaks and Geeks alumni is such a fan of millennial pink hair, she even dyed her former costar turned BFF Michelle Williams's hair the color. Philipps documented the whole process, which she took the reins of, on social media. "We're going to dye [Michelle's] hair pink—what do you think? Is this a good idea? Look at that hair—it's going to be pink," she said in a video posted to Instagram Stories last October. "Michelle's hair is going to be perfectly millennial pink."
"I want everything to be pink," Williams replied, before Philipps showed off the big reveal, saying, "Guys, my best friend now has … I mean she's kind of naked and has slightly pink hair and it's fucking beautiful. She's like a little nymph." Which begs the question, did Williams return the favor this time? If it didn't happen on Instagram, did it happen at all? Considering how active Philipps is on the social media app, likely not.
Still, her friendship with Williams continues to go strong. The Oscar-nominated actress has talked about how quickly the two hit it off before. "When I met her, she was the coolest girl I had ever seen," Williams told Entertainment Weekly. "She had a nose ring. She wore her hair in braids. She wore overalls. And she had this attitude, like, 'I know who I am and don't cross my line.' I just thought, I want to be this person when I grow up. She was my first real friend I ever had."