Caitlyn Jenner Offers an Update on Her Relationship with the Kardashians Saying 'They've All Moved On'
"I spend a lot of time by myself."
---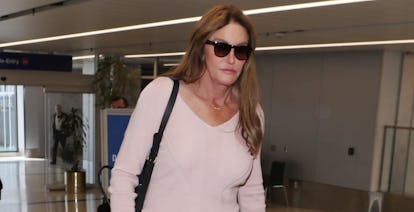 SMXRF/Star Max/GC Images
It's no secret that Caitlyn Jenner has been keeping up less with the Kardashians ever since she and Kris Jenner got divorced in 2014. Shortly after, both Jenner and the family matriarch publicly exchanged a series of sound bites on what ended their relationship. According to Jenner, "Twenty percent was gender and 80 percent was the way I was treated," as she told Vanity Fair. The pair remained on-and-off-friends seemingly until the release of Jenner's memoir last year, The Secrets of My Life, when Kris, Kim and Khloe Kardashian denounced it on their TV show. One year later, Jenner has offered a status update on her relationship with her ex-wife's daughters.
"I spend a lot of time by myself here in the house," she tells Broadly in an interview that was conducted last fall. "I have a lot of children, but sometimes just because of circumstances, maintaining a close relationship with your kids is very tough. They all have lives. They've all moved on."
But, have they? Jenner still keeps in touch with her youngest daughter Kylie Jenner, who she shared a photo of this past Mother's Day. "So blessed to have so many amazing moms in my life!," Jenner captioned photos of Kylie holding Stormi Webster that was included along with ones of Kim with Saintk and Kris alongside her, which she deleted after some commented on how Khloe and Kourtney Kardashian were missing from the tribute.
While Kim didn't comment on the short-lived post, she did address Jenner's comments in an interview with Ellen DeGeneres last year. "My heart breaks for my mom, because I feel like she's been through so much," she said. "[Caitlyn's] promoting this book and she's saying all these things and you know, I just don't think it's necessary. I just feel like it's unfair; things aren't truthful."
Jenner, meanwhile, just finds the whole thing sad. "We're just human beings; we're going to be here for a very short time," Jenner told Broadly. "We come and we go and at the end, when it's all said and done, hopefully your family is going to be there."