Call Me By Your Name's Soundtrack Is Getting Peach-Scented Vinyl in Time for Peach Season
Timothée Chalamet's nightmare is becoming a reality.
---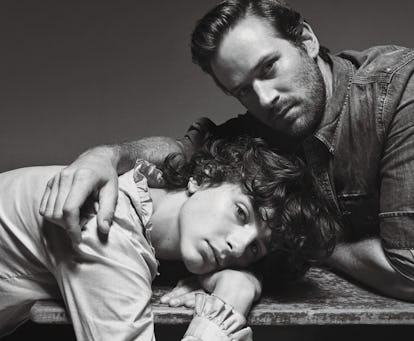 Photographs by Mario Sorrenti, Styled by George Cortina
Much to Timothée Chalamet's disappointment, the peach is living on as a symbol of Call Me By Your Name, the beautiful film for which the actor received an Oscar nomination this year. The soundtrack, which also received a nod at the awards show for Best Original Song with "Mystery of Love," is getting the peach treatment. Just in time for peach season, the movie's soundtrack will be released on vinyl that's both peach-hued and peach-scented, as Billboard notes.
The peach version of the soundtrack comes out August 3, but only 7,777 copies of it will be released — and "only in peach harvest season," according to Music on Vinyl, the company producing it. If you aren't one of the relatively few to grab a copy, perhaps you'd like to buy the stunning Italian villa the movie was set in? It hit the market in February for under $3 million. Chalamet would no doubt much rather you buy the house.
When he was on a press run ahead of the Oscars, the 22-year-old actor talked about his now-iconic peach scene, introducing it to Jimmy Kimmel as, "There's a scene where — I don't know how to describe this. There's a peach, and in life one has to explore sometimes. And the exploration commences," he explained.
Chalamet then shared his worst nightmare: "You say, 'Are you worried?' I'm worried that 50 years from now I'll be signing peaches behind a desk," to which Kimmel replied. "That's your vision of hell." Chalamet then begged the Oscars host before the show, "Please no peach jokes, please no peach jokes." Yet, considering there is a sequel and possible a trequel in the works, Chalamet might not escape the peach just yet.
When director shared his plans for the sequel, which will deal with AIDs, he explained why he wanted to continue the film, saying, "I want to do a sequel because Timothée Chalamet, Armie Hammer, Michael Stuhlbarg, Amira Casar, Esther Garrel—they are all gems. The texture we built together is very consistent. We created a place in which you believe in the world before them. They are young but they are growing up."