Dylan Sprouse Stars As a Ghost In Camila Cabello's Newest Music Video
The start, and end, of a relationship.
---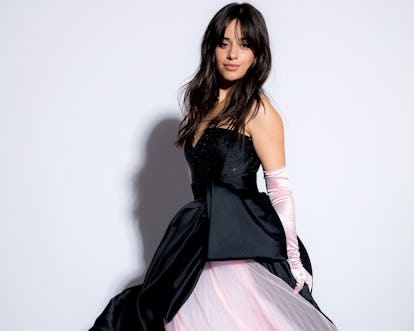 Rich Fury/AMA2018/Getty Images
Camila Cabello, formerly of Fifth Harmony fame, decided to switch one handsome man for another in her new music video for "Consequences," a poignant ballad from her album Camila. The genesis of the visuals comes from a particularly unpleasant breakup Cabello experienced with a guy, with Dylan Sprouse serving as the stand-in for her ex-flame.
"My videos are pretty much what the inside of my brain looks like. This is what it looked like in my brain while I was trying to move on," Cabello explained on Twitter upon its release. "Thank you Dylan Sprouse for being amazing and wanting to be in my video."
Throughout the video's three minutes, Cabello gets to be haunted, quite literally, by memories of her ex while walking through a park, both the good times—kissing on a piano!—and bad. But thanks to a few moments of self-reflection and acceptance, she's able to finally let the past go and look forward to other pieces of man candy the future may bring her.
"It was one of the first songs I worked on. I redid the vocals seven times," Cabello explained about "Consequences" a few months ago. "I redid it so many times because I wanted to capture it. I feel like the song is a way of letting people in, if that makes sense. Even just being in a studio, it's with somebody that you don't really know, and sometimes it's awkward and you don't feel it. I waited for the right moment when I felt, 'I don't really care who's in here.'"
Check out the video, here: