Camila Cabello Dedicates "Havana" Music Video to DACA Dreamers
Camilla Cabello's new meta music video telenovela is "dedicated to the Dreamers."
---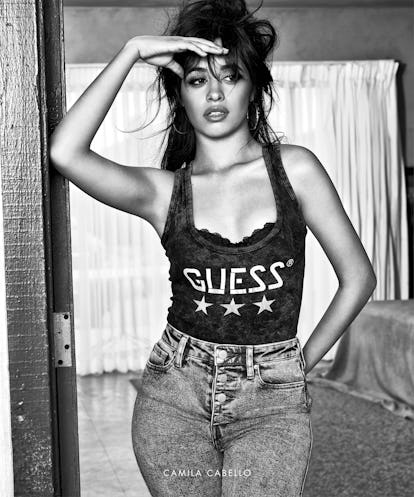 Courtesy of Guess
Former Fifth Harmony member and current solo songstress Camila Cabello has given her single "Havana," the telenovela dream sequence treatment. In her new music video, Cabello takes on multiple roles, including a telenovela actress, a bashful teen who daydreams her life away and refuses to go clubbing with her older sister, and a silver screen actress. Joined by Young Thug, and Vine stars LeJuan James and Lele Pons, Cabello's "Havana" video is an exploration of self-love and self-actualization, with a little message of stealth activism tacked on to the end.
The actress character breaks the fourth wall and tells Cabello, "If you don't like my story, go write your own," a message Cabello's bashful teen takes to heart. At the end of the video, "This is dedicated to the Dreamers," appears in white text on a black background, in reference to supporters and those who benefit from Deferred Action for Childhood Arrivals (DACA), a policy implemented by Barack Obama that was recently rescinded by President Donald Trump.
With "Havana," Cabello joins the legion of celebrities, including pop stars, actors and comedians who are publicly speaking out against policies implemented by Trump that have or will affect immigrants and young children.
An immigrant born in Eastern Havana, Cuba, Camila Cabello moved to Miami as a young child before auditioning for The X Factor in 2012. She joined the group Fifth Harmony, which she departed in December 2016 to work on her solo career.
Before the 2016 presidential election, Cabello penned a letter about being a Cuban-Mexican immigrant in the United States. She writes of her experience, "I didn't realize it then, but, boy, does it hit me now. I realize how scary it must have been for them…To decide to start from the ground up."
Cabello also recently partnered with Lin-Manuel Miranda for his Puerto Rico Hurricane Maria benefit track "Almost Like Praying", with proceeds going towards The Hispanic Federation's Unidos Disaster Relief Fund. This video marks the second time the pop star has publicly dedicated her single to to those who benefit from DACA. She delivered the same message with a live performance of "Havana" on the Today show in September.
Related: Lin-Manuel Miranda, Celebrities Blast Trump Over Latest Disgraceful Puerto Rico Comments