Can Damien Chazelle and "La La Land" Make Americans Fall in Love with Musicals Again?
With a little help from Emma Stone and Ryan Gosling, and an avalanche of critical praise, the Whiplash filmmaker may just have single-handledly rescued musicals from Hollywood purgatory.
---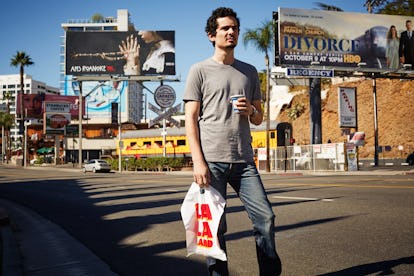 Photograph by Maciek Kobielski, Styled by Samantha Traina; Grooming by Rachel Burney; Set design by Chime Serra at The Magnet Agency; photography assistant: Joseph Mitchell; fashion assistant: Karolyn Pho; production by portfolio one; special thanks to The Standard, Hollywood; Damien Chazelle wears Armani Exchange T-shirt; A.P.C. jeans; Omega watch.
"When I fell in love with musicals, I fell really hard," said Damien ­Chazelle, the writer and director of La La Land, a glorious, daring, romantic, old-school song-and-dance production with a melancholy twist.
The movie, which won the top prize, the People's Choice Award, at the Toronto International Film Festival, tells the story of two ambitious dreamers: Mia, an aspiring actress, played by Emma Stone (who won best actress for the role at the Venice Film Festival), and Sebastian, a jazz pianist, played by Ryan Gosling. Their love affair, with all of its ups and downs, is set in Los Angeles, which is less a backdrop than a vast and intriguing third character.
On a crystal-clear Friday in autumn, I met up with Chazelle near his home in Venice, California, where he lives with his girlfriend, the actress Olivia Hamilton, and their rescue dog, Colin. From there we embarked on a road trip of the locations that shaped La La Land.
Chazelle, 31, grew up in New Jersey, the child of two professors: His father, who is French, teaches mathematics at Princeton, and his mother, who is American-Canadian, teaches medieval history at the College of New Jersey. Chazelle moved to Los Angeles in 2008, after graduating from Harvard University with a degree in visual and environmental studies. (His parents told him that he could only pursue filmmaking if he got straight A's.
"When I got to L.A., of course no one cared what my grades were," Chazelle recalled with a laugh. Like many new arrivals to the city, he was initially dazzled and overwhelmed. "At first, I thought L.A. was really bizarre," he told me as we drove in his Prius to Hermosa Beach, where, in the film, Mia and Seb hang out for the first time, at the Lighthouse Cafe jazz club. "I was used to the East Coast, but L.A. is full of surprising secrets. In La La Land, I tried to show everything that is uniquely L.A.: the weird infinity roads, the alleys, the toothpick palm trees, the open horizon, and the big sky. So even if you turned off the sound, you would know that the movie was set in L.A."
Like Mia and Seb, Chazelle was drawn to the city by the entertainment business. "I can't remember a time that I didn't want to write and direct films," he said as we pulled into a sandy parking lot near the Lighthouse. Chazelle is lanky, with a mop of curls that gives him a vaguely poetic look.
Although he was boyishly dressed, in jeans, a blue sweater, and beat-up sneakers, he did not come across as particularly youthful—his scholarly fascination with the history of movies, particularly musicals, made him seem like the oldest young person I had ever met.
I first encountered Chazelle nearly two years ago, at the Cannes Film Festival, where his movie Whiplash, about an aspiring jazz drummer who clashes with a hypercritical, crazed, and brilliant conductor, was being shown as part of the Directors' Fortnight. The premiere in Cannes was a thrilling, star-is-born-and-his-name-is-Damien-Chazelle moment.
As the credits rolled, the audience erupted in cheers and stood for a ­markedly long ovation. Chazelle addressed the press in flawless French. He would go on to be nominated for both best adapted screenplay and best picture at the 2015 Academy Awards, joining a new generation of directors who have brought out remarkable material this year: Chazelle with La La Land, Barry Jenkins with Moonlight, and Jeff Nichols with Loving. All three tell uniquely American stories that are simultaneously steeped in history and compellingly current.
Whiplash had struck me as a meditation on what America has forgotten: the desire to strive for excellence against all odds, especially in the arts. "I'm glad you saw it that way," Chazelle said, peering into the back window of the Lighthouse, which wouldn't open for hours. "It was kind of my story. In high school, I was a jazz drummer, and I had a conductor who was similar to the one in Whiplash. I made him as big an asshole as possible in the service of greatness." Chazelle sighed. "It surprised me how the right wing embraced the film as a kind of dogma. I'm a politically left-leaning person, and it bothered me how the film could be interpreted as a fascistic statement."
We continued on, down to the pier, where Gosling, in a moment of introspection, sings one of La La Land's many original songs, composed by Justin Hurwitz. "I met Justin at Harvard," Chazelle told me, as we passed people fishing where Gosling had danced. While still in school, the two collaborated on Guy and Madeline on a Park Bench, a musical, shot in black and white, that pays tribute to Jacques Demy, the director of 1964's The Umbrellas of Cherbourg. Chazelle submitted it as his senior thesis.
Years later, when he was trying to recruit Emma Stone for the part of Mia in La La Land, Chazelle held a screening of The Umbrellas of ­Cherbourg. "It took me a little while to wrap my mind around doing a contemporary musical," recalled Stone, who was appearing on Broadway in Cabaret at the time. "But I had loved Whiplash, and Damien talked about Demy and how he wanted to shoot in real locations and make them look larger than life. The whole idea for La La Land was scary and different, and, finally, I had to say yes."
The Umbrellas of Cherbourg was, as Chazelle described it, his gateway drug.
"I first saw it when I was 17 or 18," he recalled, as we headed back onto the 405 freeway. Up to that point, his obsession had been murder ­mysteries. Chazelle had made a series of films featuring his younger s­ister, Anna, as the victim; she would die in the first couple of scenes, and then the crime would be investigated and solved by his friends, playing the detectives. "Then I saw Umbrellas. I didn't like it at first. They sang every line of dialogue, and I felt so uncomfortable. But as it went on, I forgot they were singing, and at the end, I was weeping. I was transported, demolished, blown away, elevated. Everything you can be from a movie. It was the moment where I realized that art can change your life—and it's best when your life changes when you least expect it. That was me first with Umbrellas and, then, all musicals."
In fact, Chazelle had written La La Land four years before he made Whiplash, but when he tried to sell the idea of a modern musical to the studios, none were interested. He wrote other scripts, set in Newark, New Jersey, and Boston. However, in an effort to make the La La Land idea more marketable, a smart producer told him to reconsider L.A. "After the success of Whiplash, I used everything I had to get La La made," Chazelle said. "I knew I might not get that moment again."
We approached the section of the freeway where La La Land opens. The explosive dance number in the middle of a traffic jam, filmed over two days, sets the Technicolor out-of-time tone for the film. "What's truer to L.A. than traffic?!" Chazelle exclaimed. "My goal was to do a realistic musical. I like musicals that have sadness. My favorite Gene Kelly film is It's Always Fair Weather, which is about a reunion among three buddies that is very dark." Chazelle began reciting lines from that film and sang some of the songs. "Singin' in the Rain is probably the best film ever," he conceded. "But I love the melancholy in It's Always Fair Weather. "
Our final destination was Griffith Park, home of the Griffith ­Observatory. Even when Chazelle thought he would have to reimagine La La Land in another city, a planetarium scene remained constant. "I always saw the characters dancing in the stars," he said as we toured the various spots where Mia and Seb celebrate falling in love through dance and song. Stone and Gosling rehearsed for three months. "And then, on September 17—a day I'll never forget—it was duet day at Griffith Park," Stone told me. "It took so long to get that dance number right, and it's weird that we'll never get to do it again. Thank God it's there forever on film."
Chazelle and I walked to a bench overlooking the city. The view was staggering, but Chazelle seemed to be lost in his thoughts.
"This is where we filmed one of the final scenes," he said. "On that day, I remember being concerned that characters breaking into song might not work for today's audience." Still, he didn't hesitate long. "I always remind myself that musicals were my first love. And if I couldn't resist that feeling, who could?"
Watch a video interview with La La Land star Emma Stone: