Candice Swanepoel Loves Coconut Water, Cheap Lip Balm
The Victoria's Secret Angel shares a page from her beauty notes.
---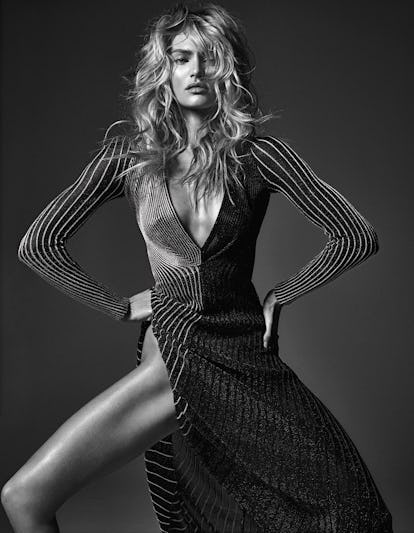 With the Victoria's Secret Fashion Show just three weeks away, the South African model Candice Swanepoel's beauty routine is in full swing. Here, one of the "Perfect Ten" stars of W's March 2014 issue discusses her day-to-day beauty and how she's preparing for the show.
Your look: Natural, fresh, and healthy.
Daily routine: Cleanse, tone, moisturize, and then add an eye cream at night. My facialist has her own products, so I'm not really gonna give that away… I have a really good natural face wash with green tea in it.
Beauty from the inside out: That is the most important! I drink a lot of coconut water; I mix different things in my smoothie; I take fish oil… that kind of thing. And then just getting all the different food groups—all your veggies, fruits, carbohydrates.
Exercise regime: I try and work out at least three times a week—boxing, resistance training—and then if I'm traveling I just try to do whatever I can in the hotel.
Beauty essentials: I cannot live without my lip balm, which is just regular Palmer's; rose water for the airplane (I use it as my toner); and right now a really rich moisturizer because of the change of season.
Skincare secret: There is no secret! Just know your skin—I'm really in tune with what it's telling me. So depending on the season and where you've been, mix it up. Right now I'm using a really rich moisturizer, but in summer it's a lot lighter.
Day to night look: Add a red lip.
Manicure or pedicure: Pedicure. I need my hands—I can't sit still for long enough.
Pilates or yoga: Pilates.
Best advice from the pros: Never sleep with your makeup on.
Necessary splurge: Lingerie!
Drugstore favorite: Palmer's lip balm.
Fragrance of choice: Bombshell by Victoria's Secret.
Beauty icons: Marilyn Monroe, Christy Turlington, Claudia Schiffer, Karen Mulder.