Captain Marvel Goes Back to the '90s in Its First Official Trailer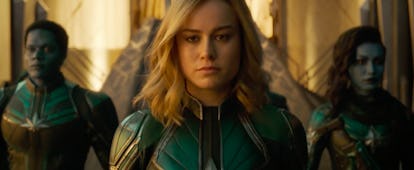 YouTube/Marvel
After months of teasing fans with hints of what to expect from Brie Larson in the upcoming superhero movie Captain Marvel, the first trailer is finally here.
It opens with Larson's character, Carol Danvers, crash-landing on top of a Blockbuster video store. Although the film starts off with Danvers already having superpowers, the trailer shows that the film will slowly reveal who Carol Danvers is and how she came to be Captain Marvel through flashbacks. The trailer hints that she joined Jude Law's character's Star Force team on another planet, and was formerly a member of the U.S. Air Force before gaining her powers (which include superhuman strength and energy manipulation).
Some familiar faces from the Marvel cinematic universe—a young Nick Fury (played by Samuel L. Jackson), Agent Coulson (played by Clark Gregg), and Lee Pace as Guardian of the Galaxy's Ronan—make their appearances in the first official trailer for Captain Marvel, leaving super fans of the series to dissect the possibility of crossovers between the franchises. Of course, most of the information about Captain Marvel has been kept tightly under wraps, but if the post-credits sequence of Avengers: Infinity War is any indication of future drama to come, Captain Marvel's involvement in the next Avengers film could be huge (the superhero's trademark logo was one of the last things to be seen on-screen at the end of Infinity War).
This trailer—and, specifically, the Blockbuster—also sets the film in the '90s. While other superhero films, like Captain America, which takes place during World War II, or Wonder Woman, which happens primarily during World War I before the sequel jumps to 1984, Captain Marvel is set in the decade in which the majority of its audience members likely grew up or were born.
Captain Marvel will be the Marvel cinematic universe's first solo film that focuses on a female superhero (next up will be Scarlett Johansson's Black Widow), and Given Wonder Woman's win as one of the highest-grossing films of 2017, let alone the highest-grossing superhero–origin story film, Captain Marvel may have a strong chance of stealing that top spot when it is released in March 2019.
Related: A Definitive Ranking of the 19 Best Marvel Movie Characters with No Powers Whatsoever