A Major Wonder Woman Sequel Plot Twist Has Just Been Revealed
You'll never guess who's back.
---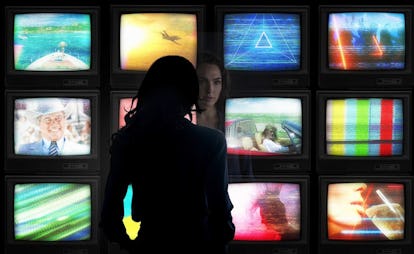 Warner Bros.
There are quite a few things that we already know about the upcoming Wonder Woman film. Though Patty Jenkins's first installment of the franchise takes place in Europe during World War I, the sequel occurs almost 70 years later in 1984 and in the U.S. Gal Gadot is, of course, reprising her role as Wonder Woman, and it was also confirmed this year that Kristen Wiig will join the sequel as Cheetah, Wonder Woman's antagonist, as well as Game of Thrones's Pedro Pascal. But there's one more hint about the sequel that has Wonder Woman fans scratching their heads.
In the first film, Chris Pine played Captain Steve Trevor, an American spy who is rescued by Diana Prince (Wonder Woman's real name), and, naturally, falls in love with her during the war. It's a doomed relationship, though, because (spoiler alert) Trevor dies at the end of the film.
Or did he?
According to the photos of Wonder Woman 1984 that Warner Bros. has just released, Captain Two First Names is back, and he is looking positively period-appropriate in a tracksuit and white sneakers at an American shopping mall. Unless it's just a mirage, or some sort of cryogenic technology was put to use to keep the captain frozen for decades at a time, Pine's character would no longer be alive in the '80s.
It may seem like an impossible feat, though stranger things have happened in the DC Comics film universe. Hopefully, Wonder Woman will use her Lasso of Truth to get to the bottom of things in the sequel, which will be released in November 2019.
Related: Proof That Kristen Wiig Is Perfect For Wonder Woman 2 Villain Cheetah, In 6 SNL Sketches