Proof That Kristen Wiig Is Perfect For Wonder Woman 2 Villain Cheetah, In 6 SNL Sketches
The comedian will play Wonder Woman's nemesis in the blockbuster sequel.
---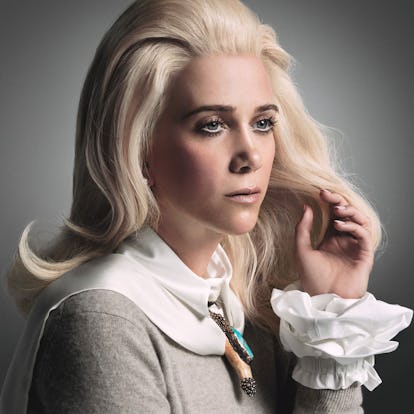 Ever since it was confirmed by director Patty Jenkins that Saturday Night Live alum and Bridesmaids star/co-writer Kristen Wiig would be playing Diana's nemesis Cheetah in the sequel to Wonder Woman, the internet has been debating whether or not the actress has what it takes for the role.
Though she's proved her mettle with a series of dramatic parts in films over the past few years, some still doubt whether she's right for such an iconic comic book character. But you don't even need to have seen her critically acclaimed performances in Welcome to Me or The Skeleton Twins, because we've rounded up six SNL sketches and characters that prove Wiig is perfect for the role:
1. Penelope
Villains are all about the big speech, loudly proclaiming their greatness and always getting in the last word. They love to monologue and they love to lie, both skills Wiig perfected with her just-left-of-sociopath character Penelope, habitual hyperbolizer (a word I just made up and that you should feel free to spread around).
2. Rebecca Larue the Flirting Expert
Self-proclaimed "slut" Rebecca has that potent combination of smarts, fearlessness, and horniness that makes a villain compelling. Not that Wonder Woman needs flirting lessons.
3. Dooneese
Dooneese is so much creepier than anything Marvel or D.C. could ever invent, and Wiig knocks it out of the park every time.
4. Whiskers R We
Obviously, the ability to interact with cats is vital to any portrayal of a character named Cheetah, and Wiig and her Ghostbusters co-star Kate McKinnon are both ultra-feline.
5. Barbie
The most iconic female character of all time, end of story, good night.
6. Red Flag Perfume
Terrifying.
Okay, so maybe SNL isn't exactly the same as a superhero movie, but if Wiig can play all these characters and more, she can definitely handle Cheetah. And if you are somehow still not convinced, or just need a laugh, there is more evidence of Wiig's full range of creepy, wackily sinister villainy in her famous characters "Gilly," Christine "Not A Witch" O'Donnell and "Aw Nuts! Mom's A Ghost."
Related: Gal Gadot Responded to Wonder Woman's Oscar Snub
Gal Gadot: Wonder Woman on the Red Carpet and Beyond
The young actress first arrived on the scene at the CW Network celebration of its new series The Beautiful Life: TBL dressed in flirty strapless little black dress paired with an oversized tan corset belt. She completed her look with a pair of black cross-strap platform sandals.

Getty Images
At the Los Angeles premiere of Fast & Furious, Gadot looked fresh faced as she posed on the red carpet in a mini purple strapless dress.

Getty Images
The actress appeared at the London World Premiere of Fast & Furious 6 in a edgy black beaded gown that featured a plunging neckline.

Getty Images
On the red carpet of the Los Angeles premiere of Fast & The Furious 6, Gadot showed off her incredible figure in a ombre grey gown featuring a plunging neckline snd thigh split.

Getty Images
The actress opted for a sexy playful look as she posed on the red carpet of the Los Angeles premiere of Riddick wearing a black leather shell top, black and white abstract- patterned circle skirt and a pair of scrappy black heels.

Getty Images
The actress looked smoking dressed in a David Koma cutout little black dress while attending the Entertainment Weekly: Women Who Kick Ass panel at Comic-Con.

Getty Images
At the UK Premiere of The Last Witch Hunter, Gadot dressed in a sleeveless little black dress that featured a bit of fabric draping on the left leg. She completed her look with a pair of strappy sandals.

Getty Images
The actress looked flawless at the premiere of Batman v. Superman: Dawn of Justice in a Balmain cut-out mini dress that showed off the star's toned figure. Gadot topped off her outfit with white Sophia Webster sandals.

Getty Images
Gadot in Dolce & Gabbana at a photo call for Batman v. Superman: Dawn of Justice in Mexico City, March 2016.

Getty Images
Gadot looked ravishing at the European premiere of Batman v Superman, styled in a scarlet Prada gown with a plunging neckline and embellished shoulder straps.

Getty Images
The actress wowed on the red carpet of the Mexico City premiere of Batman v Superman: Dawn of Justice in a high-low floral Giambattista Valli gown that put her stunning legs on display.

Getty Images
Looking simple yet elegant, Gadot opted for a black pantsuit at the UK premiere of Criminal. she topped of her polished look with a pair of black pumps and a gray box clutch.

Getty Images
Gal Gadot in Dolce & Gabbana at a taping for Jimmy Kimmel Live, March 2016.

Getty Images
Gadot looked glamorous in a floral sequin Dolce & Gabbana pencil dress while attending the unveiling of Tiffany & Co.'s renovated Beverly Hills store.

Getty Images
The actress looked stunning at the premiere of Keeping Up with the Joneses, wearing a Dolce & Gabbana strapless dress rendered in gold and silver sequins.

Getty Images
Going with a sultry look while attending a screening for Keeping Up With The Joneses, Gadot opted for a fitted David Koma color-blocked halter and ruffle-hem dress.

Getty Images
The mommy to be dressed up her baby bump in a Mugler slip dress with a sequined bodice and a high front slit for the Golden Globes. She completed her look with black Stuart Weitzman sandals.

Getty Images
The actress attended the 2017 MTV Movie and TV Awards in a fringed blazer dress by Cinq A Sept and Tiffany & Co jewelry.

Getty
Gadot attends a press conference for Wonder Woman in China wearing a cobalt blue gown with slicked back hair.

Getty
For the world premiere of Wonder Woman, Gadot looked the superhero part in a red sequined Givenchy gown.

Getty
At the film's Mexico City premiere, Gadot embraced her dark side in a draped black gown with a dark lip.

Getty