Gal Gadot Responded to Wonder Woman's Oscar Snub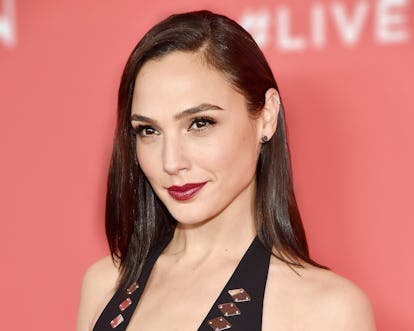 Kevin Mazur/Getty Images
After yesterday's announcement of this year's Oscar nominees, some movie buffs were disappointed that, despite breaking multiple box office records, Wonder Woman wasn't singled out for a nod in any category. Gal Gadot, however, wasn't phased.
"I was very moved and touched by the feedback of all the people that were disappointed that Wonder Woman wasn't nominated," she told Entertainment Tonight of the snub on Wednesday. "But we certainly never did the movie for that."
Meanwhile, this Wonder Woman is optimistic for the future. She continued, "I think that you can't have it all. We've done this movie and it was received in such an amazing, wonderful way, and we want to stay humble and grateful. And we're going to have another movie, so who knows? Maybe the next one!"
When Wonder Woman hit theaters in June 2017, it grossed $100 million domestically in its first weekend, earning the title of biggest box office opening ever for a female director. The movie went on to become the highest grossing hero film of DC's Extended Universe, passing the Ryan Reynolds-led Deadpool from Fox's X-Men franchise, and becoming the 34th highest-grossing film ever domestically.
The Wonder Woman sequel is slated to hit theaters on December 13, 2019, and will be the first film to implement new anti-sexual harassment guidelines outlined by the Producers Guild of America. The new guidelines include compliance with federal and state laws about harassment, in-person anti-sexual harassment training to all cast and crew members, and a system for people to report any incidents of sexual harassment. It's no surprise that the female empowerment movie would quickly adopt these practices—in November 2017, Wonder Woman producer Brett Ratner was accused of sexual harassment or assault and, though he has denied all allegations, he chose to step away from "all Warner Brothers-related activities," after Gadot threatened to pull out of her starring role if the producer was involved.
One thing's for sure: Fans will flock to the sequel, shiny little statues be damned.
Related: Gal Gadot Got Paid Shockingly Little for Her Lead Role in Wonder Woman
Gal Gadot: Wonder Woman on the Red Carpet and Beyond
The young actress first arrived on the scene at the CW Network celebration of its new series The Beautiful Life: TBL dressed in flirty strapless little black dress paired with an oversized tan corset belt. She completed her look with a pair of black cross-strap platform sandals.

Getty Images
At the Los Angeles premiere of Fast & Furious, Gadot looked fresh faced as she posed on the red carpet in a mini purple strapless dress.

Getty Images
The actress appeared at the London World Premiere of Fast & Furious 6 in a edgy black beaded gown that featured a plunging neckline.

Getty Images
On the red carpet of the Los Angeles premiere of Fast & The Furious 6, Gadot showed off her incredible figure in a ombre grey gown featuring a plunging neckline snd thigh split.

Getty Images
The actress opted for a sexy playful look as she posed on the red carpet of the Los Angeles premiere of Riddick wearing a black leather shell top, black and white abstract- patterned circle skirt and a pair of scrappy black heels.

Getty Images
The actress looked smoking dressed in a David Koma cutout little black dress while attending the Entertainment Weekly: Women Who Kick Ass panel at Comic-Con.

Getty Images
At the UK Premiere of The Last Witch Hunter, Gadot dressed in a sleeveless little black dress that featured a bit of fabric draping on the left leg. She completed her look with a pair of strappy sandals.

Getty Images
The actress looked flawless at the premiere of Batman v. Superman: Dawn of Justice in a Balmain cut-out mini dress that showed off the star's toned figure. Gadot topped off her outfit with white Sophia Webster sandals.

Getty Images
Gadot in Dolce & Gabbana at a photo call for Batman v. Superman: Dawn of Justice in Mexico City, March 2016.

Getty Images
Gadot looked ravishing at the European premiere of Batman v Superman, styled in a scarlet Prada gown with a plunging neckline and embellished shoulder straps.

Getty Images
The actress wowed on the red carpet of the Mexico City premiere of Batman v Superman: Dawn of Justice in a high-low floral Giambattista Valli gown that put her stunning legs on display.

Getty Images
Looking simple yet elegant, Gadot opted for a black pantsuit at the UK premiere of Criminal. she topped of her polished look with a pair of black pumps and a gray box clutch.

Getty Images
Gal Gadot in Dolce & Gabbana at a taping for Jimmy Kimmel Live, March 2016.

Getty Images
Gadot looked glamorous in a floral sequin Dolce & Gabbana pencil dress while attending the unveiling of Tiffany & Co.'s renovated Beverly Hills store.

Getty Images
The actress looked stunning at the premiere of Keeping Up with the Joneses, wearing a Dolce & Gabbana strapless dress rendered in gold and silver sequins.

Getty Images
Going with a sultry look while attending a screening for Keeping Up With The Joneses, Gadot opted for a fitted David Koma color-blocked halter and ruffle-hem dress.

Getty Images
The mommy to be dressed up her baby bump in a Mugler slip dress with a sequined bodice and a high front slit for the Golden Globes. She completed her look with black Stuart Weitzman sandals.

Getty Images
The actress attended the 2017 MTV Movie and TV Awards in a fringed blazer dress by Cinq A Sept and Tiffany & Co jewelry.

Getty
Gadot attends a press conference for Wonder Woman in China wearing a cobalt blue gown with slicked back hair.

Getty
For the world premiere of Wonder Woman, Gadot looked the superhero part in a red sequined Givenchy gown.

Getty
At the film's Mexico City premiere, Gadot embraced her dark side in a draped black gown with a dark lip.

Getty