Cara Delevingne and Kaia Gerber Are Self-Isolating on TikTok
Ashley Benson and Tommy Dorfman have been showing them the ropes.
---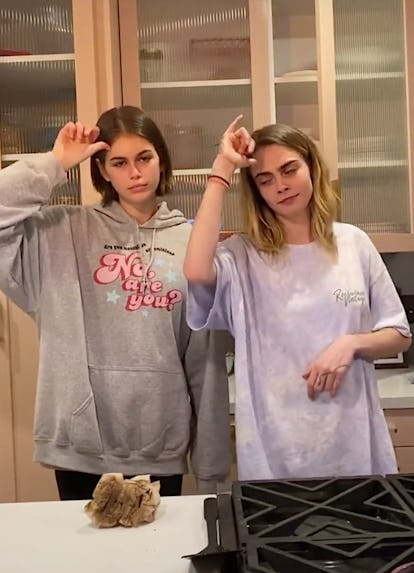 How does an actor or model work from home? It's a question that Kaia Gerber and Cara Delevingne have been attempting to navigate together in the midst of the White House's call for Americans to self-isolate for 15 days as the coronavirus pandemic begins to spread into the U.S. It took them a few days, but by Tuesday, they seemed to have discovered the answer: Join TikTok.
At this point in her "isolation" period with her girlfriend Ashley Benson, Delevingne has quickly become something of a regular on the app. Benson started out solo, recreating scenes from Keeping Up With the Kardashians like Khloé and Kourtney arguing about wifi and Kylie Jenner asking her mom if a piglet was a chicken. Perhaps Delevingne took pity on Benson, because when it came time for her to fill a non-Kardashian role, she jumped in, making her debut as Scott Disick.
Benson's next video, a routine to Wiz Khalifa's "Something New," featured two new star players: the actors Tommy Dorfman and Margaret Qualley. The latter does not yet have a TikTok, but seemed happy to showcase her signature dance moves on a platform other than Instagram, where she eventually shared more of her antics with Delevingne. (The TikTok of them drinking white wine and singing an acoustic ode to the virus has yet to make the jump.)
https://www.instagram.com/p/B92TPcdj5FG/
Gerber and Dorfman, who could be considered the TikTok veteran of the crew, never seem to be far apart. It was only a matter of time, then, before Gerber showed up, too. After getting her stretches in with Delevingne, the 18-year-old model made her formal debut by joining Dorfman, Benson, and Delevingne in reciting a scene from RuPaul's Drag Race. Before long, she took center stage, joining Delevingne in a rather emotionless Britney Spears routine, starring what appears to be a very dirty paper towel.
Gerber has yet to create an account, but it seems that Delevingne has officially joined the app; Benson tagged one of her posts with an account with the handle @carajocelyndelevingne. Her page is blank, save for a bio that reads "I am new to this! Send help," though it seems Benson has taken care of that already.
Related: Cara Delevingne Finally Acknowledged That "Sex Bench" She Carried with Ashley Benson