Cara Delevingne's Must Haves
The British model shares the seven things she can't live without.
---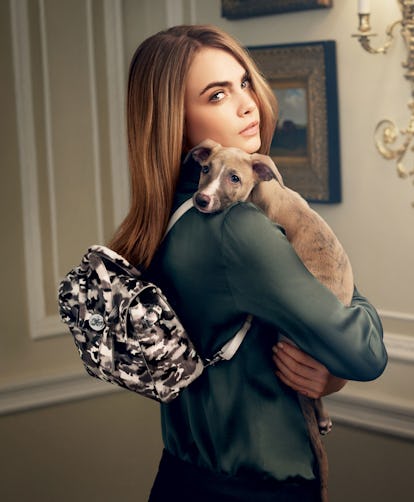 Between modeling, acting—her film The Face of an Angel is out later this year—and writing and recording music, Cara Delevingne is, as she puts it, "a singing, dancing one-woman show." And with this month's launch of a handbag collection for Mulberry, the 22-year-old Brit can now add designing to her repertoire. The leather and calf-hair styles come in three sizes and convert from carryall to backpack. "The idea was to make a bag that would be beautiful and functional enough for everyone to have, keep, and love," she says. Here, a few other things she fancies.
Yves Saint Laurent Beaute "Specifically, Touche Eclat, which brightens your skin and makes you look like you're alive; and Baby Doll mascara, which I'd wear all the time if I weren't too lazy to apply it."
My Bunny "I love animals. I was on a shoot recently with this cute little bunny, and they let me keep it. He or she is called Cecil. I don't know the sex; with bunnies, it's not obvious. I put it on Instagram, and in one night it got 30,000 followers."
My Mulberry Bag "I go through different stages of loving different bags, but right now the camouflage calf-hair one is my favorite. It holds a beanie, my Pret A Manger smoothie, a fox sleep mask, a Polaroid camera, Listerine, rosewater hydrating mist, Strepsils, a hairbrush, deodorant, Beats headphones, my wallet, Daim bars, Berocca hangover cure, and gum. That's a lot!"
Kickboxing "Modeling may keep you thin, but it doesn't make you very strong. Kickboxing tightens my body and keeps me happy. It doesn't hurt that I have a sexy trainer."
Guitars "I've always been obsessed with their shape and sound. I have seven; four are electric. The Little Martin is one of the smallest acoustic guitars you can get, and I take it everywhere. I also have a Fender Telecaster, and a hot-pink electric one that's very heavy-metal."
Malcom Gladwell "I'm reading The Tipping Point, about how life is made up of social epidemics. I have to read a lot of scripts and see a lot of films, so when I sit down with a book, I want it to be nonfiction. I want to fill my brain with knowledge, not lies."
Sunday Brunches "My family has been doing them since I was young, and if I'm not working, that's how I like to spend my Sundays. The meal is roast chicken, our secret gravy, carrots, peas, and mashed potatoes with extra butter. We all cook together; I make the gravy."
Photos: Cara Delevingne's Must Haves
Mulberry bag. Courtesy of designer.
Yves Saint Laurent mascara. ©Yves Saint Laurent Beaute.
Delvingne and her rabbit. Courtesy of Cara Delvingne.
Kickboxing. Courtesy of Cara Delvingne.
Malcolm Gladwell's The Tipping Point. Courtesy of Little, Brown and Company.
Fender Telecaster. Courtesy of Fender Musical Instruments Corporation.