Cara Delevingne Sings About Her Love of London in New Campaign for Burberry Her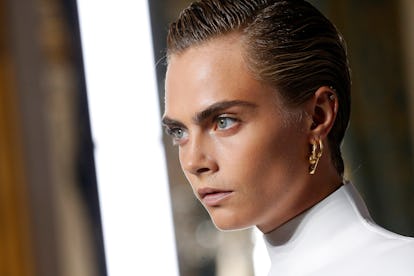 Estrop/Getty Images
Cara Delevingne appears in Burberry's latest fragrance campaign for Her Eau de Parfum — a 40-second ode to her hometown of London. In the clip, Cara bops around the city doing all sorts of traditionally touristy things, including riding a double-decker bus, all while crooning a simple tune about being a Londoner.
The campaign was shot by Juergen Teller, and Delevingne takes some husky-voiced liberties to make her rendition of the classic "Maybe It's Because I'm a Londoner" truly her own. "Maybe it's because I'm a Londoner, that I love London so," she sings, a statement that appears to be abundantly true, based on a behind-the-scenes video given to The Cut.
"Growing up in London to me was an incredibly amazing and wonderful experience," she said in the clip. "I was lucky enough to grow up outside of London enough to know that i still had nature, but London was still the essence of this heaving source of energy, of people, of things to be discovered."
She went on to say that the thing she loves most about the London attitude is that it's "bold." "People are not afraid to say what they think," she said. "This is a place where people change things."
Though the actress was raised in the London suburbs and currently owns a newly renovated home in West London, she notes that being a true "London-er" isn't about where you're from, but instead, it's all about attitude. "To be a Londoner, you defy rules," she said. "It doesn't matter where you're from or who you are."
The model has been appearing in Burberry campaigns since the beginning of her career, and though the brand recently debuted a new creative director (Riccardo Tisci, formerly of Givenchy) and a new logo, it's refreshing to see that it's keeping some of the old along with the new.
A Look Back at Cara Delevingne's Best Runway Moments
Cara Delevingne walks the runway during the Balmain show as part of the Paris Fashion Week women's wear spring/summer 2019 on September 28, 2018, in Paris, France. Photo courtesy of Getty Images.

Dominique Charriau
Cara Delevingne walks the runway at the Burberry show during London Fashion Week February 2018 at Dimco Buildings on February 17, 2018, in London, England. Photo courtesy of Getty Images.

Samir Hussein
Cara Delevingne walks the runway at the TopShop Unique show during London Fashion Week spring/summer 2015 on September 14, 2014, in London, England. Photo courtesy of Getty Images.

Victor VIRGILE
Cara Delevingne walks the runway during the Givenchy show as part of the Paris Fashion Week women's wear spring/summer 2015 on September 28, 2014, in Paris, France. Photo courtesy of Getty Images.

Dominique Charriau
Cara Delevingne walks the runway during the Stella McCartney show as part of the Paris Fashion Week women's wear spring/summer 2015 on September 29, 2014, in Paris, France. Photo courtesy of Getty Images.

Pascal Le Segretain
Cara Delevingne walks the runway at the Burberry Prorsum ready-to-wear fall/winter 2014–2015 show at London Fashion Week AW14 at Perks Fields, Kensington Gardens, on February 17, 2014, in London, England. Photo courtesy of Getty Images.

Victor VIRGILE
Model Cara Delevingne walks the runway during the Chanel show as part of Paris Fashion Week haute-couture spring/summer 2014 on January 21, 2014, in Paris, France. Photo courtesy of Getty Images.

Pascal Le Segretain
Cara Delevingne walks the runway during the Stella McCartney show as part of the Paris Fashion Week women's wear fall/winter 2014–2015 on March 3, 2014, in Paris, France. Photo courtesy of Getty Images.

Victor VIRGILE
Cara Delevingne walks the runway during the Chanel show as part of the Paris Fashion Week women's wear fall/winter 2014–2015 on March 4, 2014, in Paris, France. Photo courtesy of Getty Images.

Dominique Charriau
Cara Delevingne walks the runway at the Unique show during London Fashion Week SS14 at TopShop Show Space on September 15, 2013, in London, England. Photo courtesy of Getty Images.

Samir Hussein
Cara Delevingne walks the runway at the Peter Pilotto show during London Fashion Week SS14 at Victoria House on September 16, 2013, in London, England. Photo courtesy of Getty Images.

Tim P. Whitby
Cara Delevingne walks the runway at the Burberry Prorsum show at London Fashion Week spring/summer 2014 at Kensington Gardens on September 16, 2013, in London, England. Photo courtesy of Getty Images.

Victor VIRGILE
Cara Delevingne walks the runway during Chanel show as part of the Paris Fashion Week women's wear spring/summer 2014 on October 1, 2013, in Paris, France. Photo courtesy of Getty Images.

Antonio de Moraes Barros Filho
Cara Delevingne walks the runway during Stella McCartney show as part of the Paris Fashion Week women's wear spring/summer 2014 at Palais Garnier on September 30, 2013, in Paris, France. Photo courtesy of Getty Images.

Pascal Le Segretain
Cara Delevingne walks the runway at the 2013 Victoria's Secret Fashion Show at Lexington Avenue Armory on November 13, 2013, in New York City. Photo courtesy of Getty Images.

Jamie McCarthy
Cara Delevingne walks the runway at the Issa London show during London Fashion Week fall/winter 2013–14 at Somerset House on February 16, 2013, in London, England. Photo courtesy of Getty Images.

Tim P. Whitby
Cara Delevingne walks the runway at the Matthew Williamson show during London Fashion Week fall/winter 2013–14 at the Royal Opera House on February 17, 2013, in London, England. Photo courtesy of Getty Images.

Felix Kunze
Cara Delevingne walks the runway at the Peter Pilotto show during London Fashion Week fall/winter 2013–14 at TopShop Show Space on February 18, 2013, in London, England. Photo courtesy of Getty Images.

Antonio de Moraes Barros Filho
Cara Delevingne walks the runway during the Burberry Prorsum show during London Fashion Week fall/winter 2013–14 at Kensington Gardens on February 18, 2013, in London, England. Photo courtesy of Getty Images.

Ian Gavan
Cara Delevingne walks the runway at the Iceberg show during Milan Fashion Week women's wear fall/winter 2013–14 on February 22, 2013, in Milan, Italy. Photo courtesy of Getty Images.

Jacopo Raule
Cara Delevingne poses on the runway during the Chanel fall/winter 2013–14 ready-to-wear show as part of Paris Fashion Week at Grand Palais on March 5, 2013, in Paris, France. Photo courtesy of Getty Images.

Kristy Sparow
Cara Delevingne walks the runway at the Emilio Pucci ready-to-wear fall/winter 2013–2014 fashion show as part of Milan Fashion Week women's wear fall/winter 2013–14 on February 23, 2013, in Milan, Italy. Photo courtesy of Getty Images.

Victor VIRGILE
Cara Delevingne walks the runway during Louis Vuitton fall/winter 2013–14 ready-to-wear show as part of Paris Fashion Week on March 6, 2013, in Paris, France. Photo courtesy of Getty Images.

Venturelli
Cara Delevingne walks the runway at the Marc Jacobs show during spring 2014 Mercedes-Benz Fashion Week at Lexington Avenue Armory on September 12, 2013, in New York City. Photo courtesy of Getty Images.

JP Yim
Cara Delevingne on the catwalk by Giles on day four of London Fashion Week spring/summer 2013, at Stationer's Hall on September 17, 2012, in London, England. Photo courtesy of Getty Images.

Victor VIRGILE
Cara Delevingne walks the runway during the Emilio Pucci show as a part of Milan Fashion Week women's wear spring/summer 2013 on September 22, 2012, in Milan, Italy. Photo courtesy of Getty Images.

Antonio de Moraes Barros Filho
Cara Delevingne walks the runway during the Cacharel spring/summer 2013 show as part of Paris Fashion Week at Grand Palais on September 29, 2012, in Paris, France. Photo courtesy of Getty Images.

Antonio de Moraes Barros Filho
Cara Delevingne walks the runway during the Costume National spring/summer 2013 show as part of Paris Fashion Week at Les Beaux-Arts de Paris on September 30, 2012, in Paris, France. Photo courtesy of Getty Images.

Antonio de Moraes Barros Filho
Cara Delevingne walks the runway at the Chanel: Metiers d'Art fashion show at Linlithgow Palace on December 4, 2012, in Linlithgow, Scotland. Photo courtesy of Getty Images.

Getty