Cara Delevingne: Style Rebel
She is no role model. Just don't tell that to her millions of followers.
---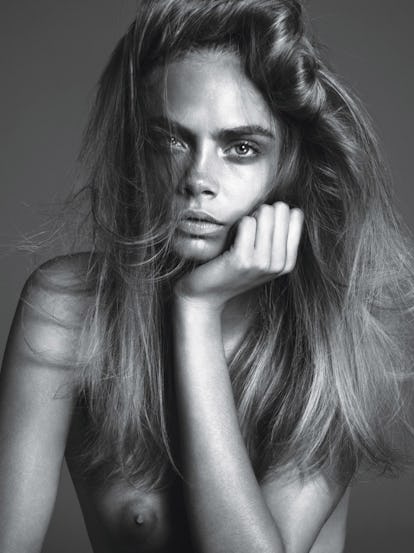 Photography by Mert Alas & Marcus Piggott Styled by Edward Enninful
At 21, Cara Delevingne may be the biggest thing in modeling—a baby Kate Moss with trademark eyebrows and an expressive face that can go from glam to goofy to smoldering to innocent—but her body is in total rebellion against the profession that has made her a star. Delevingne has psoriasis. And when she's stressed or nervous, angry red patches flare up on her skin.
"It only happened during Fashion Week!" Delevingne told me, calling from her agent's office in London. "Which is, of course, the worst time of the year for me to be covered in scabs. Psoriasis is an autoimmune disease, and I'm sensitive. Kate [Moss] saw me before the Louis Vuitton show at 3 a.m., when I was being painted by people to cover the scabs," Delevingne recalled. "She said, 'This is horrible! Why is this happening? I need to help you.' She got me a doctor that afternoon; Kate gives really good advice."
Like Moss, Delevingne, who is five feet nine, is not the skyscraper physical prototype for a model. In fact, in the past few years, models have been getting taller, skinnier, and, quite frankly, less interesting to anyone outside the fashion world. But when critics lament the passing of the supermodels of the '80s and '90s, what they really miss are the personalities, the faces. Women like Naomi, Cindy—and yes, Kate—had fantastic faces rather than clothes-hanger bodies and an interchangeable blankness that is the current vogue. There are notable exceptions: the lively Karlie Kloss or the stunning Joan Smalls. But when Delevingne arrived in the fashion world four years ago, she was an instant sensation—a face that captivated.
"In the beginning, I was thinking, How do I set myself apart from the other girls?" Delevingne said. "So many girls were taller, skinnier, and prettier. And I'm not a girly girl at all—I didn't get boobs until I was around 18! As a teenager, I kept thinking, I'm so short, and I have no boobs—what do I do?" ­Delevingne said, laughing. She began to look at modeling as playing different roles. "Maybe that's why I've been noticed," she said. "I treat the camera like a person—I gaze into it. Photos are a flat thing, and you need to put life into them."
Actually, Delevingne modeled for the first time when she was 10, in a story shot by Bruce Weber for Italian Vogue. She was "discovered" by Sarah Doukas, the owner of a London modeling agency whose daughter went to school with Delevingne and her sisters, Chloe and Poppy. The Delevingne girls are British aristocracy: Their mother, Pandora, was an It girl in the '80s before she married Charles Delevingne, whose grandfather was a viscount. Pandora, who until recently was the head of personal shopping at Selfridges and counts the Duchess of York among her closest friends, once had a nasty heroin addiction. (It has been rumored that Poppy was named for the drug.) Pandora was in and out of rehab for much of the girls' childhoods.
Being the youngest, Cara may have not seen her mother at her worst, and she had the advantage of watching and learning from her older sisters. "Poppy was a model, and I never liked to do the same things my sisters did," Cara explained. "After the Bruce Weber shoot, I didn't think about it. I wanted to be either a musician or an actress." She has played the drums since childhood and was in a band, the Clementines, when she was 12. It was around that time that she asked her parents for an acting agent as a present. "I wanted to be a Disney Channel star! I wanted to be Hannah Montana. They said no!"
At 17, while she was a student at Bedales, a very arty private school in Hempshire, Delevingne got word of Tim Burton's big-screen production of Alice in Wonderland and made an audition tape. "My interpretation of Alice was a little crazy," she said, laughing. "I overplayed it—the way a young girl would overplay all her emotions. I sent my tape off, and then I was at a wedding and this woman came over to me. She said, 'You don't know me, but I know exactly who you are.' " It was Lili Zanuck, the wife of Richard Zanuck, the film's producer. "She told me that they all loved my tape!" Delevingne recalled. "And I went to Tim Burton's house and met with him. I didn't get the part, but that experience lit a fire in me."
That anecdote is classic Delevingne—talent plus grand ambition plus an ease and familiarity with the wide world. Whether it's due to her posh background or her innate confidence—or both—Delevingne has a keen sense of her own potential. She has trademarked her name and has created social media accounts for Cara's Eyebrows, Cara's Thigh Gap, and Cara's Bog Eye, which are, in that order, odes to her striking caterpillarlike eyebrows, the space under her crotch between the top of her thighs, and the funny faces she makes. She is also on Instagram constantly, where she has more than 2 million followers. Many of her posts are playfully provocative: Cara in a midriff-baring sweater, being licked on her stomach by SpongeBob SquarePants; Cara about to kiss her "wifey," Rita Ora; Cara posing, like a rapper, with fans she calls her ­Delevingners. There are also shots of her blowing smoke rings backstage at a fashion show and partying with other models. Her bad-girl selfies have fueled gossip that Delevingne is taking after Moss in darker, more troubling ways. At the Cannes Film Festival in May, she was reportedly so drunk at a party on a boat that the hostess, afraid Delevingne wouldn't make it back to her hotel, had her stay aboard for the night.
But Delevingne shrugs off talk of her reputation. She may know intuitively there's nothing sexy about the good girl. "Everyone worries about me," she said. "It's hard for my family, and I know I have to be careful. People have to realize that I can take care of myself. I've done a great job so far."
And yet, despite her rapid success and nonstop schedule—she booked more than 40 shows during the spring collections and appears in campaigns for Fendi, DKNY, Mulberry, Burberry, Saint Laurent, and H&M—she is restless. "I want to make music, I want to act, I want to sing, I want to do something that doesn't make my skin erupt." Delevingne paused. "I was just on holiday for three days in Greece with my sister, and I thought that would make me happy and relaxed. But when I stop everything, it's really bad. I go crazy. In Greece, it was a lot of couples, and I felt alone, which made me sad." Delevingne has been romantically linked to Harry Styles of One Direction and the English singer-songwriter Jake Bugg, but her closest relationships, at least publicly, are with female pop stars. "I called Rihanna," she continued. "She said 'It's easy to drown yourself in work. That's a form of escapism. So, if you're alone and you want to cry, cry.' And I did. But by then, it was time to leave and get back to my life."