Someone Told Cara Delevingne To Get a "Real Job" and It Didn't Go Well For Him
On her way to do humanitarian work, Cara Delevingne shut down someone who told her to get a "real job."
---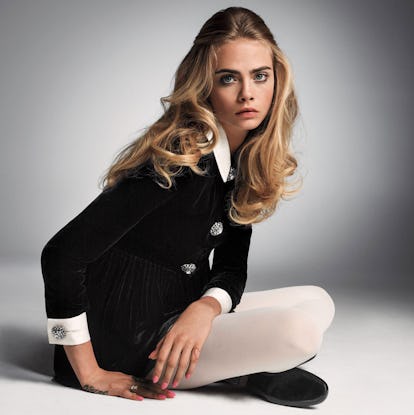 Model-turned-actress Cara Delevingne isn't afraid to stand up for herself. Remember when she shut down unkind, body-shaming rumors about her printed in a British tabloid late last year?
Now, she's back on the defensive. Over the weekend, the model-turned-actress innocently tweeted that she was off, "to do something incredibly exciting and I am very nervous." That's when some self-styled media personality with a verified profile whose actual name we can't seem to retain for more than two seconds but is something like @BrentTheBingBong decided he needed to spend his day firing off rude comments to celebrities.
"Hopefully an interview for a real job," @BigTheBangTheory tweeted. "Your looks will fade, Cara. You can't cash in on your eyebrows forever."
Delevingne was having it.
"You will regret saying that. I am actually trying to do something good. This has nothing to do with my 'looks'," she replied back to @BeebopTheCowboyBoot.
Mind you, in recent years Cara Delevingne has downshifted her original career as a model extraordinaire into not-quite-retired status in favor of a successful foray into films. She has also designed capsule collections for the likes of DKNY and Mulberry, can play the drums and guitar, and has lent her time to many a charity and humanitarian causes.
@BobTheBuilder, for some reason, kept trying her, but Delevingne suggested that he stop concentrating so much on criticizing women's looks and try reading a book.
Of course, Delevingne's best retort came when she revealed what it is she was actually on her way to do in the first place before @BlainTheBeanbag inserted himself into the conversation in the first place.
Turns out that she was on her way to Uganda to do work with Sudanese Refugees on behalf of the United Nation Foundation's Girl Up program.
Really, it's not the best look to pick an e-fight with someone who is on their way to do actual humanitarian work.
Cara Delevingne in W Magazine: Revisit the Model's Best Photoshoots