Cara Delevingne Won't Let Tabloids Make Up Stupid Stories About Her
Model and actress Cara Delevingne took to Instagram to refute wild reports that she was too bloated to walk the Victoria' Secret Catwalk.
---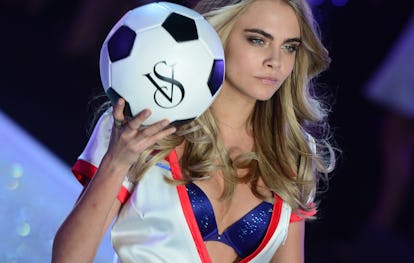 AFP/Getty Images
Victoria may have lots of secrets, but don't count on a certain British tabloid to spill any of them accurately. Cara Delevingne took to Instagram to blast a report in The Sun that claimed the reasons that she sat out the 2014 Victoria's Secret fashion show was because the lingerie brand had deemed Delevingne too bloated.
The Brit 'bloid claimed the bra brand cut the brow-ed beauty in ruthless fashion for putting on a few pounds, all while staffers supposedly made disparaging comments about her behind her back. It all made for juicy copy and mirrors a couple of recent model mini-scandals. See: Karen Elson's recent claim she was cut from a show for "body stuff." Or the blown-out-of-proportion mini-fracas involving Tommy Hilfiger, Gigi Hadid and a red poncho. Of course, the reality is that all remains good in the world of Hadid and Hilfiger.
All is also all way in the land of Cara and Victoria. Edward Razek, Victoria Secret's CMO, sent the model a letter dismissing the rubbish claims, and Delevingne posted it to her Instagram.
"Contrary to The Sun's claims, which they never bothered to fact check with me, Victoria's Secret made every effort to have you in the London show," wrote Razek. "I know, because I was the one making the effort. As a matter of fact, you were the first person invited, months ahead of everyone else. The alleged casting, where supposedly disparaging remarks were made, never happened. There was NO casting. You had already been enthusiastically confirmed."
Delevingne added her own commentary in the comments, writing "it's shameless to discuss women's bodies just to sell papers #bloated."
Though maybe the real news is that Razek's letter ends with an invitation for Delevingne to walk the show's upcoming Paris show.
Delevingne has twice walked the VS runway in 2012 and 2014 but has since cut back on her modeling to focus on her burgeoning film career. She sort of "retired" back in 2015, but she's since appeared in ads for Chanel eyewear and Saint Laurent.
In a post slamming the wild speculation of The Sun, it would be odd to wildly speculate that this may signal Cara Delevingne's imminent return to the runway, but, hey, anything's possible.
Because, the real issue here, as Delevingne pointed out, is that a tabloid is selling papers and trying to get those page views by disparaging a woman's body in reckless fashion.
Even as far as making up completely fictional gossip goes, this is just a messy affair for the Sun. Delevingne was indeed busy in North Carolina that day filming her leading lady debut in the film Paper Towns. In fact, according to a report from the time in The Independent Tribune, a local N.C. paper that bills itself as "the local voice of Greater Carrabus County," the reason Delevingne wasn't at Earl's Court in London for the show is because she was at Central Cabarrus High School in Concord, North Carolina. The Paper Towns crew had just seven days to shoot all of the film's campus scenes at the school.
Tellingly, The Sun has since scrubbed the story in question from their website, though did not bother to offer an apology or explanation as to why.
Watch Cara Delevingne talk "Suicide Squad" and Justin Timberlake in W's Screentest: