Cardi B Shows Up in Paris Wearing a Mask and Bodystocking
The "Press" rapper attended fashion week there, partly in support of her husband Offset.
---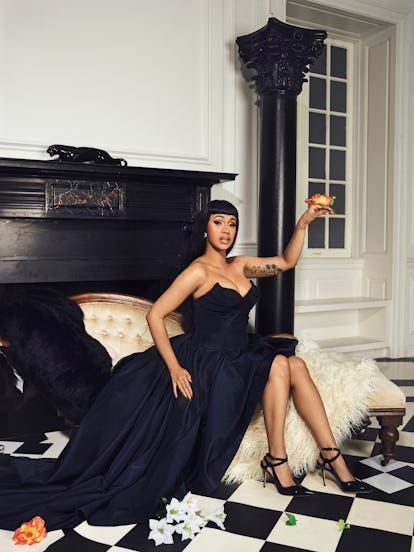 Mickalene Thomas
Cardi B is careful about showing her face in Paris, France. Literally.
A few months after sauntering in front of the Eiffel Tower in a head-to-toe Richard Quinn outfit that covered her entire face (to the point that she seemed like a Queen Elizabeth II-themed superhero from the Watchmen universe), Cardi returned to the city of lights—this time for men's fashion week, but once again with her face almost completely covered.
Whereas the Quinn floral number covered every inch of Cardi's skin, this outfit left little to the imagination.
Cardi paired a bejeweled mask from CoutureMask with a full-length black faux-fur coat from Adrienne Landau. Though, it was the nylon catsuit and lingerie set by Mah-Jing Wong underneath that really made the statement.
The question: what exact statement is she trying to make?
While Cardi is accustomed to front row status during fashion weeks by now, this time she was a supportive plus one. Husband Offset created a capsule collection with streetwear label Laundered Works Corp., which premiered in Paris. Perhaps the mask was her way of letting her husband take the spotlight?
After all, the accompanying Instagram caption was all about the Migos members and Offset's recent accomplishment.
We should note, Offset has something of a thing for bejeweled masks himself. He wore one back in 2018 for his birthday party. Perhaps it was a nod to her husband's own style?
When the pair later showed up at a party celebrating the launch of Ugg's new sneaker initiative, Cardi was still in her bodystocking—but had switched out her statement mask for a more casual one featuring skeletal imagery. It was sort of like the face covering equivalent of switching out your Valentino rockstud pumps mid-night for some well-worn, comfy Chucks.
Or perhaps this was Cardi's way of putting the focus on her curves in front of a European fashion industry that still doesn't know what to do them.
Maybe she suffered an indignity like the one Rita Wilson recently suffered ahead of the Golden Globes: perhaps her hair and makeup team was running late?
Or, there's a chance it was just what Cardi felt like wearing that particular day.
Whatever the case, eventually Cardi clarified that she was wasn't attempting to hide anything—she posted a close-up of her full face on her Instagram story before heading to bed.