Cardi B's Louis Vuitton-Printed Hair Is Just the Right Amount of Extra
Matching your hair to your outfit to your bag is a flex that only Cardi B could appear to pull off so effortlessly.
---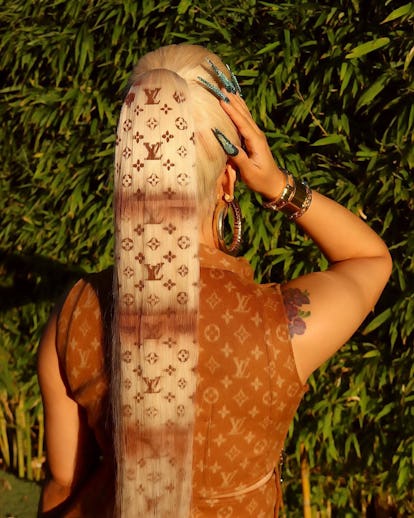 Image courtesy of @iamcardib.
While everyone has either given into shaving their heads entirely or dyeing their locks an outrageous neon color in an attempt to master the art of the quarantine hair style, Cardi B has finally ended the game.
Instead of shaving her head and dyeing a logo onto a buzzcut, the rapper went with some long blond locks and printed the Louis Vuitton mongram on top of them. And with the help of stylist Baba Jagne, who converted a Louis Vuitton skirt into a top, Cardi B was able to match her entire look to her hair.
On her Instagram stories, Cardi B has been sharing DIY natural hair masks with avocados, eggs, and other ingredients you can take straight from your kitchen. But this Louis Vuitton hair look seems to have been spray painted on, likely with some hair-safe dye. According to Jagne, he handled the outfit, but it was Cardi B who "did the rest" when it came to conjuring up the idea to print the logo on her long blonde hair.
The flex of matching one's hair to an outfit and to a bag is something that only Cardi B could make seem so effortless. But it's also something that we should expect from the rapper by now, especially considering her looks have only gotten exceedingly glamorous and boundary-pushing as the year has gone by. All we're waiting for now is the moment little Kulture can get in on a mommy and me matching Louis Vuitton head to toe look, too.
Related: Why Gaultier's '90s Op-Art Print Is Suddenly Everywhere Again