Cardi B Wants to Run for New York Mayor So She Can Rid City of Rats and Raccoons
A candidate for the people.
---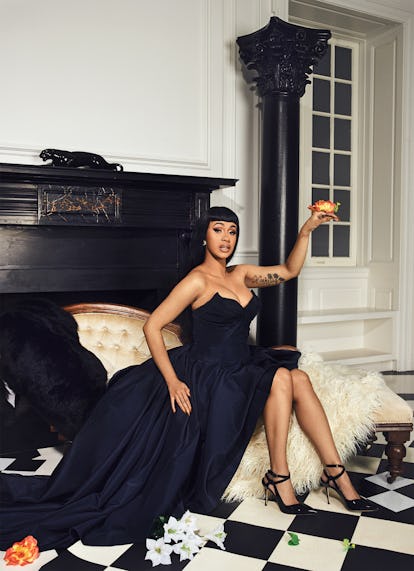 Photograph by Mickalene Thomas; Styled by Kollin Carter.
Our sitting president is a former reality TV personality, so is the notion of Cardi B running for mayor of New York really so far-fetched? When the rapper and former reality TV staple was asked by Jimmy Kimmel about whether or not she'd do it, she had a very specific answer: Yes she would, and she already has a plan for her potential platform.
"It's like it's something that you have to be extremely responsible for," she told Kimmel, who suggested she could win if she ran. "So many things I want to do, like…rats, raccoons—wanna get rid of them." When Kimmel inevitably clarified—"You want to get rid of the rats and raccoons? Are there a lot of raccoons around?"—she replied, "It's like, I don't know where they came from! They're everywhere, and you know what, something about the rats, like they're scared of you. But the raccoons, they're not scared of you. They just look at you like, 'Why are you in my backyard?'"
Very valid. But considering many New Yorkers do not possess backyards, that platform might be a bit niche. Still, Cardi B is such a beloved icon of the city, who would bet against her?
While that may have been the peak of her conversation with Kimmel, Cardi B also opened up about giving birth to Kulture and how that experience has changed her. "It was totally harder [than I expected]," she said. "She broke my vagina. Why nobody tells you about those things? Nobody told me they were gonna stitch my vagina…People would just be like, 'Oh, you know, when you give birth, it's gonna hurt,' but nobody tells you, like, your vagina…"
She also elaborated on her frustration over the lack of privacy she and Kulture have, which she lamented yesterday. "There are certain things that I wanna do with my daughter, like I want to go to the beach with my baby," she said. "I want to take a stroll down the street with my baby, and I can't because I don't know who's next to me and who has certain intentions." Overall, though, Cardi B is loving motherhood, as she sweetly said, "This is what I've been missing my whole life."