Cardi B Claims She's Ceasing Fire in Nicki Minaj Feud
She's not having it with Harvey.
---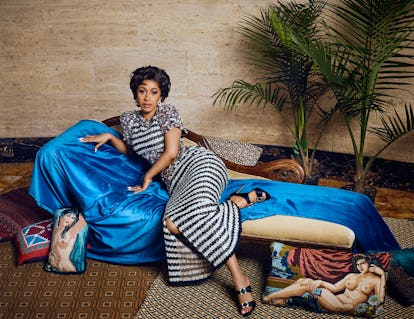 Only Cardi B could perfectly throw shade while dismissing the very idea of her throwing shade. When the rapper addressed rumors that she was at work on a Nicki Minaj diss track, she managed to expertly take down TMZ in the process. After the gossip site reported that her new music contains "some serious jabs at Nicki," which Cardi's team is allegedly not on board with, she issued a statement on her Instagram (and later deleted it).
"Dear TMZ …ya constantly got me in ya blog spreading fake s–t about me without doing ya research and even when we tell ya is not true ya still push it," she wrote, as E! News points out. She then proceeded to deliver one of the greatest disses ever aimed at TMZ, writing, "Ya motherf–kers need to get off my dick and start reporting about them actresses ya used to report about cause I'm not the one to f–k with THANK YOU!!" Of course, Cardi didn't miss the opportunity to promote her new music, adding, "Btw in REAL news my single 'Money' drops November 26!"
In the same post, Cardi also called out TMZ for harassing her and her daughter, Kulture. She said the site "really pressed my button a couple of weeks ago when ya had photographers literally stalk me and my daughter when I clearly said repeatedly I don't want to show my daughter," adding, "With fame comes crazy people, stalkers and psychopaths so I want to protect my child till I'm ready to show her to the world but NO integrity don't matter to ya."
Cardi opened up to W recently about her feud with Minaj, which reached a boiling point when Cardi took off one of her shoes to use it as a weapon against Minaj at a party. "For a while now she's been taking a lot of shots at me," Cardi said. "I spoke to her twice before, and we came to an understanding. But she kept it going." She also spoke out against how Minaj liked (and then un-liked) an offensive comment about Cardi's parenting on Instagram. "I love my daughter," she said. "I'm a good-ass fucking mom. So for somebody that don't have a child to like that comment? So many people want to say that party wasn't the time or the place, but I'm not going to catch another artist in the grocery store or down the block."
Related: Cardi B on Her Nicki Minaj Feud