Cardi B and Selena Gomez Dance Around a Dystopian Hellscape in "Taki Taki" Music Video
The video dropped during the 2018 AMAs.
---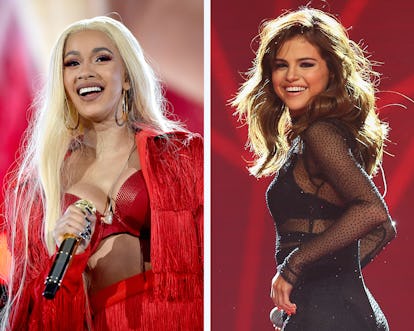 Composite. Getty Images
Apparently, a collaboration between two powerhouses like Cardi B and Selena Gomez has the power to bring about the end of the world. At least, that's what seems to be happening in the official music video for "Taki Taki," their song with DJ Snake and Ozuna, which dropped during the 2018 American Music Awards on Tuesday night.
Throughout the video, the quartet danced to the Latin-inspired bop across several landscapes, most of which seemed to be of the fiery, apocalyptic variety. During her verse, Cardi B alternates between two different but equally sexy ensembles. In one, she wears a black bodysuit under a black cape with a dramatically high collar, and her hair is styled in Queen Amidala–esque loops on top of her head. The other, meanwhile, comprises a bedazzled red bra top, matching briefs, and a lacy red duster coat on top.
Gomez's verse comes later in the track, and, unlike her peers, she spends most of her featured time not in a desolate hellscape, but rather in a lush green jungle. She also switches between two looks: One, a lime green mockneck crop top and shiny green patterned pants, matches her tropical surroundings, while the other, a red wrap shirt and crisp red pants, coordinates perfectly with Cardi's, DJ Snake's, and Ozuna's own fiery scarlet ensembles.
The song originally dropped sans video at the end of September. At the time, Cardi told Billboard what exactly sold her on teaming up with Ozuna, DJ Snake, and Gomez. "It's very Spanish. It's very, like, a Spanish vibe. As soon as I heard it, I was like, 'I want to get on it,'" she said. "Then I found out Selena Gomez was going to be on it, and I'm like, 'Oh, sh*t!' I knew it was going to be a hit."
Related: Cardi B's W Magazine Cover: Get An Exclusive Behind-the-Scenes Look